There are a lot of things that are different about church here in Uzbekistan.  Our scouting program has boys ages four to twelve, and the young women meet together with the one activity days girl.  Sunday school has two classes - youth and adult, and Young Women and Relief Society sisters meet together for their Sunday classes, as well all the males over twelve for their classes.  We make it work pretty well, considering that we are only four families.
Our Relief Society meets together one weeknight a month, and most months the meeting is held at a local restaurant to celebrate a birthday, going away, or just because we enjoy going out to dinner together.  There are advantages to being in a small group where all the sisters are in similar economic circumstances.  When we were in Cairo, we had a spa night for one activity and went horseback (or camel) riding around the pyramids for another.  It may not by a typical way to hold activities, but it sure is a lot of fun.
So when one of the sister proposed a Relief Society overnight trip to Samarkand, it was welcomed with much enthusiasm.  When I told Brandon about our trip, he was somewhat confused.
"Haven't you already been to Samarkand twice in the last year?  And hasn't everyone else been there already, too?  What are you going to do in Samarkand??"
I smiled back at him.  "Oh, we're not going sightseeing.  We're going shopping!"
Being the wonderful, patient, kind husband he is, he sighed and asked how long we were going to be gone and then made sure I had plenty of money to take with me.  I'm pretty lucky.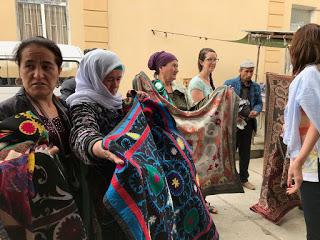 There is a fast train to Samarkand, but it only runs at certain times and also sells out pretty quickly.  Because of the schedule, we ended up leaving at 8 am on Friday morning and came back at eight Saturday evening.  Thirty-six hours of shopping, eating, talking, and enjoying female company.
Uzbekistan is what those in the Foreign Service like to call a 'shopping post.'  It's a post that has a lot of high quality, beautiful, fairly inexpensive handicrafts.  There are silk embroideries, hand carved boxes and tables, hand-woven silk ikat fabric, scarves, Perisan miniatures, pottery, custom made furniture, custom dressmakers, and - of course - rugs.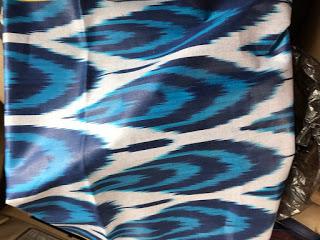 The sister organizing the trip did a lot of research so we could find the best places to buy things.  Our first day we visited a carpet factory, a suzani shop, and a ceramicist.  The second day we went to a bazaar an hour outside Samarkand that is known for suzanis, another ceramicist, and to the home of the suzani maker we visited the first day.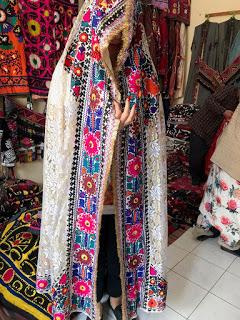 While visiting the carpet factory, we struck up a conversation with the owner whose daughter is friends with one of the sisters' daughters.  By the end of our visit to the factory, we had dinner reservations with him that evening.  After a hard day of shopping, we met him at Samarkand restaurant for dinner and, eventually, dancing.  While we were all breaking it down with grandmas, little children, teenagers, and middle-aged Uzbeks, everyone agreed that that this maybe wasn't your typical Relief Society meeting.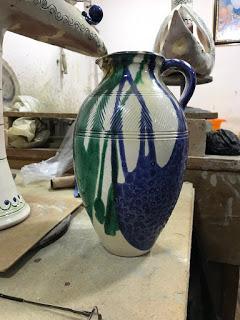 After two days of shopping, talking, and eating, we all got back on the train back to Tashkent loaded with the weekend's haul.  I got off light with a queen bed-sized silk suzani, an century-old antique suzani, a pottery vase and goose, two meters of silk ikat, and an assortment of Uzbek clothes for the children's dress up bin.  I was able to almost fit everything in the carry-on suitcase I had brought.  One of the sisters had wisely brought extra bags and we had to hire a porter to haul everything from our van to the train.  When I suggested adding up the total damage for everyone combined, everyone laughed and decided that was probably a number best left unknown.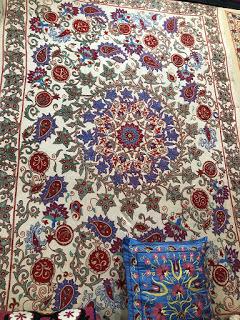 We all returned to Tashkent refreshed from our break and united together with stronger bonds of love and friendship.  A second trip has already been planned to Fergana valley, the pottery region of Uzbekistan.  It may be your typical way to do Relief Society, but it's a pretty awesome way to do it if you ask me.