Twitter Has Improved and is Now More Simple!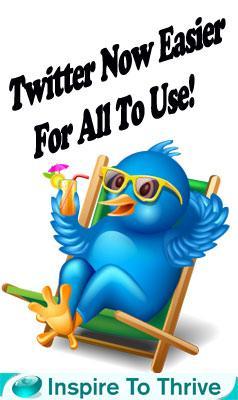 Twitter is now a little easier to use with their latest update of their Twitter feed. Twitter is making conversations on Twitter much easier now to follow and participate in. (Twitter revealed this yesterday on their blog). Many newbies on Twitter complain they just don't get it or understand how to use this micro-blogging / social networking site. They don't know how to see replies to their tweets with the messy format of replies and conversations on Twitter. You will be able to click view other replies as well in conversations.
Twitter realizes it must make it easier  for the "average joe's" to use Twitter. The "average joe's" found Facebook easy to use but not Twitter. There are a billion registered users but only 302 million active users on Twitter. (Via Expanded Ramblings.)
Twitter is about to change that! This new feature on Twitter will show a line between each tweet that is part of a conversation. It is NOT yet available on mobile but it soon will be.
@tiritasocial thanks chap. Please do.

— Jason Burrows (@jasonburrows) June 9, 2015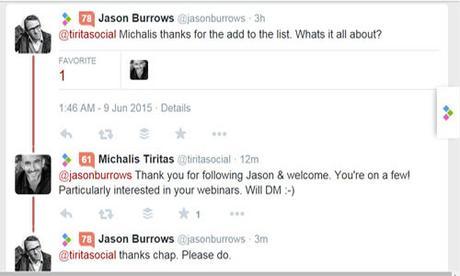 See the red line above? (The color may vary depending how you set your Twitter design). That's how conversations will start to look in your Twitter feed. A little easier to follow, right? The view other will appear on the bottom right hand side of a tweet conversation. That is where you can view others replies to the tweet as well.
Other Ways Twitter Has Improved Lately
Re-Tweets – This is easy to do on your desktop now. I was able to with my Droid for some time (via quote) but now it's a great option on your desktop, tablet or smartphone. It's a personal way to add your comments to a re-tweet and make it a much more effective re-tweet! You can also go beyond the Twitter standard 140 character count. See the sample below from Mitch Mitchell who does many a retweet with a great comment.
Mmmmmm, warm rolls, butter and honey…. though syrup wouldn't depress me… https://t.co/z7XUehPyfq — Mitch Mitchell (@Mitch_M) June 7, 2015
Extra Characters to Tweet
You can go over the 140 character count on Twitter now via:
Retweets. This feature now does not count towards your Twitter character count. Nice! This is another great reason Twitter has improved.
Tagging People. When you tag people the tags do not count as characters thus lengthening the tweet without using the 140 count.
Apps. There are many apps that can help you make your tweets fit with over 140 characters like Tall Tweets. It makes your tweets either in an image or in a sequence of tweets.
Twitter Cards. Twitter cards allows you to have a description with the image. Learn more on Twitter cards here if you haven't used them. See below for my sample Twitter card via a tweet.
12 Things That Happen in a Twitter Minute and More http://t.co/00kqMCAbcR #Twitter

— Lisa (@Lisapatb) June 6, 2015
Do you like how Twitter has improved? What do you like best about the latest Twitter updates?
Twitter pic from http://www.iconspedia.com/

Follow Me
Lisa
Lisa loves helping others to thrive online through Social Media, Blogging and SEO. What good is knowledge if you cannot share it with others?
She has 20+ years experience in marketing/advertising with 5 years experience blogging, social media and SEO. Get her new eBook Tweeting Like It's 2nd Nature Today!

Follow Me
Latest posts by Lisa
(see all)
How Twitter Has Improved and Made Itself Simple

- June 9, 2015

More Twitter Followers – Are More Followers Proven Useful?

- June 1, 2015

Revealing How To Get a Google Penalty Revoked Here

- May 21, 2015