If you've been following the Wax blog you know that during the month of December I posted one step per day to help build your 2015 Marketing Plan.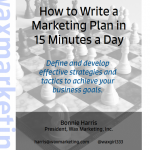 Each step was meant to require no more than 15 minutes. I also recently wrote about why February is the best month to write your marketing plan.
Some of you emailed me asking if I could put these steps together in an easier format. I'm announcing the How to Write a Marketing Plan in 15 Minutes a Day eBook, available for free now.
This eBook contains all the steps you'll need to write a sound marketing plan in 15 minutes a day, over the course of 20 days. In less than a month you'll have a plan and concrete tactics that will guide your marketing efforts for the next year.
The eBook covers not just strategy and tactics, but also explains:
Ways to identify and communicate with your BEST customer
How to identify existing marketing efforts that work and toss the rest
Why strategies are so important
Ways to link tactics and use integrated marketing communications to accelerate your marketing ROI
How to measure your results long term and ongoing for best results
Suggested resources for further research.
Even if you don't follow the eBook instructions in a sequential fashion. you'll gain some good insights into strong marketing practices in 2015. I encourage you to download the eBook here and let me know if you have questions!