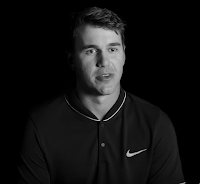 Just around this time last year, Golf for Beginners posted a guest article focusing on the 2018 statistics of Brooks Koepka whose phenomenal season came on the heels of a wrist injury late the previous year.
In 2018, Koepka was on the PGA Tour top-10 list for scoring average and driving distance, to name a few stats, and won the 2018 PGA Championship after a come-back from an early deficit with a 63 to tie a record. Now that's perseverance!
How can the average golfer learn from Brooks Koepka and apply that knowledge to win golf tournaments? Most of us don't have the distance of a PGA Tour pro but, as this golf blog's tagline states, "...because we're always learning" stands firm in its resolve that we can find something useful in every situation.
That being said, here are a few golf tips which may help you to win like Koepka.
Mental Toughness Stops the Dreaded "Choke"
If you can understand that during a round of golf everyone has their "choke moments", even Koepka during the final round of the PGA Championship (that is when the pressure gets too great to handle), you will be able to move past your mates quickly after the moment strikes. Breathe deep, pull positive thoughts from within and move on.
If you do nothing else during your round, do this...

Say NO to Snowmen: make a plan of how you will tackle each hole as you get to the tee box so that you can steer clear of trouble and get close, get on, and get in the hole in the least number of strokes. Koepka avoided large numbers and so should you. That's the game of golf...play it!
Remember - No Win Comes Easy
Even if your round of golf seems to be slipping through your fingers, don't give up. If you feel that you are not suited to stroke play, why not give yourself the advantage and suggest a round of match play golf?
Comment on Brooks Koepka in this golf blog and tag us on Twitter @Golf4Beginners.