Can this be the future?
Fashion and technology have always been connected, but today, they are more linked together than ever. As technologies change, fashions need to adapt and to integrate the devices we use in their aesthetic and design.
Technology is always present in our daily lives and most of us rely on our smartphones just as we would rely on a personal assistant or valet. Even more so, our smartphones need to be within reach anytime, anywhere and in any conditions.
Sometimes though, our phones are hard to fit in our pockets due to their size and are not easy to access if you are driving or sitting down. Apple has just launched their iPhone 6 Plus, so it's clear that large smartphones are here to stay!
Some men have tried strapping their phones on their belts, but felt like these were dragging them down. Keeping your phone in your briefcase is also not very practical, as you might not hear it ringing and it can get frustrating to open and close your briefcase constantly.
There can be several reasons why smartphones are getting bigger and bigger: maybe it is because your phone is turning into your primary computer, and therefore it needs to be flexible and change like a chameleon in order to fulfill all its tasks or maybe because its main functions, such as displaying high-definition videos and allowing you to read e-books require bigger screens. Since our phones are basically a mix between gadgets we use to create and gadgets we use to consume content, it is only normal that, at this point in the game, their sizes are bigger. Who would want to squint on a small screen to see a movie they bought on demand?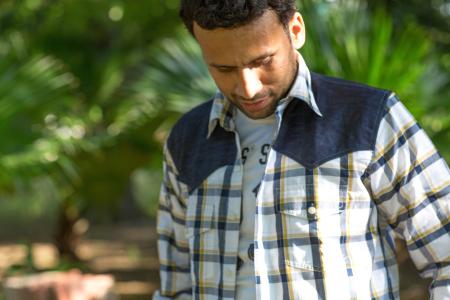 Many people use their phones to take pictures and checking them needs to be done immediately and on a high-resolution screen. Surfing the web is also a better experience on a big screen rather than on a small one, regardless of how responsive the design of the website you are visiting might be.
According to a study, more and more people wish to own such phones. There is even a new word to describe these big smartphones: phablet, which is a merge between the words "phone" and "tablet".
With all the advantages these gadgets bring, the main downside is ironically, their main quality: their size. Everyone likes their phones bigger, but it can be hard to access it all the time, since most phones tend not to fit your pants pocket anymore. Apple's launch of the iPhone 6 Plus is definitely an indicator that people want to own bigger smartphones, but it also raises some new sartorial questions when it comes to the way in which people are going to carry it around.
So, what is the solution to having your phone handy, regardless of its size?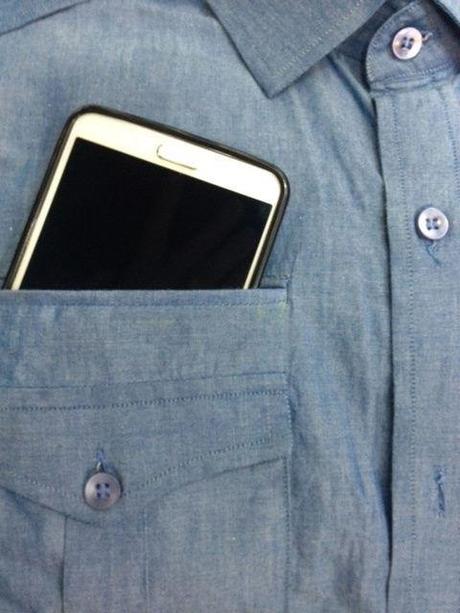 Neal Bond is a guy who thinks he found the solution. Recently, he launched a brand called Bond & Co., which designed a series of shirts that make your smartphones always within reach and very easily accessible. How did he do that? By simply adding a series of well-thought pockets to the shirts' designs. The Bond & Co. shirts are perfect for iPhone and Samsung users, or for anyone who can fit their phone in their special pockets (and if you can fit a Samsung Galaxy S5 or an iPhone 6 Plus, you can pretty much fit any phone).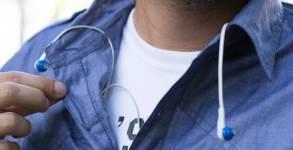 The Bond & Co. shirts can keep your earbuds steady
These casual shirts are designed for commuters, travelers and anyone who wants a quick access to their gadgets. For example, people who travel on bikes can also find them useful, as they can check their phones or map location when they are standing at a stop sign. The Bond & Co. shirts also feature special tabs for earbuds within their collars, therefore making listening to music easier and safer, especially if you are riding your bike or find yourself in a windy environment.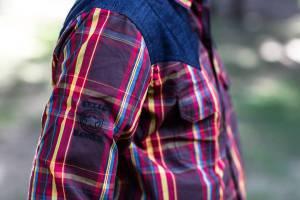 This shirt by Bond & Co. is not only very practical, but has a great design and features wonderful colors as well
Even though Bond's brand might sound great, his shirts are not in production yet. Currently, he is collecting funds on Kickstarter. He promises to spend a cut of the money on giving back and providing clean water to some remote parts of India, which is where he is developing his shirts using local fabrics and workers who are offered jobs and therefore a chance to earning money and improving their lives.
It is really amazing the power crowdfunding campaigns can have, not only on the world of those who benefit from the funded projects, but also on the lives of those who help develop them.
Maybe in 10 years' time we will all own holograms instead of phones, but until we get there, there is a true need for clothes that match our technology! Fashion and technology have always been connected, but mostly from a producing point of view. Today, as we use our phones to be constantly connected, the clothes we wear blend with our devices and the result needs to be a natural merge between fashion and technology.
Fraquoh and Franchomme
Share on Tumblr
0