Could you do a post on skinny jeans? They are in all of the shops right now and I'm not sure if I can wear them. I'm an I shape with my shoulders a little wider than my hips, average B cup bust-line and I'm a petite at 5'2″. What sorts of jackets and tops should I pair them with if they are suitable for me? Thanks Robin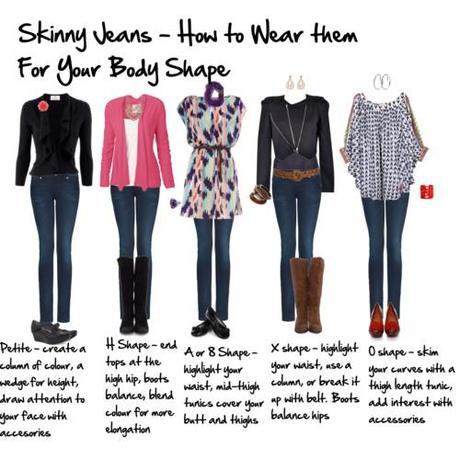 How to wear skinny jeans for your body shape by
imogenl
featuring amethyst rings
Skinny Jeans have been the trend jean for a few years now and they don't look like they're going anywhere fast.  So how to wear them to flatter your body shape?
One of the benefits of skinny jeans is that they make your legs look longer – if you want to further elongate your legs, use a column of colour, wear a wedge or high heel, tone shoes to jeans (or go slightly darker).
Worried about them highlighting your hips?  Here I use a column of color to elongate and then a long-line cardi to skim past my butt.
The trick with wearing any garment is to think about balancing your body – if you are wide somewhere, then balance the narrower part with something that makes you look a little wider there – it's like balancing two triangles on each other at the pointy end.  Wider shoulders, then add some width at the hips or knees.  Wider hips, add width at the shoulders and/or the ankles.
I shape – they suit you and your straighter shape.  Want to have more curve?  Wear a jacket that ends around your hip bone.  Jackets with peplums will also give you the illusion of curve, as will distressing around the hip area.
H shape – you can wear longer tunic tops, or shorter tops that end around your high hip area, but never tucked in around the waist as it will make you look boxy.
A shape – you may feel that this jean over emphasises your hips and thighs – if so, wear them with a longer tunic top that's belted at your waist to show off your slim feature.
8 shape – make sure your tops come in at the waist – peplum jackets are perfect for you to wear with a skinny jean.  Make sure the jacket ends no higher than your high hip, preferably a little longer to bypass your widest point.
V shape – rock the skinny jeans with boots or a tunic top.
X shape – highlight your waist, balance with boots or a wedge.  Avoid ending tops at the upper thigh, end them at the high hip or waist.
O shape – wear a tunic top that skims, and highlight your slim legs with these jeans.  Skinny jeans are ideal as they are the slim garment that goes with your more voluminous tops.
Shoes
Knee high boots are made for skinny jeans, the boot will balance the hips.  Ankle boots will also work, as will ballet flats or even not-too-chunky wedges.
What do you find works best with your skinny jeans?