Hi Imogen-I really enjoy your blog & have learned a lot! My question-are 'metallic' accessories (handbag, shoes) considered to go with a certain season or can they be worn all year? I really appreciate your thoughts on this-thank you.
I love metallic accessories to add some interest and dress up an outfit.  Anything with a reflective surface gives a more dressy appearance than a matte finish.
You can choose from light and shiny metallics –  which are more summery or for evening wear, to darker and more brushed metallics which are great in winter.
Metallics are most easily worn in the evening, a clutch or shoe in a metallic fabric is the perfect way to take your outfit from day to night.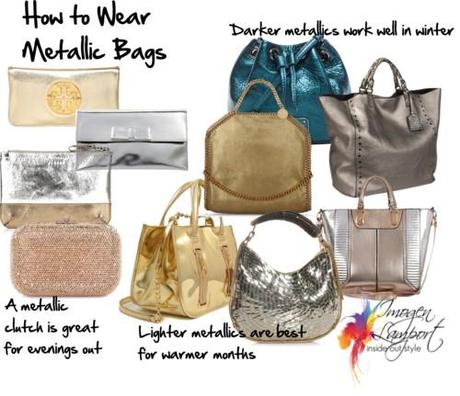 how to wear metallic bags
by
imogenl
featuring a metallic tote
A more matte metallic is easier to wear as an all year round handbag or shoe.
Metallics can be used all year round in accessories (and in clothing, there are more and more of them in the stores at present).  Just pick your colours wisely to make them versatile and modern.
Adding a little shine to your outfit with a metallic accessory works really well if you have natural shine or sheen.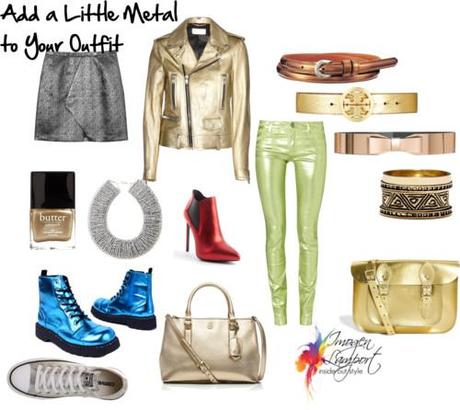 add metal by
imogenl
featuring a dark brown belt
Try:
Belts
Bags
Shoes
Bangles
Nailpolish
Necklaces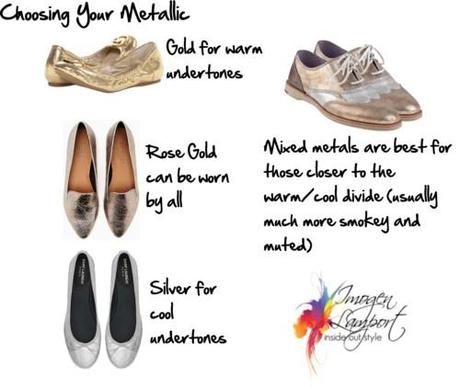 choosing your metallic by imogenl featuring ballet flats
Generally keep your metallics to your best color range – gold or copper if you are warm, silver or pewter if you are cool.  Rose gold can be worn by both warm and cool people.