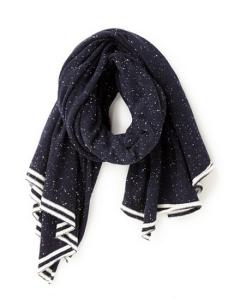 Scarves have been around since ancient times and you would probably be surprised to find out that they were initially worn during the summer: men used to wear so-called "sudariums", which served to absorb their sweat during a hot day. Their style potential was exploited by women, who realized that scarves could be made from different fabrics and that they could be veritable fashion pieces.
Today both men and women have a wide variety of scarves to choose from: thin, thick, printed, sold, neutral, etc. In this guide, we will take a look at how to wear different types of scarves and with what type of look they would go best.
Our tips are not unbreakable rules, but are guidelines that you can use to enhance the quality of your outfits.
Let's take a look at how you can make the best different types of scarves during the cold season!
Printed scarves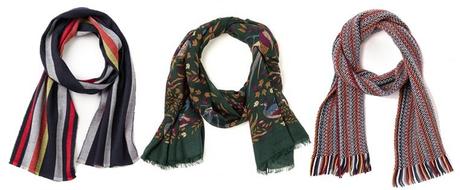 The difference between a print and a texture is that the texture is something you can also feel to the touch, like the Drake's scarf on the right
A print is always a great way to add some visual interest to an outfit. If you are wearing solid colors, and especially solid neutrals, a print is going to style up any outfit instantly. Remember that in fashion, neutral colors are a series of colors which can be worn with any other color or print. These are gray, tan, khaki, white, beige, black, ivory, etc.
If you want to pair a printed scarf with a solid color item, for a safe bet, wear a piece (for example a shirt) in a color that is also found in the print. Otherwise, once you learn how to mix and match colors, your taste is the limit. Of course, if you want to pair a solid color scarf to other solid color items, you should learn about color coordination.
A printed scarf can also be worn with another print. The key is to remember that, for two prints to work together well, they need to be of different sizes. For example, a scarf featuring wide stripes can look great if you pair it with a shirt that features very thin stripes.
Remember that if you are adding a print to your outfit, the body part covered by the print will attract the most focus, so unless you want to emphasize your neck area, you should always opt for a neutral scarf.
Neutral scarves
Neutral scarves can tone down a colorful outfit and break a series of patterns and prints. For example, if you are wearing a colorful shirt and a printed tie, you can wear a gray scarf to balance out the colors.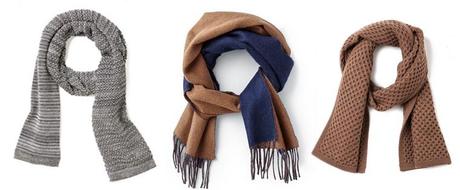 The blue and brown scarf in the middle is also a neutral scarf, because both dark blue and brown are neutrals. The gray S.N.S. Herning and the brown Theory Fabian scarves on the right are great options for neutral scarves as well.
Having one or more neutral scarves can turn out to be beneficial; as you can make sure that they go with absolutely anything.
Scarves that feature prints composed only from neutral colors are also considered neutral, but you must make sure the print goes well with your other clothes, as explained earlier.
Thick scarves vs. thin scarves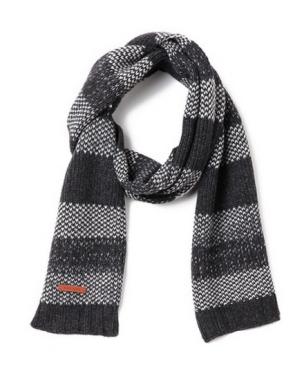 A thick Bickley + Mitchell scarf
When it comes to the density and length of the scarf you are wearing, you need to make sure that you always remember one important rule. Your scarf needs to be proportionate to your body, especially if you wrap it around your neck several times. While a thin person might want to look exaggerated and wear a huge scarf, this could end up making you look like a mushroom.
A thin frame with a huge bulk around the neck is not the best combination.
If you are a small guy, you should opt for a lighter fabric, which, if made from a quality fabric, is going to keep just as warm as a very heavy one.
Men who are very big should wear longer and slightly heavier scarves, or shinier scarves that feature deeper and richer colors, which they can leave hanging one side and the other, therefore making them look leaner and keeping them warm at the same time.
Different fabrics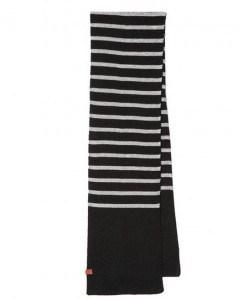 A great Bickley + Mitchell knit scarf
Scarves come in many fabrics, the most common being wool and cotton. Any kind of scarf is great, as long as it's natural, but we always recommend at making sure that the fabric from which your scarf is made is similar to the materials from which the clothes you are wearing are made. Wool and cotton are usually more casual, everyday fabrics, and are more suited for casual looks, while cashmere for example is to be reserved for finer, luxe fabrics, such as silk and chiffon.
Additional information
When it comes to scarves, remember that some styles are preferred to be kept for certain settings: soccer scarves, for example, fall in this category. Of course, if you are a big soccer fan, you can incorporate the colors of your team into your outfit and reference your support in that manner, rather than wearing an obvious reference.
Knowing how to incorporate your scarves into your looks is definitely something that will give you a sartorial edge during the winter and is a great way to show that you have style, even if you are wearing a functional piece such as a scarf. As it turns out, autumn and winter are great seasons for style as well!
Fraquoh and Franchomme
Further reading:
Tips on choosing a scarf
How to tie your scarf this winter
P.S. How do you wear your scarf? Which type do you like best? Share your thoughts in the comments below! For more articles on style, fashion tips and cultural insights, you can subscribe to Attire Club via e-mail or follow us on Facebook or Twitter!
Share on Tumblr
0