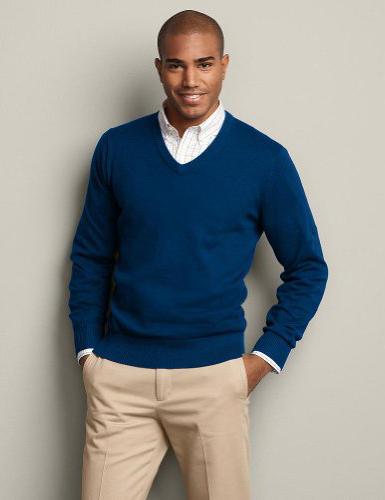 Wearing a sweater with a shirt is a perfect way to add some style to your look on a cold day or on a cool summer evening. Shirts worn with sweaters can frame your body extremely well and you will end up in you looking great. And, as you know, looking great will result in feeling great!
A sweater and shirt mix is a very versatile combination: it can be worn almost everywhere, from work to the park and from college to a bar. Moreover, what is great about this type of combo is that you can pair it with almost any pants and shoes: if you want to go for a more casual look, you can wear them with a pair of jeans and a pair of loafers, but if you want to look great during the Sunday service at church, you can wear a shirt and sweater with a pair of dress pants and a pair of oxfords.
Moreover, this combination can be worn both with a blazer and without, which makes it very accessible and a perfect look if you need to go from one setting to another and don't have time to change.
Because this combination is so practical and versatile, let's take a look at a few things you should keep in mind when you mix a sweater with a shirt.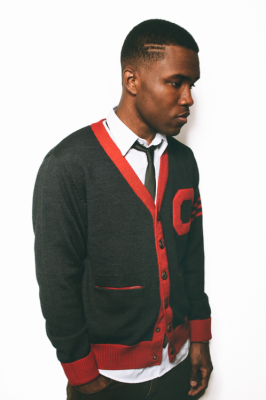 The rule of thumb in the world of fashion is that your clothes need to fit your body. Clothes that fit are those clothes made in your size and are therefore never too tight, nor to loose. Clothes that fit are comfortable and make your body look impeccable.
When it comes to sweaters and shirts, note that they should always hug your arms and shoulders lightly. The bands on the sweater's wrists should be tight enough so that if you push them up your arm, they should stay in place instead of sliding down. If you buy a sweater and want to wear it with a shirt, look for one that features high armholes, as these don't have any excess fabric and therefore the bagginess will be minimal.
There are several things you can check when it comes to the fit of the shirt, such as that the shoulder lines should match your natural shoulder lines and the shirt should be tight enough to touch your body, but loose enough to allow you to move and to make all types of gestures, including lifting your arms.
For more on how a shirt should fit, read the AC Guide to How a Shirt should Fit.
When it comes to the design of a sweater, most sweaters have either a crew neck or a v-neck. When speaking of shirt collars, these can have a multitude of collars (such as the Spread Collar, the Button Down collar, the Wing Tip collar, etc.).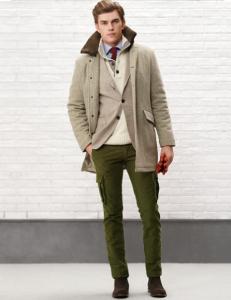 The thing you need to know about necklines and collars when you are wearing a shirt and sweater combination, is that, if you are wearing a crew neck sweater, you should always tuck in your collar points. On the other hand, if you are wearing a v-neck sweater, tucking your collar points depends on the type of shirt collar you are wearing. For example, traditional collars which are longer should be tucked in, while shorter collars can be left out without care. A good indicator of what to do is whether the collar points are stretching out of the sweater or not: if they are, let them out, if they're not, tuck them in!
As a style tip, note that men who have fuller faces look best in v-neck sweaters, as these will elongate their necks, while men with more oval faces, can wear crew neck sweaters to look great!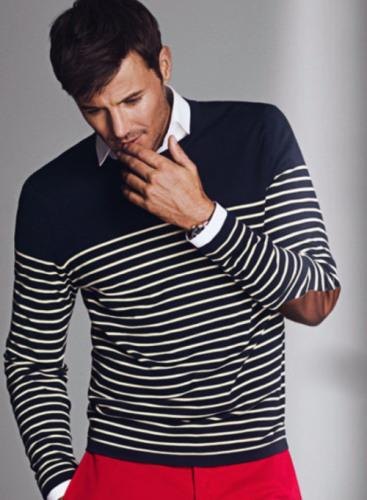 The third thing to consider when you are wearing a shirt and sweater combo is whether you should tuck you shirt in your pants or not. As a general rule, remember that you must never tuck a sweater in your pants. Whether you tuck your shirt in your pants or not, is a matter of personal taste, so it is really up to you. However, you can note that tucking your shirt in your pants is dressier and more elegant than leaving it out, so if you want to go for a more formal look, such as a work place look or a church look, you can tuck it in, but if you want to take walk on the beach at evening time, you can leave it out.
Also, a very important aspect is to make sure you do it the same all the way: Tucking the front and leaving the back of a shirt untucked or vice-versa will look really bad. It will also look bad if you tuck your shirt and then decide to untuck it during the same wear: once a shirt is tucked in your pants, it should not be untucked.
4.1. Colors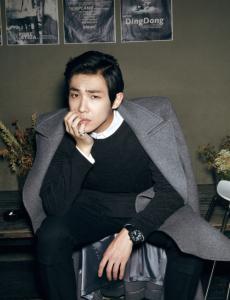 Last but not least, you should always coordinate your shirt and sweater's colors, prints or patterns so that you have an overall harmonious look. Here are some tips on how to coordinate the colors of your clothes:
4.1.1. Neutral + non-neutral
If you don't know much about color coordination, you can easily create a neutral + non-neutral combination. In fashion, neutrals are those colors that can be matched to any other color and to each other. These colors are black, white, beige, khaki, tan, gray, ivory, brown, dark blue, etc. These colors can be worn with each other, but they can be also worn with any other color from the color spectrum. So, for example if you have a beige or tan sweater, you can pair it with a shirt in a strong color such as pink, purple or orange and you will be sure that it will look perfect in terms of color coordination. A neutral + non-neutral combination is always a safe bet and a great way to go.
4.1.2. Repeated color
Another thing you can do is to wear the same color twice, but in different shades. For example, a red sweater can be worn with a light red shirt. Wearing the same color twice is a very subtle and elegant fashion statement.
4.1.3 Color schemes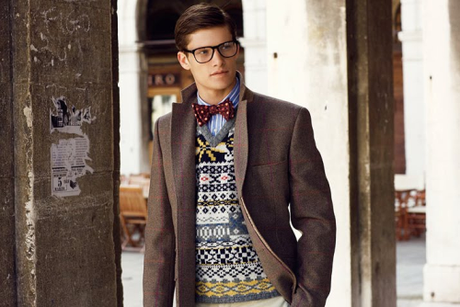 Thirdly, should you want to be more playful with your outfit, you can mix two or more colors. If you want to wear two colors, for great results, you can either wear colors that lie close to each other on the color wheel, such as blue and green or red and orange, which will have a harmonic and very natural aspect, or you can wear colors that lie on opposite sides of the color wheel, such as orange and green, which will result in a bold look, as the two complementary colors, by contrasting with one another, will make each other stand out.
If you want to wear three colors (for example if you have an accent collar or add a tie to the look), a perfect way to go is to pick out colors that lie at equal distances from one another on the color wheel (for example, if you count from 8 to 8 on a 24-color color wheel).
4.2. Patterns and prints
4.2.1. Pattern + Neutral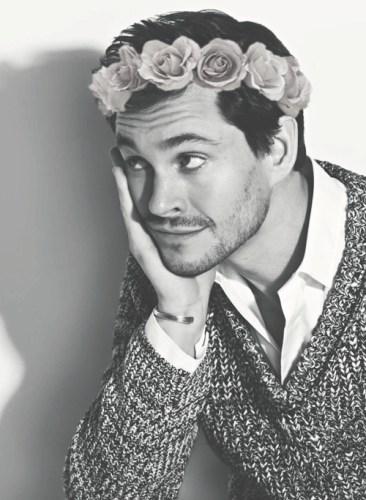 The easiest way to wear a pattern, a print or a texture is to mix it with a solid neutral. Obviously, you can wear a neutral pattern with a neutral solid too, but that combination is a little boring.
4.2.2. Pattern + Solid color
A second thing you can do is to wear a colorful pattern with a solid color that is one of the colors or another shade of one of the colors found in the pattern. For example, if you wear a sweater that features dark purple, light green and ivory stripes, you can pair it with a dark or light purple shirt.
4.2.3. Pattern + Pattern
Going one step further, if you want to mix two or more patterns, prints or textures, you must always make sure that they are of different sizes: for example, thick stripes go with thin ones. If you were to add a third pattern, such as polka dots or checkers, you should make sure that the shapes composing the patterns are of a different size than the two patterns you are already wearing.
Otherwise, you risk looking like an optical illusion.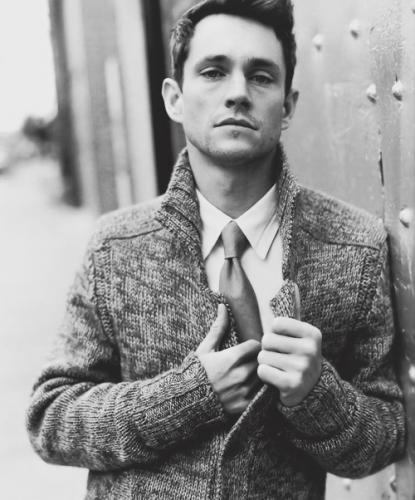 In the end, note that a pattern is a symmetrically repeated construction, a print is an image that features a clear composition and a texture is a pattern that can not only be seen, but felt as well.
Wearing a sweater with a shirt is a great combination that, if done right, can go very far. This layered outfit will add visual interest to your look and will give you more dimension, which will draw only the right kind of attention. A sweater and shirt combination is the perfect outfit for a chilly day and, in case it gets warmer, you can take off the sweater and let it hang on your back.
That will look great too!
Now that you have the tools to sport a sweater and shirt combination, all you need to do is to find a shirt and a sweater that express your personality, apply these rules to those garments and you are ready to go!
Fraquoh and Franchomme
Further reading:
P.S. Do you wear shirt and sweaters combinations? How? Share your thoughts in the comments below! For more articles on style, fashion tips and cultural insights, you can subscribe to Attire Club via e-mail or follow us on Facebook or Twitter!