There were times during my pregnancy when I felt gorgeous (not whilst I was vomiting at the beginning or waddling at the end). Once my pregnancy became visible and before I became too huge to fully function, I really wanted to 'flaunt' my beautiful bump. I thought a saree, which reveals the midriff, would be the perfect way to do it! How I imagined wearing a saree during my pregnancy was so different from the reality.Thus began a process of trial and error over the course of a couple of months.
The first time I wore a saree with my baby bump, it was Christmas eve and we celebrated it with our German friend, her Indian husband and friends. I wore green and gold, one of my favourite sarees from my mother-in-law's vast collection. I thought the best way to wear the saree would be under my bump, to really accentuate the roundness of my growing belly. I was wrong. I was carrying very low so the pleats were also extremely low. I kept tripping over them which pulled them down further, revealing my underwear!
The second time, my belly was much bigger and Rohan had become really wiggly. It was my cousin-sister-in-law's wedding, I wore my pink and orange saree in the centre of my bump. Across my belly button, where I would normally wear it, thinking this would solve my problem. I didn't want to cover my bump completely but didn't want a repeat of Christmas eve, especially with so many people around. Sadly, this didn't work out, Rohan was such an active baby in utero (especially when subjected to the brass band and drums during the marriage procession) my bump was constantly changing shape, causing my saree to fall! I was constantly pulling it up or rearranging my pleats.
The third and final time I wore a saree pregnant, it was a success. It was for my Marathi baby shower when I was in my third trimester. A gorgeous turquoise and silver banarsi saree. This time, with help from my mother-in-law, I wore it on top of my bump and high on my hips. My bump held it up, no matter how much he wriggled, keeping me from tripping and the saree from falling.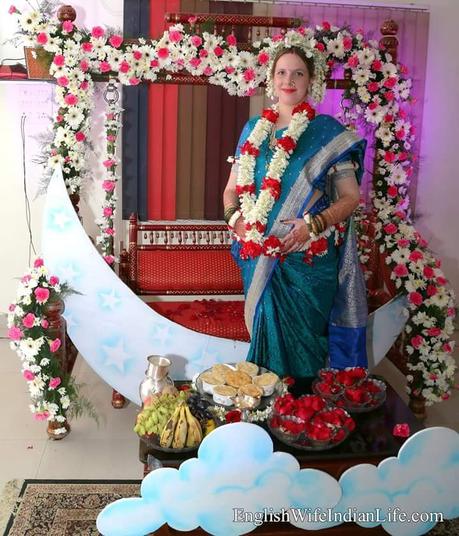 So, from my experience, it turns out the best way to wear a saree with a baby bump is to cover your bump, wrap your baby in silk. A saree really is the perfect item of clothing to wear during pregnancy because it can grow with you (once you figure out how best to wear it that is).
How did you wear a saree whilst pregnant?