My Google Plus Business Tips 2013

If you have read my blog or have known me for any length of time, you know that SEO is one of my favorite topics and social SEO excites me! I have preached the value of using Google Plus for business as a great way to get SEO  for your blog articles! Through the years of market online I have noticed that Google loves Google products and services! What I mean by this is there is  SEO advantages to using Google platforms to market your business that shows up in your Google search rank! There are manyHow to use Google Plus for Businessarticles and resources out there.I'm not going to rehash how to use it but remind you of the VALUE in using it! Besides the fact that you are connecting with a different group than most social platforms there's a great SEO advantage to using Google Plus that seems to be lost on many website owners. SEO from Google Plus is a major factor in website ranking.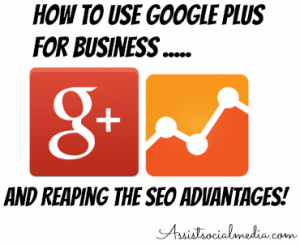 My list of Articles about How to use Google Plus For Business

I have a list of articles from this website about Google Plus and it advantages:
Google Plus and SEO Leverage the Plus!
Are Your Google Plus And SEO working Together?
Leverage Social Media Influence in your SEO Strategy
Can Google + Communities Really Boost your SEO?
Four Undeniably Real Reasons Serious Businesses Should Start Using Google Plus!
The Real Importance Of Google Plus For Business
Google + is a MUST for business 
Can you tell I think Google plus is important? I have from the beginning of publishing post on my blog. I watched the way that Google search ranked social signals and Google platforms. When Google developed Google Plus I knew it was important to business and got busy building a profile there! 
Google Plus Research
The relavence of Google 's Google Plus social network was not lost on me! What I want to share with you now is a study that was released by Social Metrics that backs up what I've been sharing about Google Plus and SEO!  When they researched and compared pages that ranked well in search and which did not, the most important factor in regards to social signal was the number of google +1 a page recieved!  If you look closely at the study Facebook has a big factoring in rank as well but it was the combination of likes, shares, and comments. A Google Plus plus one alone was at the top! 45 percent of web page ranking is related to social media! That means the biggest part of SEO is how well it is recieved on social media! 
What does this mean? Well for one if you don't have a Google plus profile get busy! Another thing is get active if you DO have one! Lastly, make sure you are sharing your pages and post on Google plus and getting those all important +1's!  
A Great Inforgraphic
 While doing research on this topic I found this awesome inforgraphic put together by Dow Cowthers taken from the research that was shared by SocialMedtrics.com. I love the break down as it backs up what I found to be very important in SEO over the years! Now more than ever social signals are guiding search engines in ranking content. Of course Google's own Google plus is leading the signals that help get you that coveted first place ranking in Google Search!

Embedded from DonCrowther.com
Share with me your tips or what you don't understand about SEO and Google Plus! Have you seen the benefits from Google Plus? Please share with us in a comment below!