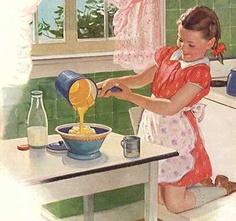 How To Turn Home Cooking Into A Career
Everyone has a dream; some of us aspire to break free from the hairbrush and bathroom mirror and sing on the stage of The Royal Albert Hall, some of us close our eyes for a split second during Saturday morning football training and imagine we're about to score the winning goal at Wembley Arena and some of us dream of serving our signature dish to tables of adoring foodies! If you're the Master Chef of your household and your dinner parties are the pinnacle of your friend's monthly social calendar then what's stopping you from throwing your white hat into the ring and becoming the next Oliver or Ramsey? It's time to stop dreaming and start doing! If you've got the passion, the skill and the business know-how you could be making culinary waves before you can say bon appetite! 
First Things First…
When you start your own business you become the brand so you have to decide on your niche, your market and most importantly your cuisine! Think about what it is that excites you about food: do you love the classic flavor combinations and warming nostalgia of traditional cuisine, do you lie awake at night thinking about the next techniques and newest tantalising tastes or do you dream of traveling the world and finding spices, flavours and ingredients that you've never heard of but can't wait to throw into your frying pan? Classic, modern or exotic; every foodie style has its place, decide what it is that gets you out of bed and into the kitchen in the morning. 
Where Do You See Yourself?
For most budding chefs the wide and expansive world of street food is the starting line in the race to fine dining success! Forget everything you think you know about street food, forget soggy chips, overcooked burgers and greasy kebabs! Bland, mundane and uninspired street food is fast becoming a thing of the past (unless it's 3am on a Saturday morning), the foodie revolution has hit the streets, festivals and carnival stalls of Britain.
From exotic London food fairs which showcase the best loved dishes from every far flung corner of the world to your local farmers market, British street food has taken on an inspiring array of influences. You can help yourself to everything from katsu curry on the streets of Bolton to quesadillas on the beach in Brighton so whatever your cuisine you're sure to find a home and before you know it you can start building your reputation. 
Brand Your Business
If your business is built on a foundation of solid branding half the battle is already won. Your brand is what people will remember, to make it a success you have beautifully blend your logo, your name and your company ethos and here's how:
Logo – It's time to utilise the skills of a professional to design the perfect logo that instantly shows what your company is all about. Make sure your logo is functional and will work on everything from napkins to letterheads to café barriers, make sure it's original so you stand out from the crowd and make sure it's simple so no one is confused about what you do.

Merchandise – Invest in quality when it comes to merchandise, cheap and flimsy cups and pound shop napkins aren't going to impress anyone! Make sure your merchandise is adorned with your logo so people remember your name and you attract further customers and choose café barriers, parasols and gazebos that are emblazoned with your company name so the crowds will spot you from a mile away. Your station is vital when you're on the festival circuit so make sure your kiosk and café barriers stand out. 
Build A Reputation
You've got your signature dish, you've got your signature merchandise and you've got a spot at the next festival in your area; now it's time to start winning customers. In the early days of you should be worked off your feet, sign up to anything and everything so you catch people's attention and keep it. Wherever there are hungry people on the streets of Britain make sure you're there with a smile and a stove and make quality and service your number one priority and watch your business grow and grow. 
Food blogger Emma Smith knows the importance of branding in business. When it comes to catering, café barriers are the easiest way to catch people's attention in a festival so you're not just another face in the crowd. For premium quality café barriers to highlight your cuisine choose

Trade Gazebos AndBarriers

for premium quality, every time.