When you finally decide that you want to seize the opportunity and move to sunnier climes Spain is often a great place to consider. Areas of the country offer a great work-life balance and property prices are typically amongst some of the lowest in mainland Europe meaning your money should go further when you arrange to transfer money to Spain.
There are many boxes that should be ticked before you way up the best way to transfer your money to Spain. These include finding the right town or city for your lifestyle, the administrative part of purchasing in Spain, transferring your funds to Spain and sourcing your NIE number.
Finding a place to call home – town or city?
Whether you select to move to a Spanish city or seaside town will depend on a number of things? If you are looking to source stable work a city will offer you a stronger chance of this, in particular, if you speak Spanish or have transferable skills or experience within the sector you are targeting.
Typically, if you are retired you might desire a quieter location, potentially near the sea. Spain offers this lifestyle in spades and cheap flats and townhouses can be sourced for sub €100,000 in areas in such as the Costa Blanca which has a strong expatriate community with some areas being 70% expatriate occupation and English is commonly spoken.
Once you've decided which city or town you are going to focus your property search on you will need to find a reputable estate agent. This should be far from a full gone conclusion with many agents operating like cowboys in the wild west! Estate agents' fees aren't governed, and some can charge up to 20%+. In recent years a handful of fixed-fee agencies have emerged charging significantly less and working in a more transparent way.
Tips for selecting a legitimate estate agent include
Ensuring the estate agency or realtor is registered as an API (agente de la propiedad inmobillaria)
Always visit the estate agent's office avoid selecting a representative that works out of a bar or his home also verify the estate agencies fiscal number
Never engage with an agent that is 'selling for a friend' or an unlisted property
Track record is key, select an agent that has been trading successfully for at least a few years and look online for any reviews
Judge a book by its cover, if you feel unconvinced by the About Us section of the company's website question further or walk away
Don't fold under pressure – a good estate agent will find you the home you want not one they need to sell
Sourcing a qualified Spanish solicitor
Once you have selected the property of your dreams and feel comfortable with the agent or property realtor selling the property you will need to source a qualified solicitor to assist with the purchase.
Tips for selecting a legitimate Spanish solicitor
Always make sure you meet the solicitor before committing. You must feel comfortable that this expert will look out for your interest.
Find someone that is independent a legal expert connected to a property company or developer might not be as impartial as you might have hoped.
Check the expert's credentials – Spanish solicitors must belong to a local bar, credentials can be verified on the Colegio de Abogados
Register with an FX specialist
Once you have sourced an ideal place to live in Spain and a property which meets your requirements you will need to consider an FX specialist in order to transfer money to Spain. Shortly after you have agreed to purchase a property, a holding deposit of 10% but this can vary subject to the agents or vendors terms and the province. If you haven't already you engage with an FX expert who can put into place a plan and map out the timings for your purchase. This ensures that payment deadlines are met and that any FX fluctuations can be capitalised on or protected against.
On top of a very consultative approach to your purchase, a specialist offers great pricing and typically would quote a saving of 2-5% on the amount being transferred. If you needing to send a regular amount to transfer a pension or Spanish mortgage payment companies such as Rational FX or Currencies Direct can also create a payment plan, offering complete transparency, even allowing you to fix the rate for up to a year.
Getting your NIE to purchase the property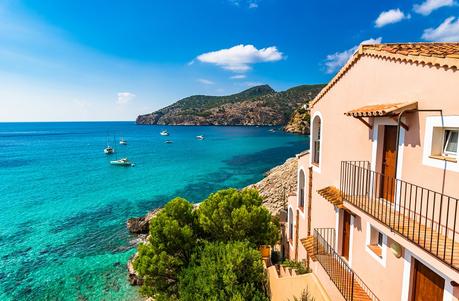 Once the property purchase is secured you will legally require an NIE which is an abbreviation of Numero de identidad extrajero or identity number. All international buyers require an NIE number in order to purchase and your solicitor can either advise or you can apply online.
For many, the face to face option will be more appropriate as the process can be fairly involved. If you choose to go down the route of applying in person this can either be done at the local police station or the Spanish consulate at home. A solicitor may also be happy to accompany you in order to move the process along.
Typically, you will require the following information in order to get your NIE number
Two copies of the EX-15 NIE application form
A property purchase contract for your new home
A copy of your entire passport and landing card (non-EU citizens)
Setting up a Spanish bank account
At the same time as sourcing your NIE number, it's worth opening a Spanish bank account to send any supplementary cash over to. There are many banks and accounts on offer with the most common banks being Banco Sabadell, BBVA and Santander.
If visiting a local branch to open an account it's worth taking along:
Proof of address
Picture ID ideally passport for applicants
Your newly acquired NIE number
You may have to also show proof of employment or pension
Once all of these elements are in place you expect to be in your new home within a few months enjoying your new life in Spain.