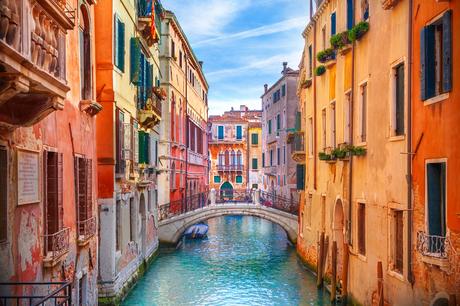 Think of Italy and you can easily conjure up glorious locations such as Rome, Venice, Sardinia and Naples. Italy is visited by in excess of 63 million tourists every year and ranks fifth in terms of the most visited overseas locations.
However, whilst many will decide at the drop of a hat to take a vacation in Italy, moving to Italy and finding your dream overseas home takes a lot more work with much more to consider. Despite this it is estimated that over 5.5 million or 8% of Italy's population are foreigners. Its not hard to see why with great food, history, culture in abundance and Mediterranean weather superior to many parts of Europe.
The country boasts approximately 250 beaches where you can bask in the sun and paddle or swim in the Mediterranean or Adriatic Sea. If skiing rather than basking on a beach is your thing winter sports can be enjoyed in the Alps or Piedmont.
Popular areas of Italy
Rome - the bustling capital can provide an amazing place to live but is typically favoured by younger expats who work in the capital. Rome is popular with British expats who look to combine a more relaxed way of life with the ability to find work. Purchasing a home in Rome can be expensive, although prices can appear reasonable compared to other European cities.
Lombardy - Italy's financial capital Milan expats within the sector and caters for those pursuing a high-flying career in finance. Property as with Rome can be expensive by wages are known to make up for this. Milan offers excellent hospitals and universities, there is a great choice of international schools. Many expats that are not scared of a commute flock to the picturesque Italian lakes. Garda and Como prove the most popular and properties as with Milan are pricey. The lakes have proved popular with British, American, and Canadian expats alike.
Tuscany - the region has proved the number one Italian destination for British second home buyers. The charm of the rolling hills and fabulous wine proving hard to resist for many. Florence the capital of the region also offers some of the best architecture and art in Europe. The region also offers other breath-taking areas such as Pisa and Lucca which can prove more financially achievable than Chianti and Florence.
Italian property buying process
There are no restrictions for foreigners when it comes to buying a home in Italy. However, when it comes to transferring funds to purchase your overseas home ensure that you keep a copy of your currency exchange contract as you may need proof of your currency transfer.
Once you've found the perfect location and your dream house the next step will be to source an Italian property solicitor. This can be done either locally or in your country of residence, the latter may be advisable especially if your Italian isn't up to scratch. Whilst the property market is regulated in Italy it has been known to lean towards the interest of the vendor.
If the vendor accepts your offer to buy their house a preliminary contract will need to be drawn up and a € holding deposit of 1% be sent to their solicitor/attorney. If the property is a new build home funds might be sent to the estate agent promoting the home. The preliminary contract will highlight the deposit and the date it is expected, the completion date and other details including the land boundaries, property size etc. Once this preliminary contract is signed by both parties a further 10% -20% will need to be transferred to Italy. If you then decide for whatever reason to not purchase the house, you will forego this deposit (compromesso).If however the vendor backs out of selling the house they will be liable to pay double the amount you deposited.
Once the compromesso is sent completion normally takes between six to eight weeks. During this time your solicitor will perform all the due diligence and whilst they are normally selected by the vendor, they will work on the behalf of both buyer and seller. Once the checks meet your satisfaction the property can proceed to the final deed of sale. Just before this you will need to transfer the remaining money to Italy in order to complete the deed of sale (rogito). The final act is witnessed by the notary (notaio) where you will be required to present your tax code and photo ID. Once complete you will leave with a property in Italy, the deeds and keys to your new home.
The Notaio will then register the sale at the local tax office to officially complete. This will only take place if all duties have been paid on the property. They will also automatically alert utilities companies of your ownership so you can set up standing orders etc.
*Buyers of new properties won't incur a registration tax; they will however incur VAT which ranges from 4%-22%.
Registration tax is charged at 3% for those purchasing a primary residence in Italy. Registration tax for those buying a second home increases to 7%, so if your objective to move to Italy potentially consider renting somewhere a year to 18 months before in order to become resident. Then purchase a home once your residential status is approved.
Top tips when buying a home in Italy
Always carefully consider the region - Italy's 20 regions offer something for everyone and climate, scenery and accessibility. Temperatures can vary dramatically for example Lombardy's summer height reaches roughly 23c whereas places Calabria can top 32c . If possible, it's advisable to visit and encounter varied seasons, especially of you are considering calling the area home.
Holiday home or full-time residence - if you are considering a holiday home ensure that it isn't too far to get to. Where is the closet airport? Can you cheaply and easily rent a car? If you don't drive are public transport links adequate? Those looking for employment once in Italy are better to maintain a close proximity to large towns or cities in order to increase their chances of employment.
Ensure you have your finances in order - it's well worth getting your money in order before committing to a viewing trip or make a formal offer. A currency transfer specialist will be able to provide your with solutions to maximise your currency in Euros, and put together a plan for you to capitalise from positive FX market movements, whilst protect yourself against adverse movements. If you are financing the property with a mortgage its worth getting a feasibility study beforehand.
Getting a bank account in Italy
Italy's banking is fairly straight forward and if your documents are accepted the account can work the same day. Other great news is that non residents can open an account, this process for the most part will need to be done in person, so it's advisable to combine with a property viewing trip. Occasionally some Italian banks might have location in your home nation and the application can be done in the overseas branch.
Paperwork required
Valid form of ID
Italian tax code (Codice fiscale)
Anti-money laundering document (AML) - the bank will go through this with you
Subject to the bank capacity you may have to fix an appointment rather than just turning up.
Currency account set up -how to transfer money to Italy
Setting up your currency account should be amongst the first things you look to do before making an offer on your home in Italy. A specialist provider can assist with managing your budget and look to maximise your base currency meaning you have more euros to invest. Reputable providers have a number of tools to protect you against market fluctuation and allow you to capitalise if the rate moves in your favour. When you need to transfer money to Italy they will have a number of solutions to ensure the payment of your overseas home goes smoothly.
Setting your account up requires little or no paperwork and an account can typically be opened in a few areas. Your currency transfer specialist can also assist with small money transfers to Italy including transfers or foreign salary or pension payments.