Top 3 Arm Toning Exercises to Help You Tone Your Arms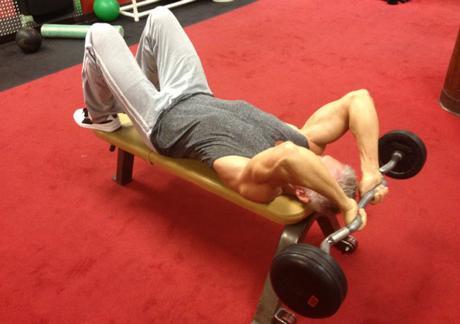 Toning arms is one of the most sort after exercises by women. Finding the best arm toning exercises aren't as easy as you'd think because there are many arm toning exercises to chose from. This article will help you find the top 3 exercises to help you get toned arms in no time.
You cannot tone arms or muscles unless you lose fat. That's an absolute truth. Building muscles is one thing but having a layer of fat over it means that you will never be able to tone unless you lose the fat. Weight training is a good way to go about both gaining muscle and losing the fat. You also need to follow a good cardio workout program and healthy diet plan. Remember that these are the most important part of toning your muscles, specially your arms and the following exercises will only work if you combine it with these.
Here are the top 3 arm toning exercises.
1) Bar Bell Biceps Curls
This should be the basis of your biceps workout and is also the easiest to get do with the right form. You can also lift more weights with this exercise safely. Stand with feet slightly apart and lift the barbell up. Raise your chest and lower your shoulders as you curl the bar towards your chest. When you reach just above your pecs start lowering the bar slowly. Don't move your elbows as you go through the motion.
2) Skull Crushers
This works your triceps. Done correctly it will yield fast results. Done wrong, it can cause serious injury! So be careful.
Lie down on a flat bench holding a bar bell with your palms facing upwards and lift the weight up. Now slowly move the bar backwards as if you were trying to drop it down to the floor above your head. Move until your triceps are pointed behind you. Once there start lifting the bar up and straightening out your arms. Lower it slowly again to where you began and repeat.
3) Alternate Dumb Bell Curl
This is a great biceps exercise that help you focus and isolate one arm at a time. You can also lift more weights per arm without the weak arm stopping you from doing it.
Grab 2 dumb bells and stand with your back straight. Curl one dumb bell up to your chest and try to curl as if you were going past your shoulder and flex your biceps. Slowly curl it down as you twist you arm on the way to where you began, next to your thigh. Repeat it with your other hand.
Those 3 are the top 3 arm toning exercises to help you get tones arms in no time.
Source