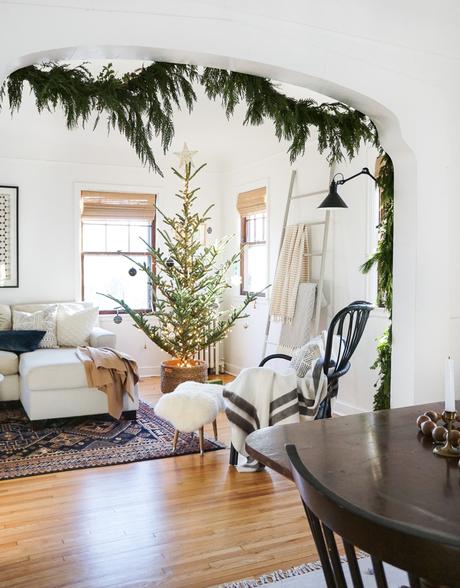 As I was naming this blog post yesterday, it occurred to me just how simplistic and all around 'common-sense-esque' it sounded. How hard can it be to put your real Christmas tree in a basket? The truth is I've been trying to figure out how to use a basket (in lieu of a tree skirt) for my real Christmas tree for the last few years, and I finally figured out a set up that works. So here we are!
You see with real trees the stands are often 20″-24″ at their widest point, making it difficult to disguise in a basket without the basket being MASSIVE. I recently came across a 16″ diameter plastic tree stand that holds a 6′ tree. Our tree this year is a real Fraser Fir, known for its more "open" Nordic feel. The top of the tree thins to a single branch with a few small off shoots. Technically, the tree is a 7-footer, but considering the sparseness at the top of the tree, I decided to give it a whirl with the 6′ tree stand. And SPOILER alert...it works great!
The 16″ tree stand diameter makes the basket so much more doable. Here I'm using an 18″ round sea grass basket from Target's home storage section. Placing the tree stand in the basket is a snug fit, keeping the whole set up nice and stable. For good measure, I thought I'd detail our whole tree setup this year. See sources at the bottom!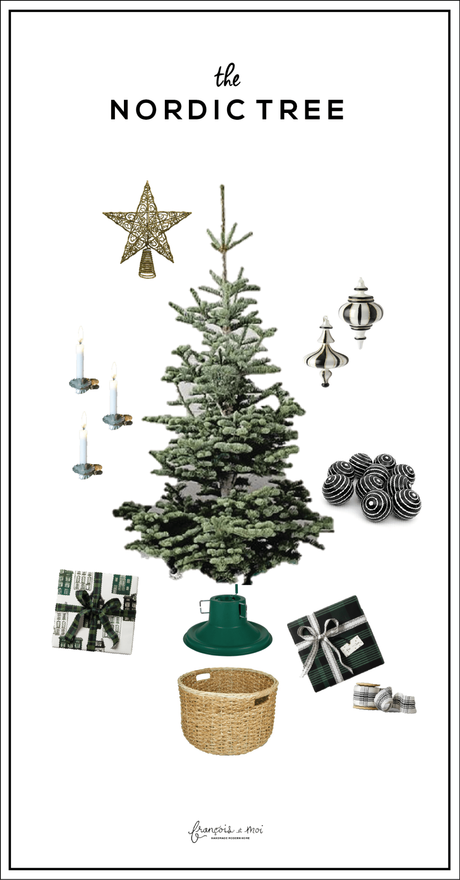 S H O P T H I S L O O K
Glitter Star Tree Topper || Fraser Fir Real Tree || Finial Ornaments || Candle Clips || Candles || Black and White Striped Ornaments || Danish RowHouse Gift Wrap || Black Plaid Gift Wrap || White Plaid Ribbon || Black Border Ribbon || 6ft Plastic Tree Stand || Sea Grass Basket