When is a drinks trolley not just a drinks trolley? When it's so beautifully styled it is a thing of beauty to be admired, and not just a bearer of alcoholic drinks. We love our Gold Round Luxe Drinks Trolley for its simplicity, curvaceous shape and its dual purpose as a decorative shelving unit. But don't just pile on the glasses and bottles so it looks like your local bar – be discerning and create a visual feast by adorning it with accessories that enhance the vignette. Be selective by only displaying the handsome bottles (I've recently bought a gold prosecco bottle, I can't bear to drink the prosecco as the bottle is so gorgeous), your most striking glasses, and then add some pizzazz with other accessories. Here's my thoughts on how to style a drinks trolley for a glam addition to your interior décor – not definitive, of course.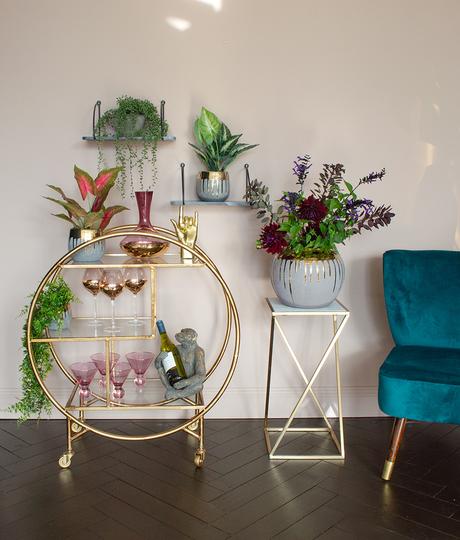 Gold Luxe Round Drinks Trolley | Dripping Gold Concrete Effect Plant Pot | Berry Tinted Wine Decanter | Berry Tinted Wine Glasses | Pink Martini Glasses | Gold 'Rock On!' Hand
Greenery
The trend for bringing the glories of the outdoors, inside with luscious potted plants gives us endless choice, whether real or faux, so they are a must for adding that essential warmth to a display that greenery brings. And will always be on trend with us ladies at Audenza for the softening effect green plants bring to our décor. Trailing plants are a great choice as they take up little space on the drinks trolley but soften the whole scene. If you have a tendency to kill indoor plants (as I have!) go for faux house plants, so no TLC required just beautiful lush greenery.
Height
To draw the eye into the scene you need height above your trolley, be it shelving, wall art or a gold elephant head. For most of us there is nothing worse than a blank wall, so be creative and pile on the glam. Not many homes have a gold elephant head on the wall, so if you want to be different he's your man. If you prefer to be a bit more subtle (well, by subtle, I mean less quirky), then marble shelves create a well-balanced alluring vignette, and a way to create more display space for the maximalists out there.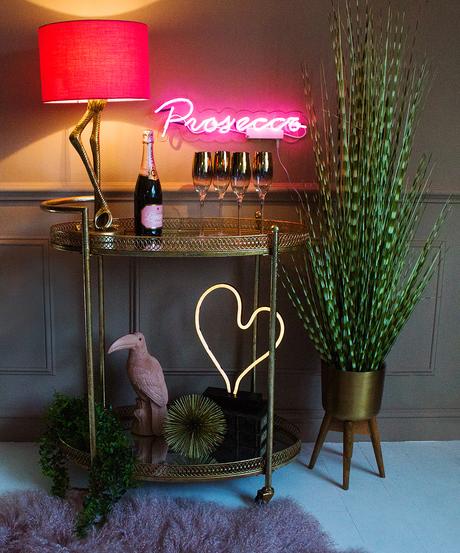 Antique Gold Metal Bar Cart
| Brass Flamingo Leg Table Lamp | Gold Champagne Flutes |Heart LED Light on Stand | Decorative Prickle Ball | Brass Planter with Stand
Glam Glassware
We've all got a selection of glassware, but it's not all decorative, so keep the boring stuff in the cupboard and only display your most visually appealing. There's no space for plain glassware on the drinks trolley of your dreams, is there? It's not about having everything out there to use, but being selective and creating an attractive scene. A stunning emerald crystal decanter, a gold prosecco bottle, a pink gin bottle – it all helps to create a glam image.
Neon
To get a bit of the cool bar vibe in there you can't beat a neon light – no longer ressrved for dodgy strip joints, these beauties are uber contemporary and oh-so-trendy.  Hang a neon light on the wall above, or place a small one on a shelf, such as the pink neon heart light – or both if you want to go wild! For an evening soirée, a neon light on your drinks trolley has to be the best way to add intimacy and vibrancy to a do that draws your guests in.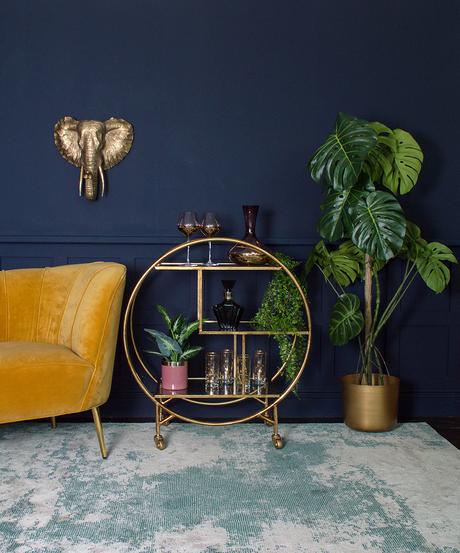 Gold Luxe Round Drinks Trolley | Elephant Wall Mount | Berry Tinted Wine Decanter | Berry Tinted Wine Glasses |Artificial Trailing Fern |Emerald Crystal Decanter | Palm Glasses
Jazzy Je Ne Sais Quoi
And last but not least, jazz it up – as in, do the unexpected so your drinks trolley is different from every other drinks trolley out there. So, for the final flourish, you need to add in something quirky and unexpected that brings a smile to your face and brightens up your day. A cheeky monkey bottle holder or a gold rock on hand – the choice is yours to make. The quirkier and more unexpected the better, for maximum impact.
A drinks trolley has endless possibilities for creating a stunning snapshot for glamorous living, and we all like to have a bit of glamour in our lives. Even if we don't live glamorous lives – we can pretend can't we, with this revival of the decadent era that shouts out drop-dead-gorgeous and entices us into another world? We'd love to know if you have any other tips or your own ideas for how to style a drinks trolley?
Have a fabulous weekend.
Jacqui x