Two high-speed hours out of bustling Rome bring the relative tranquility of Tuscany, Italy. Florence awaits, but the picturesque vistas from the train are amazing enough to make you want to forget the city and rent a car to get out and explore the region's hills and towns.
Alas, with only two days in Florence, the rest of Tuscany will just have to wait for another time.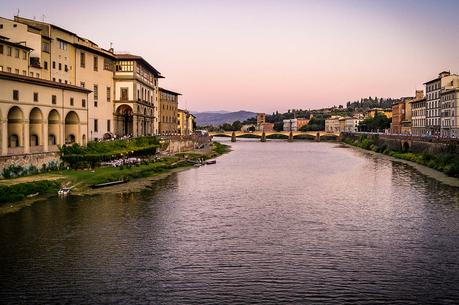 Before we get into the details of our two-day Florence plan, we need to share a few practical details, like how to get around and where to stay. Once you've got that figured out, you can spend the rest of your energy enjoying the sights, smells, and sounds of this fascinating city.
Florence itinerary: what to see and do in 2 days
Florence is one of those cities that just begs for more time. There are just too many things to taste, see, photograph and do here.
It was hard to distill all of Florence into a two-day itinerary, I'll admit it. Ultimately, we managed to blend the must-see, best things to do in Florence with time to absorb the city's atmosphere and get a taste of local life.
Okay, two days in Florence could never be enough to explore every single masterpiece of Renaissance art and architecture, or taste every magical flavor of gelato on offer. But after our trip, we can tell you you'll see all the highlights, as long as you plan your visit before you arrive. If you don't book your tours or buy skip-the-line tickets ahead of time, you may spend too much of your trip on ticket lines. No one wants to miss out on the chance to see Florence's top sights, like Michelangelo's statue of David.
We personally made this 2-Day Florence itinerary for our own use, so we promise it's doable. If you follow So sit back, scroll through, and see if we didn't get most of what to see in Florence, Italy in 2 days.
If Berchielli doesn't suit your travel style, no worries. Florence offers everything from apartments to hostels to high end boutique hotels and more, all in a wide range of prices. We recommend using HotelsCombined to see all the search engines on one page. With a wide variety of lodging types, it's a major time- and money-saver.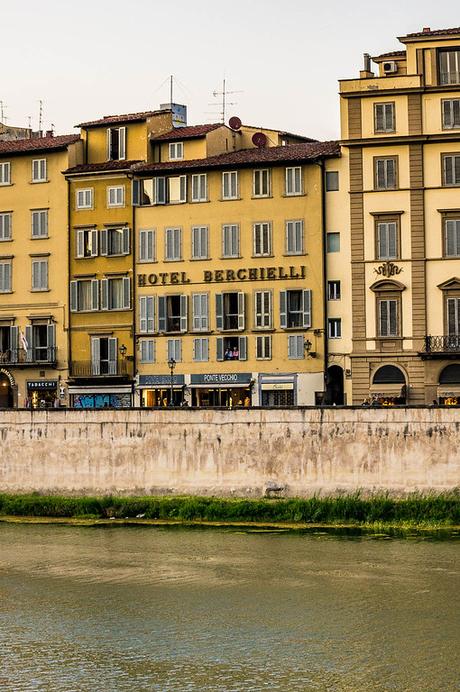 Okay, you have all the essential details for making your own travel arrangements. But don't stop here, read on to the end! We've put even more travel planning information at the end of this article.
Day 1 in Florence
Florence's main station, Firenze Santa Maria Novella, is a great example of Italian modernist architecture from the 1930s. The station is right in the city center and if you can't walk to your hotel, a quick bus, Uber, or taxi ride will have you there in no time at all.
When we arrived at the Florence train station (at lunchtime), we couldn't find any bus information anywhere. Worse, the Tourist Information office was closed for remodeling. Rather than waste time wandering around, we hailed a cab to take us to our hotel so we could drop off our bags.
Fortunately, Dan had chosen a place that was conveniently situated in the medieval heart of the city. Woo-hoo, we were right next to the Arno River and between the Uffizi Museum and the famous Ponte Vecchio bridge!
Because we only had two days in Florence, we had already mapped out a list of all the must-see sights. Our goal was to make sure we would see most of the city's major sights by the end of our two days. We figured we could always return to see the rest at another time, and by the end of our first hour in Florence - we knew we'd be back!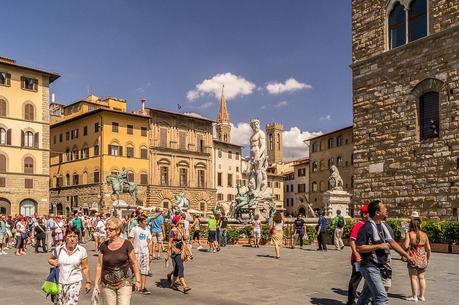 Sundays and Mondays are not ideal for sightseeing. Many places are either closed or have shorter hours. Sights may also have shorter hours during off-season.
A walk through Signoria Square
Let's start off by saying that no trip to Florence would be complete without a visit to the Duomo, Florence's iconic cathedral. So that's the first place we headed.
Our route from the hotel took us through Signoria Square, where Michelangelo's David stands in all his naked glory.
Actually, it's a copy. The original sculpture stood here for centuries, until curators moved it indoors to protect it from the elements. If you want to see Michelangelo's original masterpiece, then you'll have to visit the Ufizzi Museum (Day 2).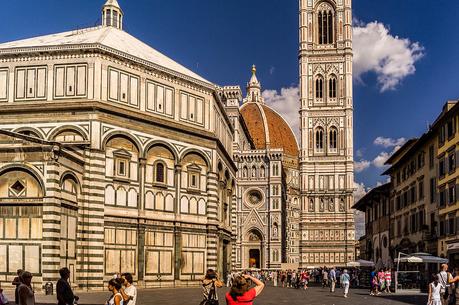 You must take a walk through the beautiful Signoria Square, but do it slowly. With limited time in Florence, the sites, sculptures and atmosphere that Signoria Square has to offer is not to be missed! This famous L-shaped square home to the Fountain of Neptune, the Loggia della Signoria, as well as the centuries-old Palace. You'll see it all standing in the middle of this amazing square.
Our favorite thing on the square was the large loggia - an open, covered porch that adjoins the Uffizi Gallery. This stone building was built in the late 14th century to host public meetings and ceremonies. These days, the Loggia dei Lanzi has been transformed into an open-air sculpture gallery, - with a lot of impressive, larger-than-life statues. Take your time; there's a lot to see.
Tip: In Florence, fine art can be seen everywhere you turn - keep your eyes peeled!
Visiting Florence's Duomo
The red-roofed dome of Florence's cathedral is one of the most photographed sights in the city. We took our turn as well, but what surprised us was the building itself. Not only is it colorful and beautiful all the way around, but fabulous statues adorn its front facade.
Of course.
The "of course" is because Florence is the one place Renaissance art fans shouldn't miss.
Back in the 15th and 16th centuries. the city's richest and most powerful family, the Medicis, spent vast sums to collect art. They were patrons of Bargello, Michelangelo, Da Vinci, and other talented artists of the day. All of these famous artists lived in Florence.
The Medici family's art collection is now on streets and in museums around the city - actually, some of the family's Florence homes are museums in themselves!
But I digress. Back to the Duomo.
As we said, its unique dome dominates Florence's skyline. Did you know that it is still the largest masonry dome in the world?
Go ahead and enter; it's free. Just be aware that you will need to purchase a ticket to climb the bell tower or visit surrounding sites and museums such as the baptistery and the underground ruins.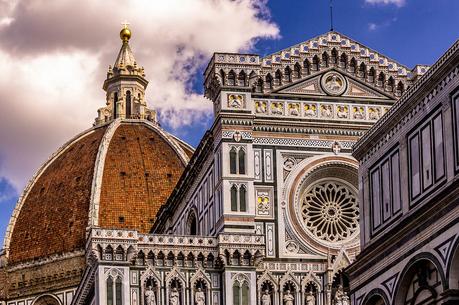 Combined tickets for all of these museums can be purchased at various tourism offices around Florence, however it's probably easiest to buy your tickets from the office directly behind the Duomo, or possibly even easier, to buy your museum tickets online.
The Museum is closed on the first Tuesday of each month.
A visit to the Baptistery
Just a few steps away from the Duomo, you will find the Baptistery. Introducing one of the most amazing things to see in Florence Italy.
Also known as the Baptistery of Saint John, this is the oldest religious site in all of Florence, constructed between 1059 and 1128 in the Florentine Romanesque style. If you're a fan of Romanesque architecture, then you will love the geometrically patterned white Carrara and green Prato marble seen in the building's architecture.
As you can tell by its name, the building's fame and sole purpose for existence was for performing baptisms. Not anymore, though. It's now most famous for its detailed bronze front doors that depict stories from the Bible.
Right up until the end of the 19th century, every catholic in Florence was baptized behind these famous doors. Today, young local children can still be baptized here on the first Sunday of every month. However, with limited space and time, only four children can be baptized on such Sundays, meaning one needs to make the request well in advance.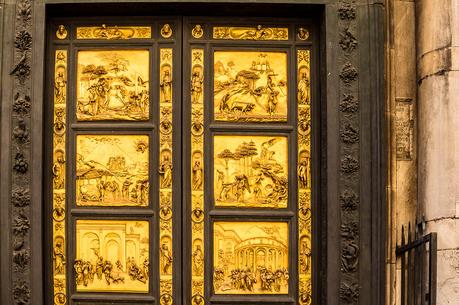 Purchasing one of the Florence museum tickets includes free entrance into the Baptistery.
Italian pizza for lunch
After that train ride and walking around, your stomach will be demanding some attention. Not wanting to lose valuable sightseeing time with a sit-down lunch, we stopped at a pizzeria for a couple of slices to go. You know... pizza in Italy, right?
Here's a case where reality doesn't match the expectation. I got an absolute kick out of being able to use the little Italian I knew, but the food itself was unremarkable. Sigh.
We had much better luck with the Crayola-green, mint-flavored slushies we purchased from a street vendor in the mid-afternoon. Hurray for trying street food!
Roaming the streets of Florence
Rather than rushing around to tick every box on a random " Things to Do in Florence" list, we opted to spend the rest of our first afternoon truly absorbing the city's ambiance.
Florentine life unfolded all around us as we meandered through the labyrinth of medieval streets around the Basilica di San Lorenzo. Florence is by far one of the most walkable of the main cities in Italy - if there is one place where you can really make two days count, it's here.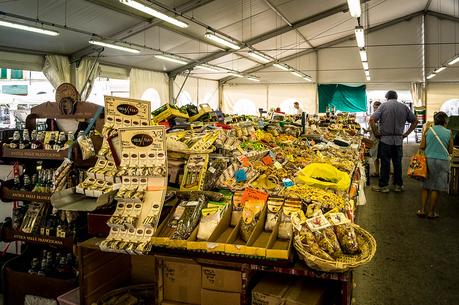 If you don't enjoy walking through a new city unguided, you might prefer a private and customized walking tour of Florence with a local guide - just to squeeze that little bit extra out of the experience in the same way we did on Day Two ... (Keep reading!)
San Lorenzo: leather markets, Florence
This is where you'll find the lively San Lorenzo street market, a warren of stalls selling just about everything you might imagine, at insanely good prices. This outdoor market is one of the top areas for shopping in Florence.
In the market for a new leather handbag? Bingo! You'll find stalls selling various leather goods including bags, belts, wallets and jackets at the San Lorenzo outdoor market.
You'll be seriously spoiled for choice here - so put your bargaining shoes on!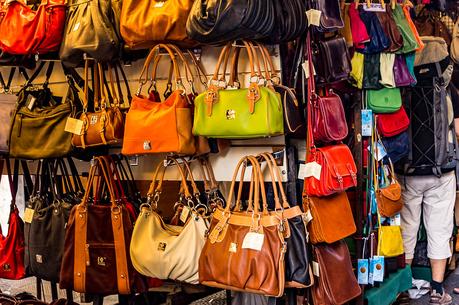 Try to hold out on the spending until you've made it past the first row of vendors. The last thing you want to do is realize you could have got something way cheaper further on. And remember to bargain!
Sunset on the Ponte Vecchio
As the sun set on our first day in Florence, we took our cameras to the Arno River so we could photograph the old bridge, locally known as Ponte Vecchio.
Built in the early 1300s, it's said to be the only medieval bridge still standing in Europe. The rest were obliterated when Hitler ordered all bridges destroyed as the Germans retreated in 1944. We have seen two explanations as to why Ponte Vecchio was spared. One is that Hitler was enchanted by the bridge when he visited Florence in 1938 and he issued an order that the bridge be spared. The other possibility is that the German soldiers chose to disobey orders and spare the beautiful Renaissance bridge on their own.
In either case, shops line the length of the ancient bridge's span, just as most medieval bridges once commonly had. Although butchers initially occupied the shops on Ponte Vecchio, its present tenants are jewelers, art dealers and souvenir vendors.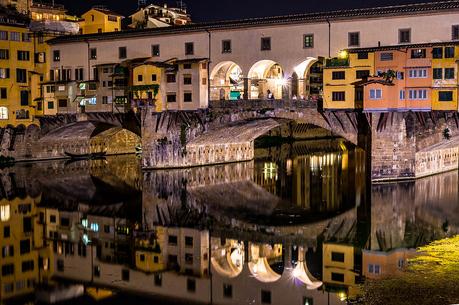 If you're looking for another beautiful spot to enjoy the sun setting over this beautiful city, then consider the Piazzale Michelangelo. This is one of the best lookouts for a stunning view of Florence, day or night. Best of all? It's completely free!
Day 2 in Florence
Only two days in Florence meant that our time there was precious. Still, two of the most famous sites in the city are museums: Accademia and the Ufizzi gallery, and we really wanted to see them both. The problem is, ticket lines for the Uffizi and Accademia tickets can be incredibly long. This was one of those times when we decided that time was more valuable than money, so we splurged on a guided tour of both museums. Money well spent, if you ask me.
A guided tour of the Accademia
The Gallery of the Academy of Florence, locally known as Galleria dell'Accademia di Firenze, is pretty much known world wide as the Accademia. We started our second day with a trip to the Accademia to see Michelangelo's statue of David.
As far as we knew, that was the one thing that people go there to see. As it turns out, we were wrong.
We had booked a skip-the-line tour that would take us to Florence's two most iconic museums, the Accademia and the Uffizi. This was the first time we had ever booked a guided tour and it was money well spent.
Of course, we got in without waiting. But we were seriously and very pleasantly surprised at how much our guides knew about art history and history in general. They also guided us directly to where all the most famous works were. (My feet were especially grateful!)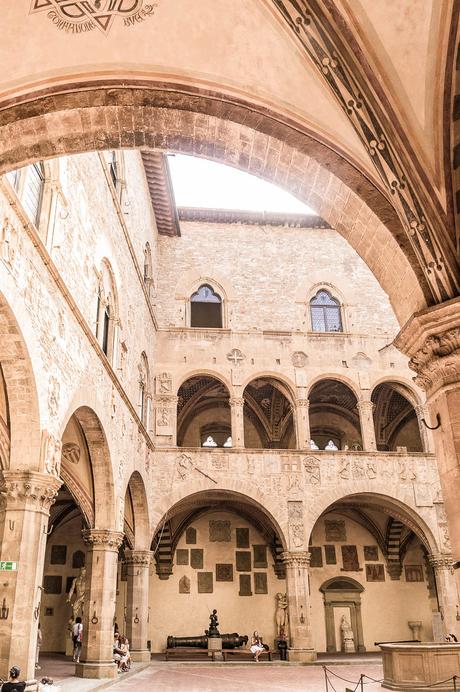 Tip: If you are interested in a skip-the-line guided tour of these museums, book the same tour here.
As we headed to the iconic statue, we were told to look carefully at the paintings along the way. Most of these paintings were done by the very same people who had tutored Michelangelo.
The salon where David stands also has other pieces he created. To me, not all appeared to be finished. Michelangelo believed that every piece of stone had a figure entrapped within it. His goal was to help who- or whatever was trapped in the stone to become exposed.
Aside from the statue of David, we thought the most interesting thing in the museum was a separate room housing plaster sculptures from students. They were incredible!
Afterward, we wandered back through the San Lorenzo street market. It was just as visually overwhelming as it had been the day before.
Mercato Centrale (and lunch)
Food is a huge part of a culture, and we enjoy visiting markets to see what different people like to eat. A bit further on, we came to the bustling Mercato Centrale (Central Market). Here's how it works. Time to explore.
Open 364 days a year from 8am to midnight, every sort of food imaginable is available, and the ground floor is an expansive food market with many artisan stands. Every store sells its own products, which you can eat immediately or take away with you, paying at each store's own cash register.
The entire upstairs was remodeled in 2014 to cater for the recent gourmet food market trend. It's filled with even more stalls where you can take your pick of hundreds of delicious lunch options, from pizzas and meat to fish and pasta. Perfect for people who need to be careful with what they eat (like me).
The norm is to just pick your meal and carry your food to the large common tables - so that's exactly what we did. It was really delicious, and very good value for money. Don't expect a relaxing sit down meal, but they do have table service for drinks and such. It was fun to enjoy it amid the hustle and bustle. Kind of similar to eating in a mall's food court ... but kind of not.
Our Uffizi tour wasn't scheduled for another 45 minutes, so we took our time looking through the downstairs shops. Among our favorites were one that sold dozens and dozens of pastas in unusual shapes, another that offered an amazing selection of olives, and a third which had countless olive oils to choose from. But we have a rule: If you buy it, you carry it. We didn't want to schlep it to Venice and through Spain, so we left empty-handed.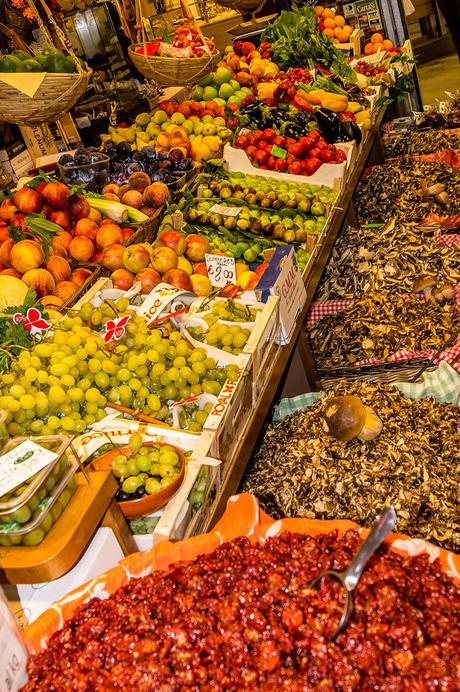 A guided tour of the Uffizi Galleries
Anyway, our afternoon tour of the Uffizi Galleries was outstanding. The collection of artworks started in the 16th century as that of the Medici family, and has grown to become one of the greatest in the world, comparable to the Louvre, the Prado and the Hermitage.
This one building houses countless paintings by such greats as DaVinci, Botticelli, Michelangelo, Rafael, Titian, and Caravaggio. And that's just to name a few.
Our tour guide gave us just enough background detail to make it really interesting, but not so much as to make it boring. After she had shown us the highlights, we bid our guide goodbye and spent more time wandering through the museum and enjoying the paintings on our own.
Experiencing Italian wine tasting
No wine lover's visit to Tuscany would be complete without a visit to an enoteca, a special type of regional wine shop. A genuine enoteca is primarily focused on giving visitors the opportunity to taste the local wines at a reasonable fee and possibly to buy them.
So, Dan and I made our way to one we'd seen and sat down with the sommelier (wine expert), who shared some delicious Tuscan wine samples with us. We can't remember the name, but we can recommend a nearby restaurant called Mangiafoco.
After our Italian wine tasting, we walked through the narrow streets and soaked up the last little bits of Florentine ambiance that we could. Because bright and early tomorrow morning, we'd be back at the train station and heading to Venice.
Tip: If you're planning on tasting some great Italian wines, you might enjoy this 2 hour wine tasting of Tuscan wines in Florence. By the end of this tour you'll know how to order wine in Tuscany, as well as learn how to pair Tuscan wine with the right food! Best part? You'll get to taste 5 precious local wines, including Brunello and Nobile di Montepulciano.
Things to do with 3 or more days in Florence
We're fond of the get-in-and-get-out philosophy: See the highlights of a city in a couple of days, and spend the rest of your time exploring the region. However, Florence is a rare exception because there's so much to see and do, especially if you're an art lover.
You need to know that Florence offers a tourist card called the Firenzecard. (85 euros). It gives you 72 hours of free, priority entry to museums and landmarks around the city, and there's even a version that includes unlimited travel on public transportation.
We didn't buy it because we had booked that skip-the-line Accademia/Ufizzi guided tour combo. With more time in Florence, we'd have scheduled the tours for Day 1, and then used the Firenzecard to visit other attractions over the following 3 days.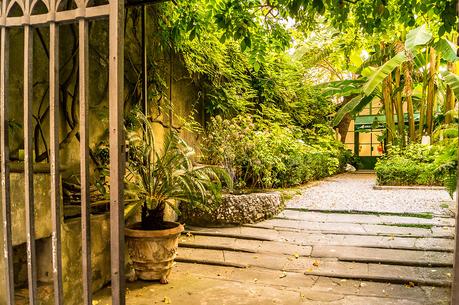 Hop-on-hop-off bus tour
There's a hop-on-hop-off bus tour of Florence, too. For people on a budget, it's a cheaper way to get around Florence than the Firenzecard, but it doesn't include any museum admissions. If you're not a museum aficionado, it's a good option. Plus, the bus has an onboard guide who provides a narrated tour of the city.
Market to table cooking lesson
Who wouldn't enjoy learning how to cook like an Italian, in Italy? Meet the farmers, bakers and butchers of the central market in Florence, and then on to preparing homemade pasta and sauces.
With one of these cooking lessons, you will learn all kinds of tips and techniques of meat and fish courses, while savoring the fruits of your labor with Italian wines. Can you say " yum?"
Florence from the water
An extra day in Florence would have given us time for a romantic and unique cruise on the Arno river. We found this boat tour, that also includes a guided walk through the city center.
We've done it in London, Singapore and Amsterdam. There's something unique about seeing cities from a completely different point of view - the water. Well worth it!
A Tuscany wine tour from Florence
The enoteca was fun, but that train ride had made us crave more of Tuscany. Naturally, an extra day in Florence would have been a perfect opportunity to take this fun wine tour from Florence.
Just imagine soaking in the Tuscan countryside, sipping and sampling delicious traditional wines ... It sounds like time well spent to us.
Tip: Even though we don't travel with them (heavy and bulky), guidebooks can be a great investment. They are super useful while you're planning your itinerary and a great way to bone up on what you're going to see. Plus, they offer lots of in-depth information and tips in a concise format. Some people tear out the relevant pages and bring them along for easy reference on-the-fly. Find a list of Florence travel guides here.
Final words about our 2 days in Florence
We hope that you have a better idea of what to see in Florence, Italy in 2 days. We wanted our Florence itinerary to give you a few things to think about, as well as show you the importance of planning your trip well in advance.
We've fallen in love with understated, artistic Florence and want to return. Florence has become our favorite for so many reasons, from its old streets to its delicious foods and the amazing Renaissance art everywhere you turn.
It has whet our appetites for wanting to spend much more time in Tuscany, a part of Italy like no other. Someday, we'll return and share the beautiful countryside vistas with you.
Arrivederci, Florence!
Inspired?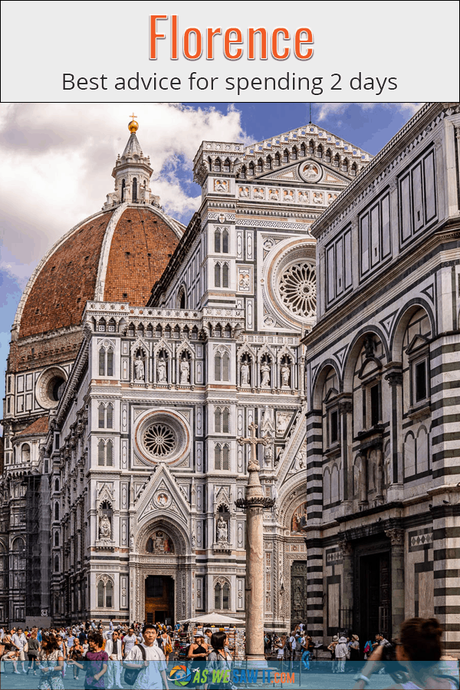 Written by Linda
Linda is multilingual and has been to over 50 countries. Her insatiable love of travel, cuisine, and foreign languages has inspired her to create As We Saw It with her husband Dan, a professional photographer. Her goal is to make travel easier for others and to offer a brief escape to another land.
You may also like...