Late Fall through Winter is a great time for a man to grow a beard for the first time. Beginning in November, with No Shave November, many men stop shaving and grow out their beards to support cancer patients who lose their hair due to treatment for their cancer, and to raise awareness of cancer.
Traditionally, men donate the money they would normally spend on shaving supplies to cancer organizations that educate, raise awareness, and support cancer patients. Other men compete for growing the best beard, much like running a relay, with proceeds going to support cancer patients.
Beard Season
Whether you participate or not, beard season begins in November. For some of us it doesn't end until Spring, when the temperatures get warmer and the wind doesn't make your face go numb the moment you step foot outside. When the Spring comes, it is time to shave off your Winter beard.
If this is your first time growing a beard, welcome to the club! You are sure to have learned a lot about beard maintenance and the joy of growing and styling a beard. If you are looking at this post, chances are that you are ready to cut your beard off and enjoy the sun.
Where To Begin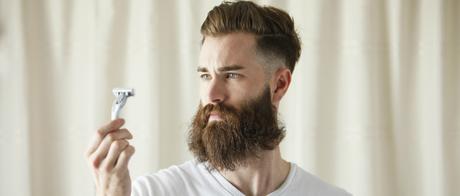 Image Source: www.theidleman.com
If you have grown a beard, you already know How to Shave. That doesn't mean you know how to shave off a full beard. This is where it gets interesting for seasonal beard growers. There are several things to consider before you begin shaving.
Beard Shaving Is Tricky
If your whiskers have ever grown too long, you know that your razor will pull the hair, which is unpleasant and painful at time. If it is your first time shaving off a full beard, you are in luck, my friend. This is your guide on how to do it right, with as little irritation as possible, for a smooth finish.
Prep Work Is Important
Why Prep For Your Shave?
The most important part of shaving your beard is the prep work you put into it. If you don't prep your beard and the skin beneath it, you will have some serious irritation. Your skin is going to be sensitive if you haven't shaved in a while, so extra precautions will go a long way to preventing additional, unnecessary irritation.
What You Need
First, gather your arsenal. Most of what you will need should already be in your shaving kit. You will need a trimmer or pair of scissors to trim your beard back, some shaving cream, and a shaving brush if you want to really experience the art of shaving. A fresh razor with multiple blades and a trimmer, such as The Great Dane from 99centrazor.com, will also be necessary.
Let The Shaving Begin!