Are you guys using Rich Pins for your WordPress site or blog? In case you're not familiar, rich pins are basically "smart" pins on Pinterest that have your website name, logo, & post title displayed below the pin image AND are super helpful in growing your Pinterest following.
I feel like I might be the last person on Earth to figure out how to set them up on my site, but just in case I'm not, and like me you thought you'd have to hire a developer to get it done, I thought I'd share the EASY, and I'm talking eeeasy way to make it happen. There's no coding involved ( Thank the lord.), and it's much simpler than the greek jargon Pinterest is talking about here.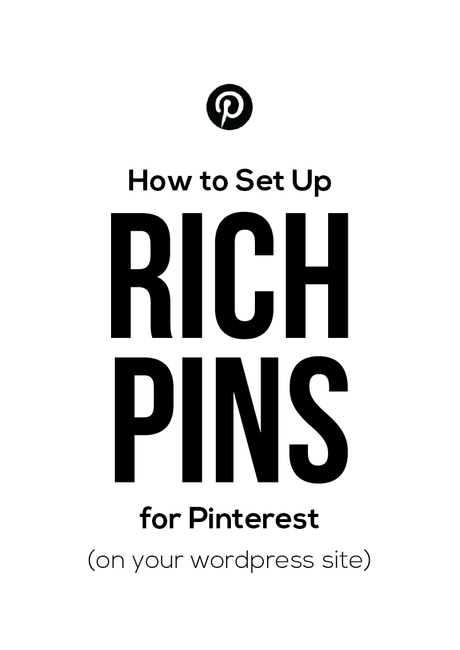 Okay, here's the skinny:
STEP 1. INSTALL YOAST SEO PLUG-IN: Yoast SEO Plug-in is a FREE plug-in that also makes sure you're optimizing your Search Engine Optimization to the max (but that's a whole other post in itself). For instructions on how to install a plugin, go here.
Once Yoast SEO is downloaded and activated in your WordPress Plugins, go to the black control panel on the left side of your WordPress dashboard, scroll down towards the bottom of the column, hover over 'SEO' in the list, and click on 'Social'. Then click on the Facebook tab and enable the 'Open Graph Meta Data'. (Doing so will also activate the Open Graph Meta Data for Pinterest.)
STEP 2. ENTER YOUR URL AT PINTEREST'S RICH PINS VALIDATOR: Enter the URL to any one post on your site and click 'Validate'. It doesn't matter which post you enter. Just pick one, copy & paste the URL, and click 'Validate'.
STEP 3. APPLY: Once you click 'Validate', you'll see a message that says something like, 'Your pins have been validated!'
Click 'Apply'. Pinterest will then review your site and you should receive an approval email within the hour.
That's it. I hope this is helpful! And if any parts aren't clear, let me know in the comments and I'll help clarify if I can!