Running errands in style require pieces that serve as double duty. 1) It must be utilitarian, and 2) It must be stylish. The items below perfectly define the style-meets-function wardrobe on a hot day when you're on the way to the post office, grocery market, airport, dry cleaners, and perhaps squeezing in a quick brunch with friends. Plus, it's always good to put your best foot forward because you never know who you'll run into!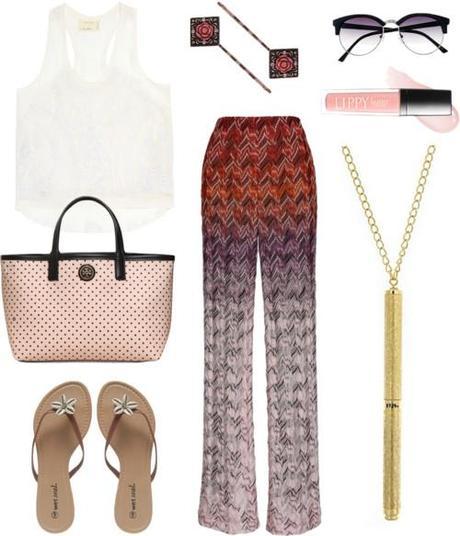 Clockwise from L:
1) Lacey sleeveless top.
Perfect for a scorching day, allowing you to get all the breeze you can get.
2) Decorative bobby pins.
Instead of going for the plain black bobby pins that we all use at some point of the day or week, opt for a fancy bobby pin whether it's decorated with flowers, crystals or filigree. Use it to sweep your bangs to the side for a charming accent.
3) Sunglasses.
When the sun is too bright, keep a pair of shades on to cover your eyes. Squinting encourages wrinkles.
4) Lip gloss.
Keeps your lips soft and looking fresh.
5) Pen necklace.
Serves as a stylish pendant necklace but also a lovely writing device when your phone runs out of battery, or when you're waiting in line and want to write in your journal.
6) Prints.
Skip the jeans and go for textured prints and graphics to make your outfit more interesting.
7) Beach sandals.
Running errands doesn't have to be a plain activity. Wear a pair of fun sandals or flip flops that remind you of the beach, be it a flower made with shells or sea creature accents for an instant mood booster.
An everything-tote is a must for running errands. It's big enough to store your water bottle (imp for hydration esp on sweltering days), leaves room for few snacks to nosh on, while still having your makeup bag handy, and any other essentials.