Hello readers, here we have an interesting post for you. Here in this post, we will let you know on how to remove Facebook ads in newsfeed and sidebars. Facebook is the biggest social media network in the world with millions of active users. It offered a great experience to reach our friends/family who is near/far away from home.
Nowadays facebook users are most annoyed with the sponsored posts in the news feed and in the sidebars of the facebook. To be the fact that sponsored posts kill your time wasting on something that does not work.
Facebook ads are shown based on your interests and the websites you visit frequently. Even Facebook is the largest place to meet the customers for many of the companies to sell their products. But these ads are making the big disturbance to the users by diverting their minds from one work to the other.
To put a stop of these Facebook ads here we will help with the post that covers on how to block facebook ads. By following this steps you can easily stop facebook ads scrolling on your newsfeed. By blocking the Facebook ads you have many advantages like you will never miss any updates from your friends, your browser speed will be increased by 20%, fewer data will be used and moreover, your precious time will be saved.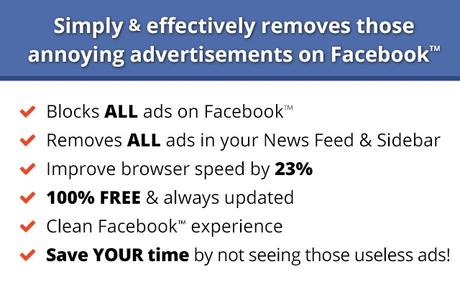 Remove facebook ads in newsfeed and sidebar
Step-1: Install an Ad blocker for facebook extension from here
Step-2: Now enable the extension and allow its permissions
Step-3: Log-in to your facebook account and check whether ads are present or not
You can control your ads on Facebook by checking the extension box which presents on the right corner of chrome browser.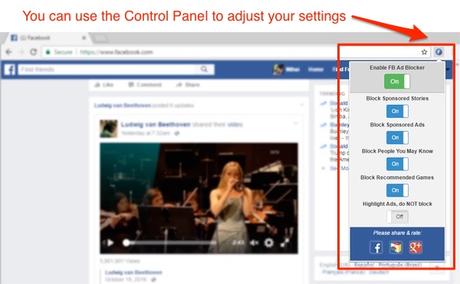 Here you can block sponsored stories, block sponsored ads, block people you may know, block recommended games. It also shows that how many numbers of facebook ads blocked and how much time you have saved by not seeing all those ads.
Read: 8 Ways To Identify Fake Facebook Account
We hope you liked the post and we would like to hear from you on the feature that remove facebook ads extension. Drop your opinion in the comments section and spread the post by sharing with your friends.