I had worked with a renowned cardiac surgeon in Pune for 1.5 years and use to visit 3-4 heart hospitals which gave me knowledge of various types of heart diseases & treatments.
Myocardial Infarction is a medical term for Heart attack which is very common heart disease and affects many lives. One person dies every 33 seconds owing to a heart attack in India.
You can find many heart patients who have survived a heart attack. Time plays a major role in treating such cases. If the patient is given immediate treatment, greater damage to the heart & body can be prevented. Hence, one should know how to recognize heart attack symptoms.
Also, don't think that you are young so it won't happen to you. Let me inform you that I have seen many patients as young as 21 years old who had undergone angioplasty. Therefore, be cautious and take care of your health.
Recently one of my family members got a heart attack, but his brother is a cardiologist so immediately he was rushed to a hospital, and treatment started which saved him. Later he had to undergo angioplasty.
The reason am telling this is because a heart attack is a serious medical emergency. The early you recognize the signs & symptoms, the early will be the treatment and life can be saved.
 So let's learn! But before that know what does heart attack mean.
A heart attack occurs due to the clotting of blood. It is a circulation problem where the flow of blood to the heart is blocked. The blockage happens due to the buildup of fat, cholesterol & other substances.
How To Recognize Heart Attack Symptoms?
1.  Chest pain & discomfort- Discomfort, pressure, pain, heaviness, tightness, squeezing in your chest or arms that may spread to shoulder, neck, or back.
*People having diabetes may not feel pain and it is referred to as a 'silent heart attack"
2. Shortness of breath- There is trouble in breathing.
3. Indigestion- Nausea & vomiting, heartburn. Many people take these symptoms as a case of indigestion only and neglect them as an indication of heart symptoms.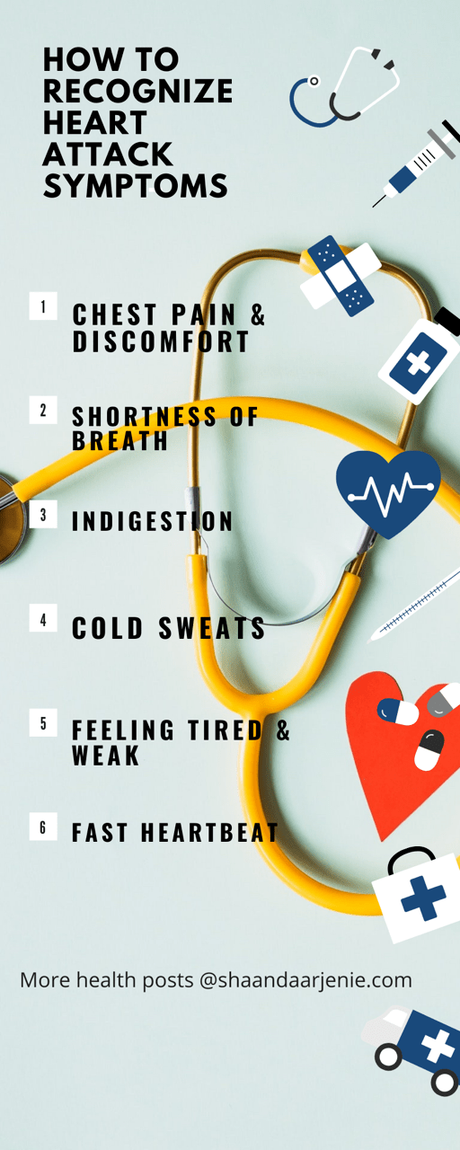 4. Cold sweats- It indicates that the heart is not getting the right amount of oxygen.
5. Feeling tired & weak- If you are feeling tired without doing any activities, then be alarmed and get yourself checked immediately.
6. Fast heartbeat- If your pulse and heartbeats are increasing rapidly.
---
Be alert! Be alarmed! Take immediate action if you recognize these symptoms.
It is always advisable to undergo preventive health checkups at least once a year so that if any abnormality occurs, treatment can be started on time.
Don't wait for these symptoms, go for a regular checkup and consult your doctor for a healthy heart.
---
---
You May Also Like To Read:
Cholesterol Test: What you need to know?
Benefits that you can avail from Health Insurance in India
*Disclaimer: The content in this post is purely meant for educational purpose only and not meant to be a replacement for a doctor consultation, nor is it a medical recommendation or prescription of treatment.