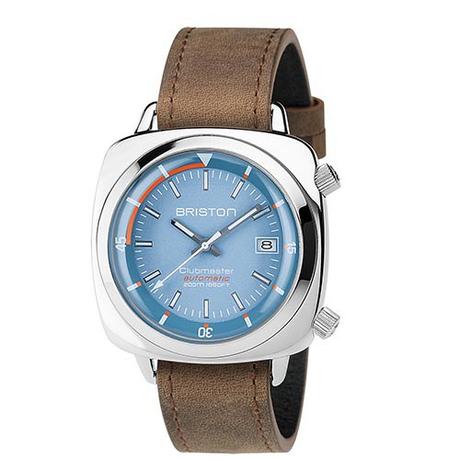 Watches today are true style statements. Since they don't have much of a practical aspect anymore, as everyone carries around at least one gadget that shows time, a watch is more of a business card of the wearer. A watch is an intentional addition to an outfit and serves to communicate information about the wearer's interests, taste and personality.
However, the message a watch sends out is not given out just by the watch itself, but also by the context in which it is worn, meaning the whole outfit of the wearer.
Thus, the way you coordinate your watch to the rest of your outfit is of great importance. A watch can be matched in a complimentary way or in a contrasting way, depending on what you wish to express.
A watch that is worn in a complimentary way is a timepiece that works in a subtle and classic way with the rest of your outfit. For example, if you wear an outfit that features a lot of gray, black or beige, you can wear a watch that features the same colors in terms of dial and strap. This way, you will integrate your watch in the color scheme that has been already established through your clothes. Thus, you will give only a hint to the watch, and the type of watch will speak more than its color.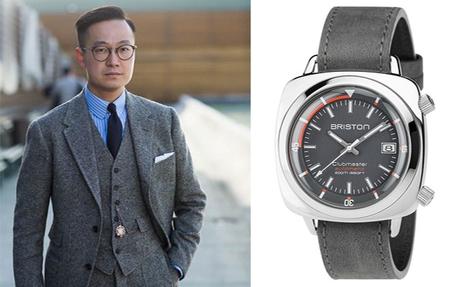 The type of watch you wear speaks a lot about who you are and what your interests are. A dress watch is the classic indicator of someone who is urban, polished and simple. Few complications and a classic strap are the marks of a watch that lets others know you like to keep it simple and classic. These watches go very well with suits and ties and with most casual outfits. Sometimes, depending on the design, they also go together well with more sporty outfits. For example, the collection of watches created by French label Briston is very versatile: their watches go together well with a casual suit, but they also work with a shorts and polo outfit. Moreover, they come in a variety of colors, mostly neutrals such as beige, dark blue, gray, black, etc., which work with most color combinations. Such a watch can easily become your go-to watch.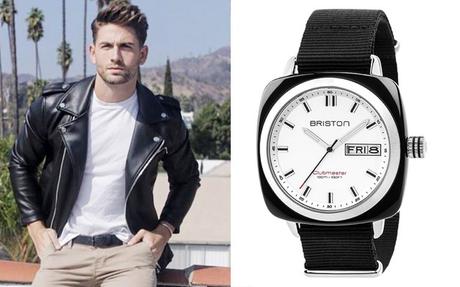 Dive, pilot or race watches are harder to incorporate in a suit and tie outfit. These watches have a clear message: they are sporty, dynamic and very masculine and go best with casual outfits or sportswear.
You can draw attention to your personality by wearing a watch that is in high contrast with the rest of your outfit. For a safe bet, you can experiment with colors and patterns. For example, if you wear a casual neutral suit and tie outfit, you can accessorize it with a watch in purple, orange or even yellow (or a combination of colors). This way, you will stand out and make your watch noticed. To keep it safe, make sure you keep your watch simple as well. Sometimes, even a watch in a light blue shade will do the job if you wear say a dark blue suit.
While it is riskier and harder to pull off, you can also wear a sports watch with a classic outfit to showcase your personality. This needs to be done with extreme care and to make sure that it looks intentional - try finding an element that connects it to the rest of your look (a pattern, a color, a shape), as otherwise, you risk looking pretentious and out of place.
The best way to make sure that your watch will compliment your outfit though is to wear it with confidence. Your watch needs to be a reflection of who you are, you should wear your watch and not the other way around. This way, almost any combination will work and you will be ready to go!
Fraquoh and Franchomme
Further reading:
Three things to look for when buying a watch Can you buy quality watches at an affordable price? Style Guide: What is a go-to watch? The four elements every sports watch should have Details you should know about watches The guide to dive watches The three features every dress watch should have 3 reasons a watch with a brand history is worth it 4 tips on buying an investment watch 3 reasons to wear a great watch What makes a quality watch? The complete guide to choosing a watch Universality in elegance: Finding the perfect watch Emotion and design: The aesthetics of watches 3 reasons to buy a preowned watch How to match your watch to your clothes The guide to minimal watches
P.S. We want to hear from you! How do you wear your watch? What watch do you wear? Why? Share your feedback, questions or thoughts in the comments below! For more articles on style, fashion tips and cultural insights, you can subscribe to Attire Club via e-mail or follow us on Facebook, Twitter or Instagram!