If you're a couple that has always daydreamed about having a one-of-a-kind wedding experience, Niagara Falls could be the destination for you. Comprised of three waterfalls, Niagara Falls sits in between the border of Ontario, Canada and New York, United States. Two of the falls, American Falls and Bridal Veil Falls, reside entirely on U.S. land and the largest Horseshoe Falls straddles the border of both countries. It's considered the 8th natural wonder of the world and is a magnificent scene to behold. If this is a locale you're considering for your destination wedding, you and your guests won't be disappointed. Here's how to make the most of it: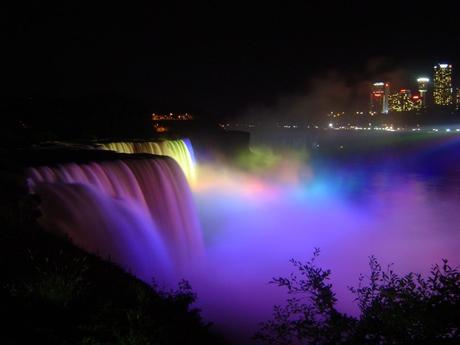 1. Make It Part Adventure, Part Wedding
The key to taking full advantage of this special spot, is to incorporate the falls into your event. One way to do this is to include a visit to the falls, complete with guided tour, into the rehearsal dinner plans. Show your most involved and closest guests a great time as a measure of gratitude for everything they've done for you throughout your life and during your wedding planning by treating them to an activity likely on their bucket list. Whether it's before dinner or after, be sure to let this select group of guests know how to dress accordingly, as they may get wet depending on which tour you choose. Also, if the tour is to take place on the Canadian side, they'll need passports, birth certificates for children and possibly other documentsor identification.
2. Have A Wedding Ceremony With Niagara Falls As The Backdrop
It goes without saying that this is what guests long for and will making for stunning scenery during the exchange of vows; not to mention extraordinary wedding photos. Turn your destination wedding into a memorable trip for guests, not just a typical wedding, with an exclusive view of the falls during the formal ceremony from Niagara Falls State Park in New York. 
3. Create a Niagara Falls Portrait Studio
Create a photo portrait experience with the Niagara Falls as the backdrop by utilizing custom graphics or backgrounds with a photo booth. Work closely with your Niagara Falls photo booth company to come up with ideas for either setting up the background of image to be Niagara Falls or to incorporating imagery of the falls into the photo strip prints.
4. Host a Dinner with a Falls View
Luckily, there are a number of fine restaurants on the New York side of the falls that boast incredible unobstructed views of Niagara Falls. These restaurants can serve as the perfect venue for an intimate wedding dinner. If your event is more sizable, the reception can follow at a nearby hotel with shuttle service for guests.
5. Epic Entertainment
From lighting to music, the right entertainment company will be that finishing touch on your epic Niagara Falls destination wedding. All the activities and excitement culminate at the post-dinner celebration on the dance floor and this is where guests can have a blast and let off some steam together so you don't want to short change their experience with a second rate DJ. When you're hunting for the perfect DJ in Niagara Falls, keep these tips in mind:- Do they also provide dance floor and ballroom lighting? More seasoned companies can set up professional event lighting that mimics the feeling of a waterfall, tying in the entire theme of the wedding right through to the end.- Do they work closely with you to create a music plan?Knowing that your favorite songs will be played, along with popular hits all guests love, is an important part of having peace of mind the day-of and enjoying every minute of the celebration.- How organized are they? Your DJ company should use modern software to track everything from the event timeline to the playlist.- Are they reachable? If your entertainment company never answers the phone or fails to return emails in a timely fashion, your planning experience is going to add another layer of unnecessary stress. – Are they professional with a long-standing reputation? Young, up-and-coming DJs can be fun, but sometimes they are too much fun and not professional enough. An established, seasoned company with a strong reputation won't flirt with bridesmaids or mispronounce names – they will uphold a strict standard of conduct while still getting guests out of their seats.
Hosting a destination wedding in Niagara Falls can be a truly memorable and exciting experience for both you and your guests. Done right with a few of these tips, it will be a trip everyone is glad they took together.