As students, I think we all can agree on two things:
Traveling can be expensive
School can be expensive
So then traveling abroad to learn English can be REALLY expensive, but here at ESL Explorer we have a few tips and ideas that may help cut down on some of the costs.
The first tip we would suggest is to look for "Last Minute Deals" – which are seat sales and special offers for various programs and courses (TOEFL, IELTS, Cambridge FCE) that you may want to study. How does this all work? In the upcoming days before the start of a study program, sometimes schools have unsold seats available in their classrooms. To fill these seats quickly, they offer them at a reduced price. ESL Explorer can help match students looking to save money on their language studies with schools that want to fill as many spots in their courses as possible. Find out more information on how to save money on English language courses in Vancouver.
While we can help you get the ball rolling by booking your English courses, it's also important for you to investigate the cost of living in the city you wish to go to; again ESL Explorer is here to help! We have rounded up the ten most popular destinations for students and have broken down the average cost of living, accommodations, and tuition for students.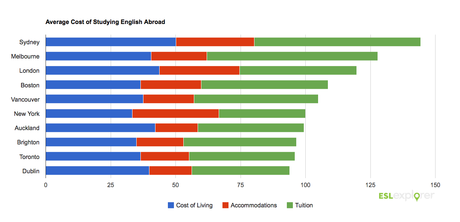 The average cost of studying English abroad in the top ESL cities around the world, relative to the cost of studying in New York City.
Australian cities topped the list as the most expensive places to study abroad, followed shortly by British, American, and Canadian cities. Unfortunately the vast majority of popular English study destinations are on the higher end of this scale, which doesn't make it any easier for students wanting to study abroad.
Once you've arranged your English program, it's time to book your flight. Several rules of thumb to find lower cost air travel are:
Fly during the off season to avoid the holidays
Plan your departure for less desirable times such as a midweek or an overnight flight
Book a flight months in advanced to secure a good price
Airfares generally rise as the departure date approaches. Although sometimes you can find last minute seat sales on flights that need to fill space, allowing you to save a considerable amount of money, it could be a risky move that could cause you to miss your first class
So now that you've booked your courses and found a flight, what can you do to save money once you've arrived? If you're not a fan of the traditional homestay method, where you live with a family, and want to find accommodations on your own, here's a popular idea. Finding opportunities to coordinate with other students who are also looking for accommodations can greatly reduce your living expenses. Either by studying abroad with friends, or meeting people in the forums who are staying in the same city, you can join together and find a larger place such as a house or apartment that lets you split the total cost of the accommodations between all the students.
We understand that booking flights and arranging travel can be daunting; don't worry, we are here to help. Feel free to contact us through any of the methods most convenient for you, and we can help arrange your travel itinerary.
Alright, so you've found your school, a place to live, and now you need to get around the city. We all know taxi's can be very expensive. Most cities have a lower price on transit passes for students; you can also save money by buying monthly or yearly passes. A great tip is to look into purchasing one of these passes at a discounted price, either once you arrive or on the city's transportation website.
Lastly, but still very important is medical and travel insurance. You may be thinking to yourself "Oh, I don't need that" – but paying a little bit of money now could save you a lot in the future. As you're exploring your new city, there is always a chance that you may get sick or hurt. By being far from home and on your own, it's always a good idea to have insurance to help take care of both you and your unexpected expenses.
Hopefully these tips will take some of the strain off your bank account and make your time studying abroad that much more enjoyable.