The t-shirt has a history that goes back about 100 years from now, when in World War I, the American soldiers were supposed to wear heavy wool uniforms, both in the winter and summer. They noticed however that the Europeans wore light weight undershirts that could breathe and kept the soldiers at a better temperature. The technology was also adopted by the United States Army and before WW II both the Army and the Navy were supplied with cotton undershirts.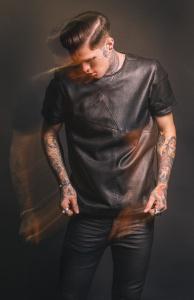 T-shirts were considered an undergarment and it was only in 1955 when men like Marlon Brando or  John Wayne wore t-shirts as outer garments as a sign of rebellion. They soon became the look of a generation and a mindset. During the 1960s, screen printing and the discovery of the tie-dye contributed to the popularity of t-shirts and allowed clothing designers to create new styles by changing the necklines or other elements.
Many men consider that t-shirts are so simple that there are no things to consider when getting one. Simply take it from the rack, pay it, take it home and put it on! But there are quite a few factors when it comes to choosing and wearing a t-shirt, as these pieces, as simple as they might seem, can really impact the way you look.
A good t-shirt worn in the right context can make a great look and should not be disconsidered. In this guide, we look at some of the things that make a quality t-shirt and when and how to wear a few of the main types of t-shirts. T-shirts can be worn as they are or as undershirts. Wearing them as undershirts will have a big impact on how you feel, how your shirt looks and how long it lasts.
Of course we encourage you to create your own style, and if you feel a t-shirt should be worn differently than our guidelines, don't feel restrained; go ahead and do so, but make sure that you affirm it right!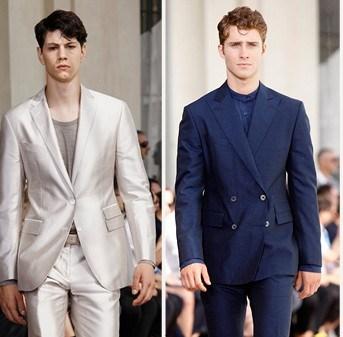 A great example from Corneliani of how you can style up a plain t-shirt
How to choose a t-shirt
When choosing a t-shirt, there are several factors you should take into considerations. These are:
The Fabric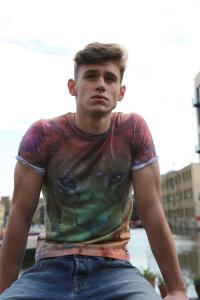 While it might not seem that important, the fabric of your t-shirts is very important as you will probably be wearing them close to your body. When you are buying a t-shirt, make sure that it is 100% cotton, as cotton is great fabric. Cotton is a material that breathes and therefore will cool your body in the summer and warm it in the winter, unlike synthetic fabrics which will stick to a temperature (usually the opposite to what you need) and feel uncomfortable.
You will also find a lot of t-shirts that are made from blended materials: 50% cotton and 50% polyester for example, but there are also organic t-shirts made from other fabrics. Those are fine as well, as long as it's natural, it's going to be perfect.
Fit
The basic rule of thumb in fashion is that clothes should fit. And, while t-shirts appear to have a very basic cut, it might be hard to tell a good one apart from a bad one. When you are choosing a t-shirt, you can look at the way it is sewn and you will be able to tell if it has a right fit. Trying it on will actually make you see this better. A standard t-shirt will have no shapes, a boxy, standard cut and won't flatter your body. There is nothing wrong with boxy t-shirts if that's the idea, but if you wear a simple t-shirt and it looks like two pieces of cardboard stapled together, it will make you look rather strange. A t-shirt that has a good fit will flatter your body as it will have a certain shape to it that will mimic the shape of your body. As you know, most people are not boxes, so your t-shirt should not be a box wrap.
The Price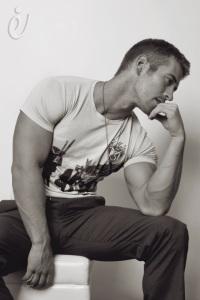 As t-shirts are extremely popular items, they come in a very wide range of prices. Right from the start, we can tell you that we don't trust t-shirts that are too cheap. If they don't cost almost anything, you should probably wonder why that is. Think about the fact that quality fabrics, a designer's expertise and attentive work cost, so if you pay almost nothing for a t-shirt, it probably lacks all three. When it comes to more expensive t-shirts, it's harder to tell whether they are necessarily better or not. A t-shirt should cost more than a few dollars, even $50 is acceptable, but when such a piece goes over $100, you should probably ask why that is. What can a $150 t-shirt have compared to a $30 one? If the seller can give you a good and reasonable answer, then you can go for it, otherwise, you are probably being ripped off. Whatever the price, it needs to be justified.
How to wear a t-shirt
T-shirts should be mainly worn when you are working out, running, engaging in other physical activities. The reason behind this is that they are not the staple of elegance and sophistication and are generally associated with sports. This does not mean that if you are a sporty guy, you should wear t-shirts all the time to prove it. There are better ways to do it.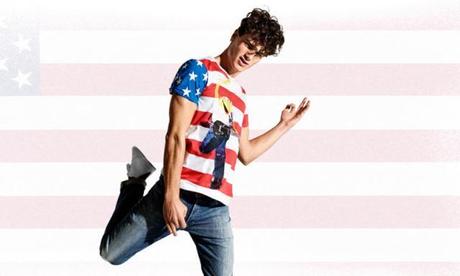 However, some t-shirts can be worn in other settings as well, for example when going out to a pub or a club. There are different types of t-shirts and they can all be worn in different settings or for different reasons. When you are wearing a t-shirt you should also consider what makes you comfortable, your personality and overall style.
V-neck t-shirts
Probably the most stylish type of the bunch, v-neck t-shirts can be worn at occasions that are in between casual and formal, as they can even be worn with a more formal jacket. If you are wearing a t-shirt with a jacket, make sure it is not a dress jacket. T-shirts should only be worn with sports jackets, blazers or other types of casual jackets, never with a very fine piece.
The reason why v-neck t-shirts are more elegant, is because their pointed angular neckline matches the contour s of a jacket's lapel. Keep in mind that while v-neck t-shirts can be quite appropriate for men who want to look dressy, the lower the neck line, the cheesier the t-shirt.
As a short plug, we would like to advice you that if you wear v-neck t-shirts with prints, such as the t-shirts found on the AC t-shirt shop, the print should be on the upper half of the t-shirt. This way, it will be visible even if the jacket is buttoned and will create a visual interest regardless of whether you have your jacket on or off, buttoned or unbuttoned.
Crew-neck t-shirts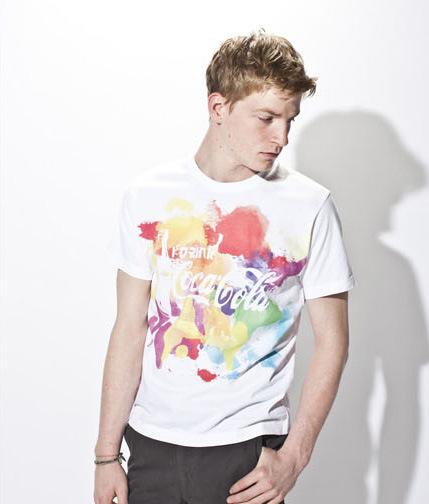 A crew-neck t-shirt
Crew-neck or round-neck t-shirts as they are also known as, go great with flat-front trousers or quality shorts, but their main advantage is that they have not been out of style for a while and will probably be in style a lot from now on. Having simple and timeless pieces is essential, as you can match them with anything and build a lot of wardrobes with their help. A t-shirt should not be your main piece, but since they are such big pieces, it should always support the main piece right.
Drop-neck t-shirts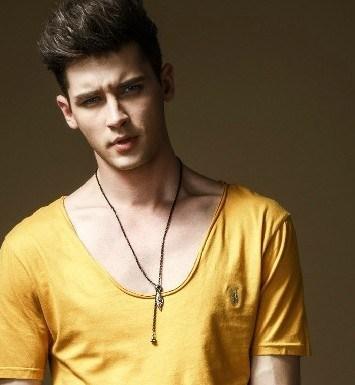 A scoop neck t-shirt by Pinli
Drop-neck t-shirts, also known as scoop t-shirts are similar to crew neck t-shirts, but they have a deeper round-cut neckline. You can wear this type of t-shirt with jeans, and you can even wear it with an open shirt on top. Drop-neck t-shirts should always be worn only in casual settings. Scoop necks usually make you look thinner and are therefore great for men who wish to appear slimmer than they are. Make sure you don't wear them with dress pants or shoes, and you are good to go!
Polo shirts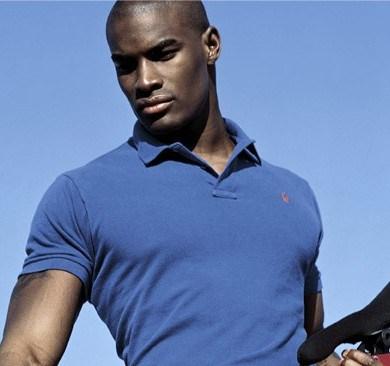 A polo shirt by Ralph Lauren
Polo shirts are extremely interesting, as they are the weird, yet amazingly great combination between a casual look and a professional one. Golf players wear them, cashiers wear them, yacht enthusiasts wear them and basically everyone who wants to maintain a casual and relaxed look, but to still show a certain level of style. Polo shirts are extremely versatile and can be worn with anything from white pants to shorts and can be easily accessorized. Wear them with simple bracelets, necklaces or funky shoe laces and they will look great.
Print or no print?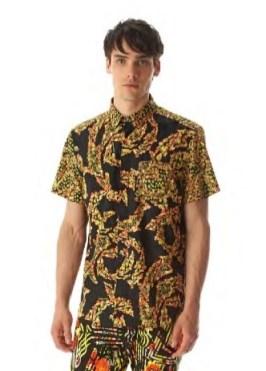 Printed t-shirt by Versace
With the development of new printing techniques, more and more t-shirts have different prints or patterns on them. While some consider that you should wear only simple t-shirts, others are crazy about printed t-shirts. In the end, it's all up to you. They are all great: prints, patterns, designs anything will work if you wear it with the right clothes and in the right setting. Generally, t-shirts with wacky designs or funny messages are more casual, while fully-printed t-shirts are generally more dressy.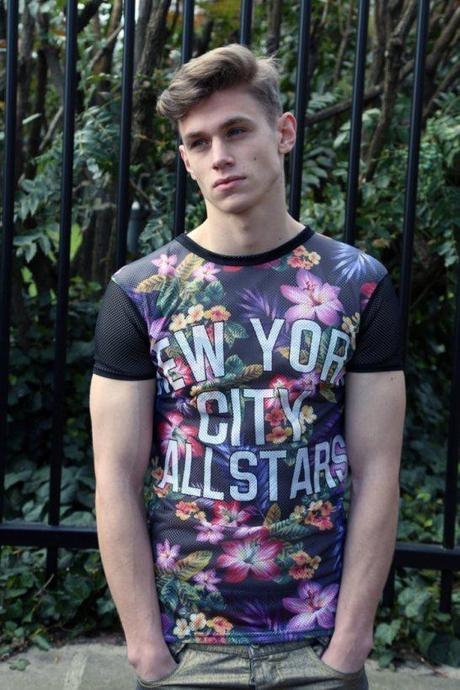 A great colorful printed t-shirt.
The bottom line is that t-shirts are extremely versatile and that there are a lot of styles (there are different variations of those we described here). The fact that there are so many styles is a good thing, as it means that there is something for everyone and every occasion.
Fraquoh and Franchomme
P.S. What type of t-shirts do you like to wear? Do you prefer v-neck, crew neck or polo t-shirts? How about printed t-shirts? Share your comments or questions below!
Share on Tumblr
0