Continuing on with our foyer remodel, you may have caught an IG story or two of Ken and I building a radiator cover to dress up the bare heating unit in the front entry. The plans for the cover itself are coming soon (I promise!), but in the meantime, I've painted this bad boy, and I can hardly hold back to show you guys how it turned out! (It's gooood.)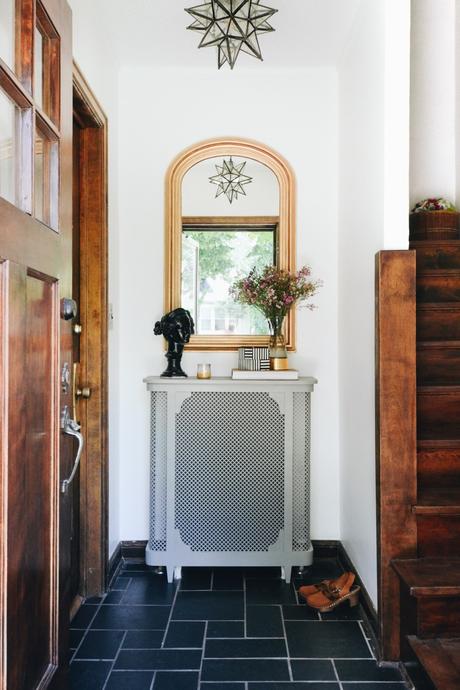 In the past, I've used a paint brush application to paint furniture, but this time around, I knew I'd need to look to spray paint for the intricate metal panels of the radiator cover. I'll admit I was a little nervous whether I would be able to apply the spray paint evenly. Ken and I worked really hard designing/building the cover, and I wanted to make sure my paint job would do it justice!
I went with Rust-Oleum spray paints for this project, because I've been using their products for YEARS, my dad used Rust-Oleum growing up, and I always know their paint (not to mention the spray nozzle) is going to be consistently good.
Rust-Oleum's Chalked Spray Paint has a perfect matte finish, and I have to say I'm really impressed with the nice, even way it bonded to both the wood frame and metal panels. Color-wise, I chose Country Gray because I wanted a light green-gray color similar to the beloved china cabinet in my dining room. The chalky, matte finish is absolutely lovely + on-trend, and I LOVE not having to wash brushes and dishes at the end of the paint session.
Prior to painting, I primed the piece with Rust-Oleum's Flat White Primer. This was a key step because we were working with unfinished, raw wood.
Then once the piece was all painted up, I used Rust-Oleum's Clear Matte Protective Topcoat to seal and of course, protect. Rust-Oleum Chalked has- you guessed it!-a chalky finish, so I'd planned to use a topcoat to seal just the top, but I liked the topcoat's finish so much I sealed the entire piece. The finish is matte, but smooth and satin-y to the touch- I. LOVE. IT. And with swinging back backs, wet umbrellas, and kids kicking-off shoes, not a bad idea, right? You can't be too careful in an entry.
Below is the unfinished 'BEFORE' of the radiator cover. Let's get into the nitty gritty of the finishing process!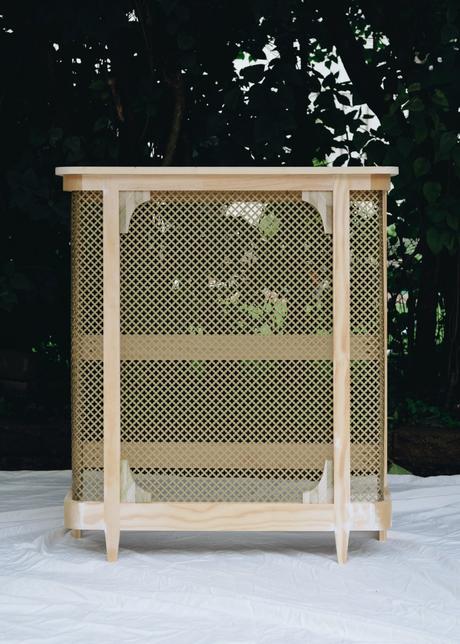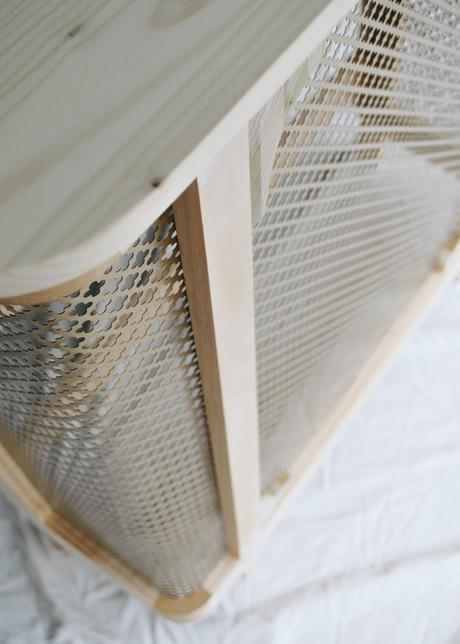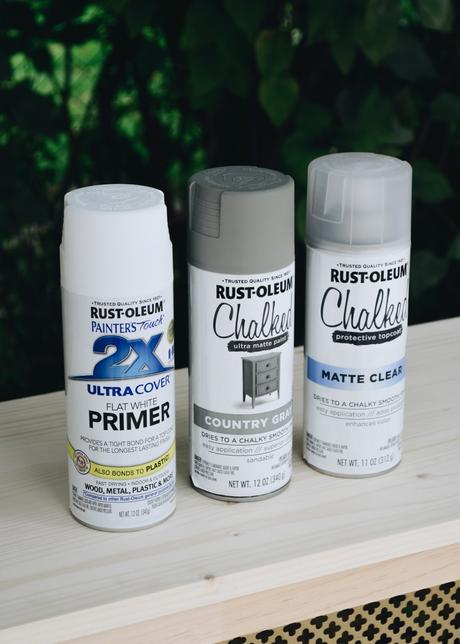 I used a combination of 3 paint products:
Supporting Project Materials:
220 grit sandpaper
clean cloth for wiping down piece
drop cloths
Three different paint products sound like a lot, right? But hear me out. Spray paint dries cah-ray-zy fast, so you're not waiting several hours between coats. Drying time varies based on weather conditions, but I only waited about 30 minutes between coats. (The paint literally dries in about 5 minutes, but to be safe I waited 30 mins.)
1. Make sure the radiator cover is smoothly sanded (if unfinished) and clean. If you're painting over an existing layer of paint, use sand paper to rough up the surface a bit to encourage the paint to bond well.
In either scenario, use 220 grit sandpaper moving in the direction of the grain. Once sanded, wipe the piece down with a clean cloth to remove sawdust.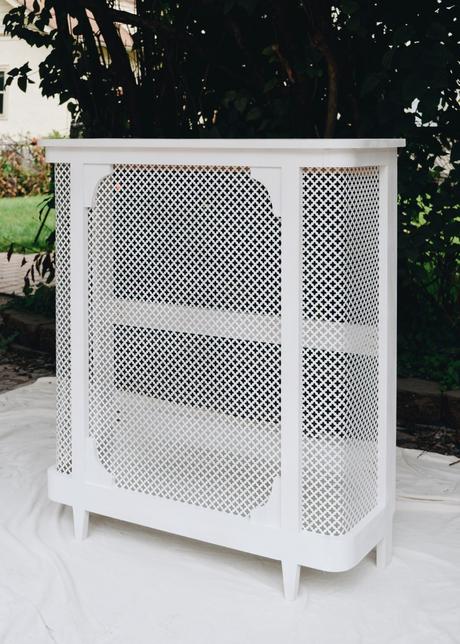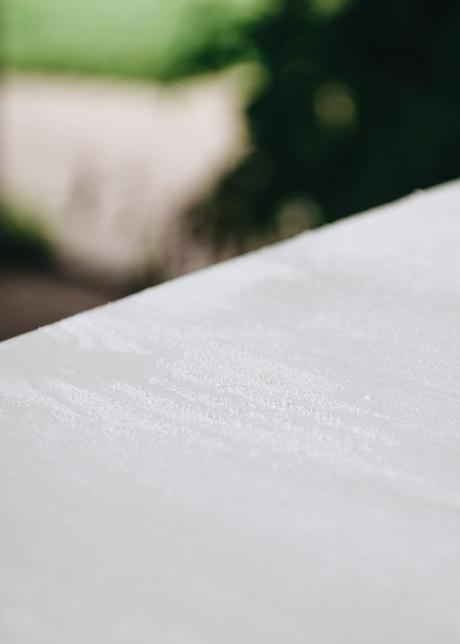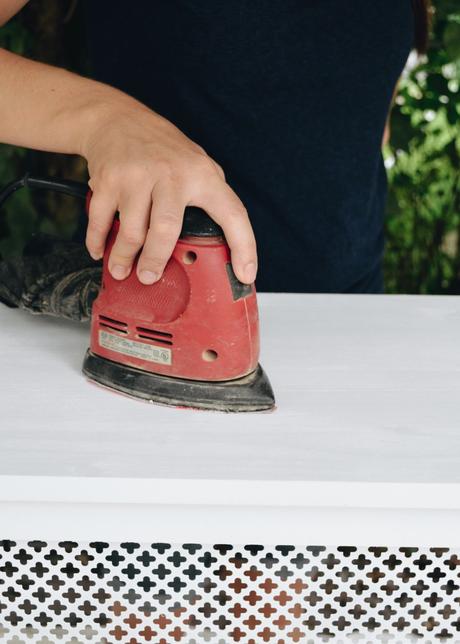 2. If you're painting an unfinished wood piece or going from a dark paint color to a light paint color, you'll want to use a primer.
In our case of unfinished wood, primer sealed the wood grain so it didn't drink up the paint color, and it allowed for a nice uniform surface for the paint to bond to. I applied one coat of primer. See my notes below on spray painting success.
Depending on your wood species (we used pine) you may find that applying primer (or paint) causes areas of prominent wood grain to rise up. If you see this happening, sand the grain down with 220 grit sand paper, either a palm sander or a simple sheet of sand paper work great.
3. Once the primer is dry, you can get to work with your chosen paint color. I applied two coats of Rust-Oleum's Country Gray. Don't forget to review my notes below on applying spray paint.
4. At this point in the project, after applying both the primer and paint, I felt like a bonafide spray paint pro. I applied two coats of Rust-Oleum Protective Topcoat to the entire radiator cover, and then stood there admiring the finished piece for about 20 minutes. No joke.
Tips for Spray Painting Success:
Lay down multiple old sheets or tarps to protect your ground surface. I only laid down one sheet at the start, and the driveway areas around the sheet ended up with a light layer of paint. Whoops! I'd recommend multiple floor coverings, as well draping blankets over anything around you that you don't want painted.
This might go without saying, but definitely make sure you work outside, in your garage or another very well-ventilated area.
Apply paint in fluid, but steady horizontal strokes about 10-12" from your surface. Always keep the spray can moving as you're applying paint to create an even finish.
Start spraying a split-second before you actually spray your surface. For example, when spraying the front of this piece, I'd start spraying to the left of the piece for a split second before moving the can to the right across the front, holding down the nozzle the entire time. Then I'd keep spraying/moving off the edge of the far right side of the piece. This creates a nice smooth paint application without accidental concentrated spots of paint.
For posterity-sake, here's the BEFORE shot of where we started in the foyer: Beige Walls, naked radiator, horrible carpet/plastic runner.
And here's where we are today!
There you have it! I am PUMPED with how the radiator cover steals the show now that it's finished and installed. The paint was clutch in marrying the wood frame and metal panels as one cohesive piece. And Rust-Oleum's spray paint made the entire process really approachable.
What's next for the foyer? I have a few last tricks up my sleeve including picture frame molding on this radiator wall and a beautiful indoor/outdoor sisal-look stair runner. In the meantime, get caught up on what's happened so far:
This post contains affiliate links.