Part II of the Frugal Portland Car Buying Guide
Click Here for Part I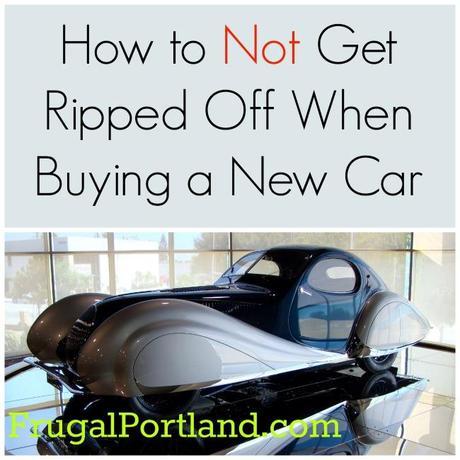 This sounds patently obvious, but you should know what car you want before you go to a dealership to negotiate a sale. It's shocking how many people (Kathleen included!) head to the dealership, not knowing something as basic as sedan or SUV? You should know the exact car and trim level you want before you head out to the lot to buy. This takes some time, but if you're going to spend tens of thousands of dollars then you need to answer a series of questions.
First, pick a class to shop in so you can get a decent idea of what's available. You're going to have a lot more options in, say, the midsize sedan segment than you are in the two-door sports coupe segment. That has an impact on the relative pricing you can expect, because while the Toyota Camry has a ton of amazing competition, the Subaru BRZ does not.
Once you settle on a class, you need to narrow it down to the brands and models. Start by scouring the internet for reviews. I like the reviews at Edmunds, and typing the car model and year  into YouTube can reveal a slew of video reviews. Watch a few for each car you're considering, and then narrow it down to two or three.
You want to get an idea which trim you want. Honda Accords have nine trims that range in price from about $21,500 to over $33,000. So go to their official website and check out the specs and MSRP of each trim, and then start a spreadsheet to keep track. (Editor's note: Brent LOVES spreadsheets.)
The Test Drive
The goal here is to arrive at the dealership, able to say "I want to test drive a Honda Accord EX" or "I'd like to take a look at a Mazda6 Touring with manual transmission." Go the websites of your local dealers and check their inventory to see if they have the car you want. You can certainly walk onto a lot and just request a test drive, but calling ahead to schedule an appointment that day is best. That signals to the salesperson that you're serious, though in the test-driving phase. Plus, a good salesperson knows that if you enjoyed the test driving experience, then you might come back and buy from them. Schedule all your test drives on the same day, if you can. That way, you can better compare your impressions. Don't worry too much about color yet. You're not planning to buy today anyway, and the experience in the red car is going to be identical to the silver one available for a test drive.
When you get to the car lot, get in the car and press buttons. Press them like crazy. Pair your phone with the Bluetooth system and make a call, and then stream Pandora. Get a feel for what it's like to sit in the driver seat. Is it comfortable? Is there enough headroom? How are the sight lines?
Tell the salesperson you really want to get a good idea of what this thing is like to drive. Insist on a mix of driving conditions. Freeway. City. Residential. When you get back to the lot, press more buttons. Fiddle with knobs and open and close the compartments.
And then, when the dealer asks if you want to go "run some numbers," just politely decline and explain that you are still shopping around and are only interested in the test drive today. Then offer to take a card so you can work with the salesperson (if you liked them, that is). And on to the next one.
The Fluidity of the Market
Now, the hard part: pricing the market. The car market is regional and fluid. The demand for a certain make and model during the winter in Milwaukee is going to be different than the same car in the summer in Atlanta. If you're shopping for a Subaru Outback in Portland, don't expect a lot of deals. As the unofficial car of the city, those things practically sell themselves here, so there probably aren't a lot of price breaks going on in the area.
Timing is important, too. Sales goals have three tiers of urgency for the dealerships: monthly, quarterly, and annually. So, end of the month will probably land you a better deal than at the beginning; end of the quarter (June/September/December) better still; and the end of the fiscal year (March for most car manufacturers) could be best of all, depending on how well the parent company is doing. These aren't arbitrary deadlines, either. Realize that these are publicly-traded companies that report earnings out to stockholders every quarter. If sales are lagging, they are going to kick the incentives into high gear to try to put their best for forward during their earnings calls.
Now, there's no guarantee that things are in desperation mode at a specific dealership. The parent company might be on track for its earnings, or it's possible the dealership has already hit its corporately-mandated sales goal. If either these are the case, it won't help much to walk on to the lot on March 31st. But you'll certainly be playing the odds if head out later in the month as the urgency kicks into overdrive.
Also, consider June. Not only is it the end of the quarter, but it's also the time when the parent companies are preparing to deliver the new model years to dealers. If you don't mind driving a year-old model, then you can probably get a better price. Even more so if there's a major redesign happening in the next model year (note: if you're willing to buy a 2013 Honda Fit, then you can probably get a SMOKING deal right now on what's on the lot. The 2015 model is arguably the most anticipated launch of the upcoming model year, and any remaining inventory is a lingering canker sore for Honda dealers).
Your Car, Your Market, and You
Go to the websites of your local dealers for the car you want. Most dealerships have websites that show current inventory, so you can make sure the dealership has exactly what you're looking for. Make sure you check them all. If you're looking for a Sonata and there are four Hyundai dealerships in your area then check all four sites. Write down prices.
Then head over to Edmunds.com and TrueCar.com to find the more pricing information. Enter in the exact model and options you found on your local dealers' websites, and you'll get a pretty good idea of the range you can expect.
If you're going to finance, before you being the bidding process, pull your credit report. You can get a free credit report (with no strings attached, I promise) here. You might consider paying one of the major credit bureaus for your FICO score if you're not sure where you land. If you're in the mid-high 700′s, you can expect to qualify for the best financing offer.