It's that time of year again! The weather is getting warmer, and the days are getting longer. Time to open the windows and commence decluttering. In fact, this year, as folks stay at home, there is more incentive than ever to thoroughly clean one's abode. Moreover, it need not be an impossible chore; with a little advance planning, spring cleaning can be a breeze.
Top to Bottom
One system of cleaning which has become popular is the top-to-bottom method. Start by cleaning anything that lies above your head. This encompasses anything from air vents to chandeliers and ceilings. Next, look for fixtures like windows, curtains, or wall hangings visible at eye level. The next zone includes everything at waist level, such as countertops. Finally, appraise what lies below your knees, like the floor and baseboards. This method is one of the most efficient when it comes to cleaning.
Have Storage Ready
Naturally, spring cleaning is more than just dusting or wiping down. Spring provides a great opportunity to remove household items seldom used. While some items may end up in the trash or donated, there are other items that you will want to keep - just not in the house. Here, off-site storage can be useful. Modular garages provide one solution. There are some benefits of modular garages that you may want to consider. It is easier to purchase a prefab garage than it is to build one from scratch. You can also select the best size for your property and belongings that need storing. Finally, with a bit of research, you can choose an attractive modular garage that can add value to your property.
Deep Cleaning
No matter how much you maintain a light, day-to-day cleaning regimen, there comes a time to don gloves in order to deep clean. Some dread this part of spring cleaning, but it's easier when you plan. Have your cleaning materials at the ready. Leave them in a corner for easy access. Take a moment to survey each area of your house, and make a list of what needs to be done. Look behind the furniture and appliances; consider which cleaning agent would be the best to use. Then, take it room by room. Preclean, and then dig in. Move the furniture around. Look into those seldom-noticed nooks and crannies. Yes, it can be hard work, but you will love having a place that again has a brand-new sparkle.
Setting Aside Time
Spring cleaning does not have to be done in a single whirlwind session; in fact, some suggest that this is one of the worst ways to tackle such a task. Set aside time in advance, even if it's just an hour or two a day over the course of a week. It's even possible to deep clean by performing a single task a day. However, make sure that this time, whether an hour or a weekend, is devoted solely to cleaning tasks. Put the phone away, and take the added step of making loved ones aware that you don't want to be contacted during cleaning time. Chances are they will understand. After all, they are probably spring cleaning as well!
Add a Chore a Day
If you already have a habitual cleaning regimen, what better way to deep clean than to simply add a task? Just as lightly cleaning often means less need for an eventual deep cleaning, adding a single extra task daily means even less to do when spring rolls around. If cleaning the bathroom, take a moment to reach behind the toilet. When wiping down your kitchen counters, take that extra step, and wipe down the inside of the microwave. Look through the fridge. Ask yourself: Do I really need this about-to-expire condiment?
Don't Get Distracted
One of the biggest time killers when spring cleaning lies in getting distracted. This is especially true when deciding which belongings to keep and which to store or throw away. Resist the temptation to immerse yourself in letters or to gaze nostalgically at photographs. There is a time to enjoy your belongings - after the cleaning is done. If you find yourself distracted, put these items away in a box, and plan to review them after finishing the straight cleaning tasks. It might be more efficient to separate cleaning and sorting tasks entirely. If you need to, set a timer or use an app to help you manage your time. Do whatever works best.
Make a List
If you decide to separate cleaning and sorting tasks, consider writing out a full list of tasks. One advantage of a list is that you won't forget less obvious tasks. A list will keep you focused and free of distractions. For some, marking off items on a written list underscores the satisfaction of finishing a task and makes it a little more real. Finally, keeping a master list of spring cleaning tasks will make it easier to get in the zone the next time you deep clean.
Seriously, Have Fun
No, really; it is possible to make spring cleaning fun. Open all the windows. Let fresh air circulate through all the rooms. It will invigorate. Reward yourself with a small treat for every task you accomplish. Invite friends to help, and keep the mood light and loose. Set out some light snacks for fuel. Most of all, have favorite tunes playing throughout. There is nothing wrong with a mini dance party between tasks. In fact, upbeat music has been demonstrated to be a mood elevator and will help you establish a cleaning rhythm.
Spring cleaning brings with it many benefits. Many find that they are more productive in a cleaner, less cluttered space. Allergy sufferers appreciate less dander and dust in the air. Many sleep better. By cleaning appliances, you can extend their life spans. Spring cleaning can be a chore, but planning ahead can make it a doable proposition. Get on your old clothes, stretch for a few, grab your mop, bucket, duster and gloves, and get your back into it. You will be glad you did!
Here's another article you might like:
Upgrades You Can Make to Modernize Your Kitchen
And while you are Spring Cleaning,,how about some gardening..
Listen to The Maria Liberati Show..where food meets art ,travel and life!
at https://anchor.fm/maria-liberati
**Win a copy of one of the books from The Basic Art of..series.. tell me what does food mean to you in 40 words or less or record a soundbite of 60 seconds or less, post on social media or incomments section on my blog with #Whatdoesfoodmeantoyou or #themarialiberatishow
If your post or soundbite is selected to be part of an upcoming segment you will win a copy of one of the books!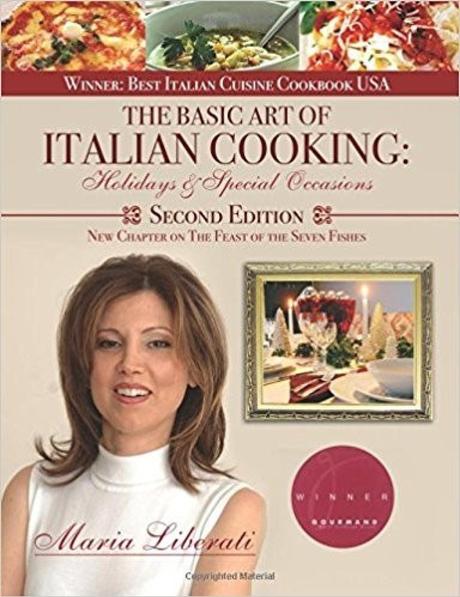 Gourmand World Award winner
If you cant wait you can get a copy of the Gourmand World Award winning book The Basic Art of Italian Cooking: Holidays and Special Occasions-2nd edition