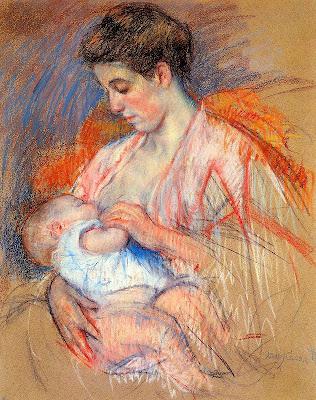 Mary Cassatt (1844-1926)
Hot off the press (ironing board, if you will) are three baby receiving blankets.  On each, one side is flannel and the other side is decorative cotton material.  Piping in contrasting fabrics is sandwiched between the sides.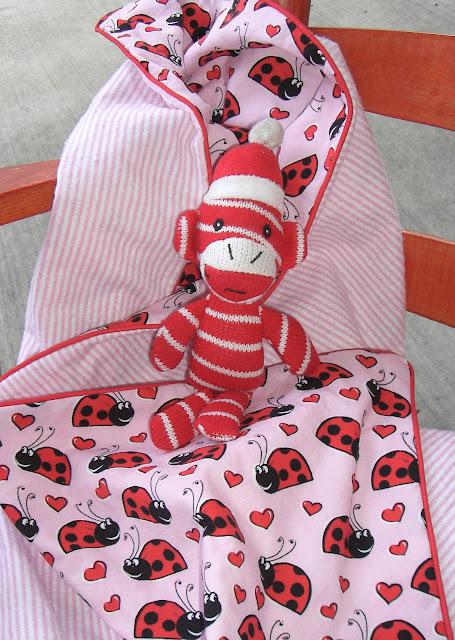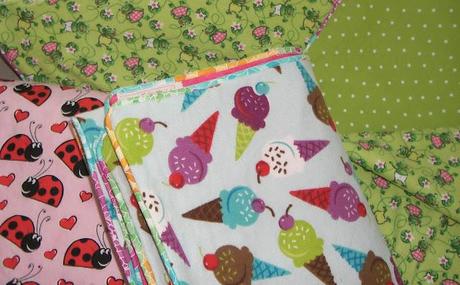 These blankets are versatile.  They are large enough to use as a nursing cover, as extra warmth for a newborn, as a swaddling blanket, as an impromptu diaper changing area...or just maybe the baby will later want to use one as their very own Banky to wag around!  Hand sewn blankets can be much prettier than the ready made blankets available for purchase.  And who does not want something that you have personally made for a sweet new life?
The Knitmore Girls Podcast (click
here
for their blog link and be sure to listen to their podcast) raved about two sided baby blankets.  BTW, the Knitmores are a multi-generational knitting production with the youngest member of the troupe still in diapers.  And the new mama is ga-ga over these blankets.  So I decided to forge ahead and make up a few, along with a quick tutorial about how they were sewn.
HOW TO MAKE A TWO SIDED RECEIVING BLANKET
Materials
: Each blanket requires one yard of flannel and one yard of a coordinating cotton fabric, along with matching thread.  Piping is optional, but adds a decorative touch.  A piping tutorial website is linked
here
 showing how to make bias binding from fat quarters.  Ingenious!  Purchase medium sized cording for covering your bias tape if you make it yourself.  Get out your coordinating scrap materials or buy fat quarters to make bias binding for the piping.  And remember that a piping foot for your sewing machine makes things much easier.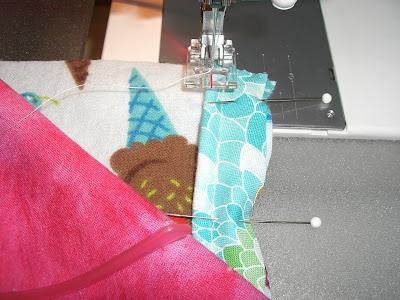 (hand made bias seam binding that coves cording sandwiched between right sides of fabric, ready to be sewn as outlined in second step below)

Steps:
Trim pre-washed and machine dried pieces of one yard flannel material and one yard of a pretty coordinating 100% cotton decorative material into square of cloth the same size.  Press each piece of material to make it wrinkle free.  It is cotton, after all.  Put them together with right sides facing each other.  Then measure your fabrics and cut them (one on top of the other) to made all sides equal.  One of the blankets I made turned out to be 37" x 33" after both fabrics were squared up with one another and the selvaged edges removed.  (Receiving blankets are usually 34 inches or 36 inches square, but since you are making this blanket, you can approximate lengths and widths.)
Sew the optional piping using the tutorial above (four yards of it), or purchase piping (four yards per blanket), or leave off the piping altogether...sewer's choice.
Right sides of fabric together, sandwich the piping between the two fabric pieces, ensuring the piping edge is between the fabrics with the cording side to the left of the seam.  Sew around all four sides of the fabrics, leaving a 6 inch space free.  Turn to the outside. Smooth out the blanket and baste closed the six inch opening in the side, catching the piping between your basting area.  Close to the hand basted area, stitch "in the ditch" close to the piping, making sure to catch your basted areas with the machine stitching.
Press again.  You might want to go around one side of the piping with a machine stitch all the way around each side of the blanket to further flatten the fabrics together, but it is not necessary.
Sew your personalized tag onto the blanket to autograph your work.  (Thanks, Charlotte, for reminding me of those tags I bought back in the '70's!)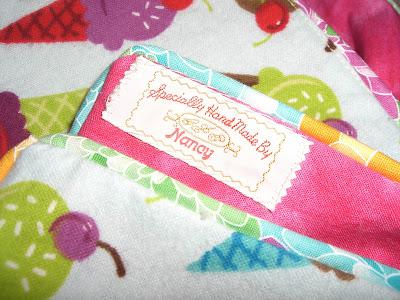 Now aren't you glad you made blankets so pretty and practical for that new mommy?