Have you ever thought of making your own ice cream sandwiches? They are actually very easy, and by making your own you get to dictate the flavour. Why not try my raspberry and chocolate version.
Total Time Investment: 40 Minutes + Overnight Freezing Time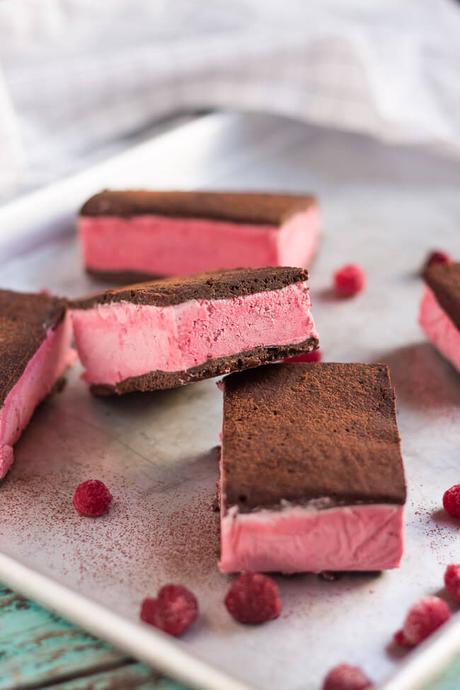 Summer finally arrived a few weeks ago, just as the calendar heralded the start of autumn. For a whole week we had a string of days where the temperature rose above 35C, and it was finally warm enough to break out the ice cream maker.
Growing up, I was never really a fan of the ice cream sandwich. I couldn't understand the attraction of wedging perfectly good ice cream between two soggy wafers, and always headed for any other popsicle in the freezer. These days though I'm up for trying (almost) anything, and I'd been waiting for summer to appear so I could give ice cream sandwiches another try.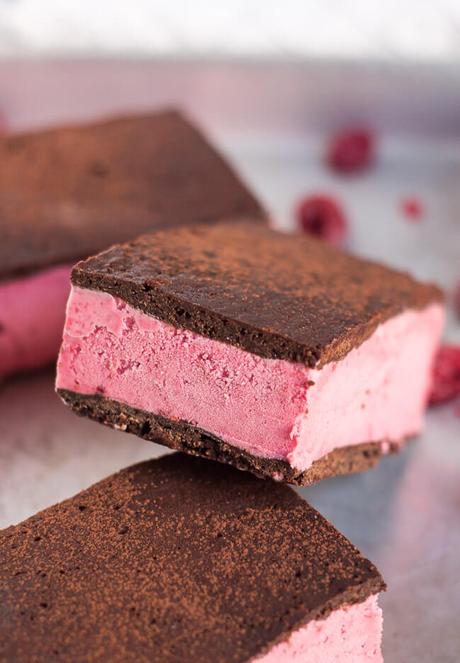 Ice cream sandwiches mean different things to different people, depending on where in the world you live. For me, an ice cream sandwich is made up of a thick slab of vanilla ice cream wedged between two layers of a thin cakey biscuit (for want of a better word). In other parts of the world people use wafers to hold the ice cream, whilst others use cookies. And in Singapore I have even seen ice cream sandwiches served with a piece of bread enveloping the ice cream.
Not being a huge fan of wafers, I think ice cream sandwiches are best made with either cookies or the thin layer of biscuit that I use in this recipe. Whilst making this recipe does require just a little more work that simply sandwiching ice cream between two cookies, I prefer it as it ensures there are enough ice cream sandwiches in the freezer for a whole week of desserts. Which will be perfect should summer decide to reappear for another week.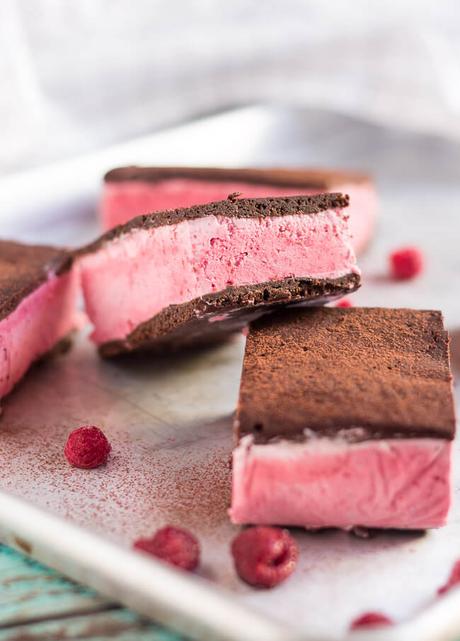 Ingredient Substitutions
The ice cream recipe works well with any berries, and in particular strawberries. Frozen fruit can be used in place of fresh fruit, although allow the fruit to defrost before you add the cream. If the frozen fruit is not defrosted, the cream will freeze as it touches the fruit and you will end up with white spots in your ice cream.
Both the golden castor sugar and rapadura sugar can be replaced with white granulated sugar or white castor sugar. You can also replace the rapadura sugar with brown sugar.
Use wheat flour in place of the spelt flour. And use a gluten free plain flour to make the ice cream sandwiches gluten free.
Replace the unsalted butter with salted butter, but make sure to omit the pinch of salt from the recipe.
If you don't want to make the chocolate biscuit base for these ice cream sandwiches, make the ice cream and use it to sandwich your favourite chocolate cookies together. You can also substitute the homemade ice cream for a good quality commercial variety instead.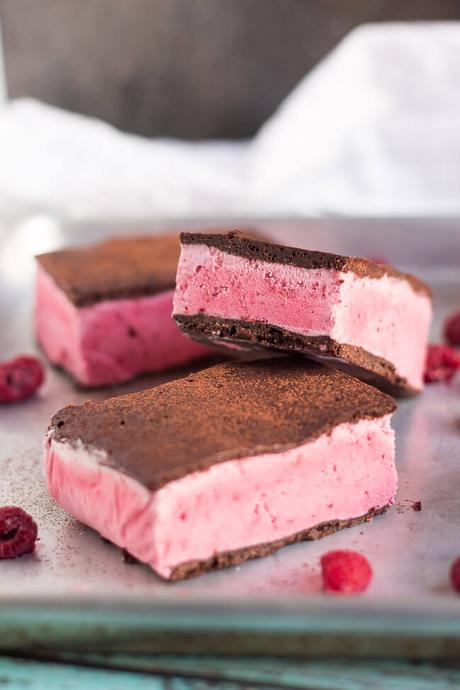 Tips and Tricks for the Best Ice Cream Sandwiches
The best tip I can give you for making great ice cream sandwiches is to work fast. Make sure everything is organised before you assemble, or cut, the sandwiches. You don't want to be searching for a knife whilst your sandwiches melt on the bench. Don't take the tray out of the freezer until you are completely ready for the next step.
Homemade ice cream sandwiches will last for up to two weeks in the freezer if they are well wrapped. This makes them a great dessert for a gathering or children's parties. Just cut them to whatever size you wish to make them go further.
And if you really can't be bothered making sandwiches, just make the ice cream. It's worth the effort, I promise.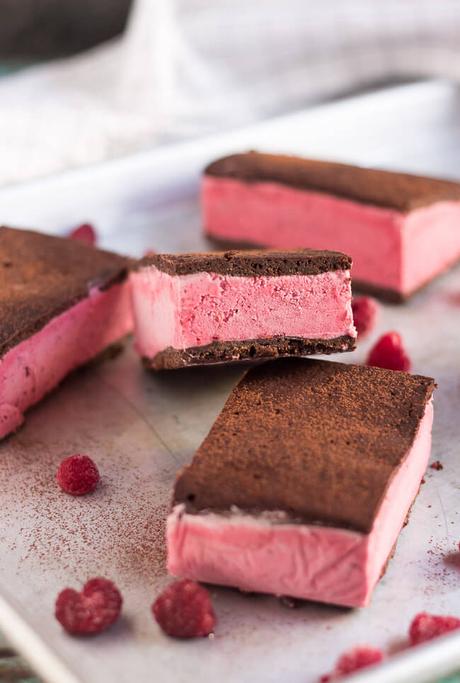 Raspberry & Chocolate Ice Cream Sandwiches