How To Make
Radiators
Stylish
Top Tips On Styling Radiators
Often an overlooked, intrusive home necessity, radiators aren't the most loved home appliance.
With British weather unpredictable though, they are imperative for maintaining a cosy home all year round.
Essential in almost every home, radiators can often get a bad rep for being clunky, ugly or out of place.
With 190 million of them in the UK, there are a number of solutions to make your radiators more stylish and less of a mood killer.
From covers, to colours, shapes, sizes and nozzles, the humble radiator is being upcycled in all different creative ways to appear more stylish and fit more purposefully in an interior scheme.
With thousands to choose from, getting it right can be a minefield. In this article, we share some tips on how you can make them more stylish with further radiator maintenance advice from Fantastic Services.
Freshen Up With Colours

Whether you purchase a coloured radiator or add a lick of paint yourself, this trick will make sure it stands out in style while matching the scheme of the room.
Black and white were long considered the standard bearers of a limited color choice when it came to home heating solutions. But that's all changed. Nowadays, you can find coloured radiators in all sorts of different shades and styles to match up with almost any existing interior color scheme.
As well as painting radiators a block colour, you can also use stencils or stripes to add further detail and really personalise it.
As painting a radiator isn't the easiest of jobs, make sure to take the radiator off the wall and check it is cold before painting a layer of primer with a synthetic brush in vertical strokes first. Then use a durable, all-surface paint that is able to withstand high temperatures without peeling off.
Fantastic Services advises "From a maintenance and health point of view, the best you can do is to apply anti-mould/antibacterial paint or coating on the wall behind the unit and specialised, heat-resistant paint on your radiator surface."
Consider Radiator Covers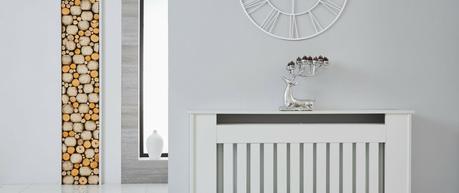 Despite reducing heat output, adding a cover is a quick and hassle-free way to style up your radiator and make it a focal point of a room.
These come in lots of different styles depending on your interior scheme, but ultimately provide an easy way to cover them up and even add a shelf on top for flowers or trinkets.
Fantastic Services explains "They are the only way to equally amp up your room aesthetics and protect adults, children and pets alike from radiator burns."
"From wooden to steel and other decorative covers, there are radiator cabinets that match every taste, from all periods. But if you wish to include storage extras at a custom height, width, and depth, you can always opt for a bespoke unit for a truly unique appearance at a budget-friendly price."
Remember Finishing Touches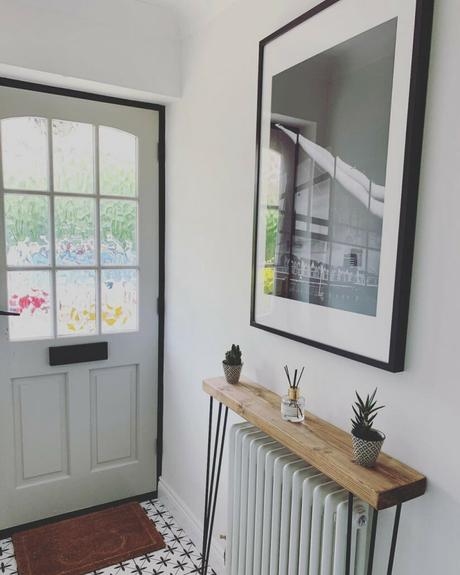 Just like you can upholster an armchair, you can also customise your radiator to suit your style and add to its purpose.
Perfect for a cold morning, repurpose a sanded piece of timber and fasten against a wall above a low standing radiator to create a perch on top. This literal hot seat will be the favorite spot in the house come January when it gently toasts up the wood above it, perfect for warming up towels or sitting with your morning cuppa.
If you're feeling confident with plumbing a radiator, there are a huge variety of colours, shapes and sizes, available for changing the valves.
Since radiator valves play a significant part in how well central heating radiators operate, and as most of them are visibly on show in our homes, changing your radiator valves is a great way to improve the performance, efficiency and overall look of your heating system.
Fantastic Services adds: "Swap your outdated valves with a new and affordable pair that matches with your radiator, pipework, and interior design. These small and often overlooked details actually pop out and will add to your radiator's general aesthetic."
Select The Best Shape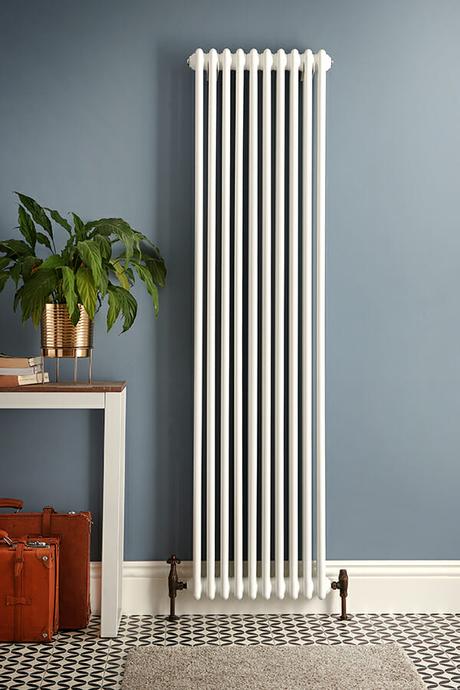 A vertical radiator is a great way to save on space while adding height to a room.
The length of it will draw the eye upwards giving the illusion that the ceiling is higher. Choosing a stylish one such as the double column radiator will make it more of a feature on the wall instead of hiding it away behind a sofa.
Fantastic Services advises: "Don't rearrange your furniture with the only idea to hide an unsightly radiator. While taking the focus away from your radiator with bulky furniture looks like a simple solution, this can only block the heat from circulating around your space."
Sourcing radiators in antique shops or boot fairs are great ways to find unusual designs and periodic features.
More than with any other style, reclaimed period style radiators are perhaps the best sort of second-hand designs to source with regards to aesthetics. In fact, a slightly worn radiator could even serve to enhance a traditional look even more.