Delicious mango cream made with pureed mangoes,cream and lemon zest.
Mango fool or Mango cream is a perfect summer dessert.Its very quick,delicious and easy to make.This creamy mango fool is made with the combination of crushed pureed mangoes and heavy cream.
The name of this dessert comes from the french word foule which means pureed or crushed .You can also use any fruit of choice to make this.Cream can also be substituted with yoghurt to make low fat version .To make mango fool pureed mangoes are blended with cream,but I love to have white and orange streaks ,so I just folded gently.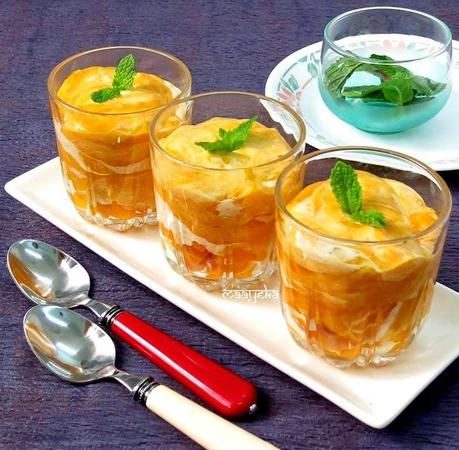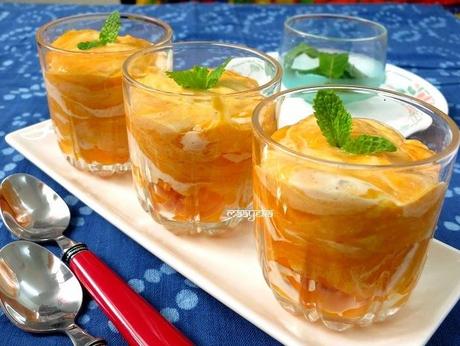 Prep time-20 minutes
Cuisine-Indian
type-dessert
serve-4
INGREDIENTS-
Ripe Mango - 4

Chopped mangoes-1 cup

Heavy cream /Whipping cream-1 cup

Castor Sugar- 4 tbsp

Fresh lemon juice-3/4 tsp

Lemon zest-1/2 tsp

Cardamom powder-1/4 tsp(optional)
PROCEDURE-
Peel and chop mangoes then blend them to make a smooth puree.

Add  lemon juice,lemon rind and cardamom powder in the mango puree,mix and keep refrigerated

Whisk the cream with castor sugar in a bowl until soft peaks form.

Gently fold  the cream in the chilled mango puree and chill  for at least 2 hours before serving.

To serve-place 1.5 tbsp of chopped mango pieces in the bottom of the serving glass and then spoon the chilled mango cream.

Garnish with fresh mint leaves or crushed pistachios and serve chilled