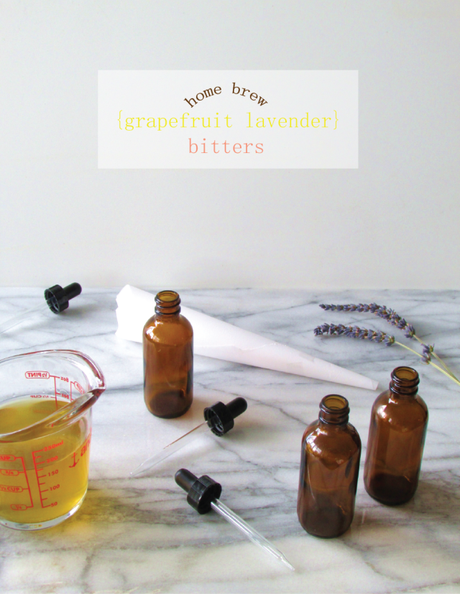 Part two of our homemade bitters extravaganza takes shape in the form of grapefruit lavender bitters. Seriously, what could be better than the combination of these two flavors?! Combining them in the form of a cocktail? Bingo.
Grapefruit lavender bitters is essentially 100 proof vodka infused with a melange of zest and herbs to achieve a high flavor potency, and thus only a few drops are needed to add a complex kick of citrus to any cocktail, my most recent fave being the Sparkling Lillet & Grapefruit Cocktail.
As with any homemade bitters, the flavor and potency is a matter of taste and preference. Below is where our taste buds lead us, but feel free to experiment to find your perfect ratio. There's no wrong answers here!
Happy weekending.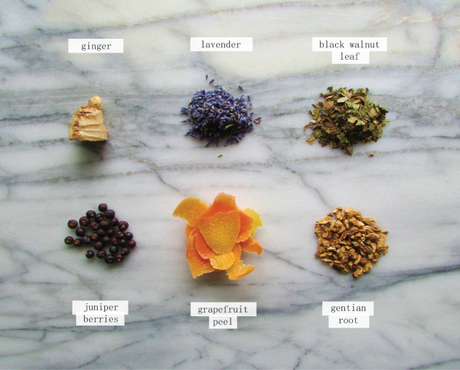 Ingredients: We ordered most of our herbs from Mountain Rose Herbs. Great quality and fast service!
zest of 3 grapefruits, removed with a peeler
4-1/4 c 100 proof vodka or Everclear (divided into 2-1/4 c & 2 c)
1 tbsp culinary lavender
1/2 tbsp juniper berries
1/2 tbsp gentian root
3/4 tsp black walnut leaf
1/2 c water
1/2 c sugar
Materials:
2 mason jars
lots of cheescloth for straining
strainer
2oz or 4oz dropper bottles
a funnel or a 10″ square (approx.) piece of parchment paper rolled up and secured with a piece of tape
Step 1: In the first jar, combine grapefruit zest and 2-1/4c vodka. Screw on cover and shake well.
Step 2: In the second jar, combine lavender, juniper berries, black walnut leaf, gentian root, ginger, and 2 c vodka. Cover and shake well.
Step 3: Store both jars in a cool dark place and give them a good shake everyday. After 5 days, strain the second jar through a strainer lined with cheesecloth to remove herbs. Discard of herbs. Replace cap, return to the cool dark place, and continue shaking daily.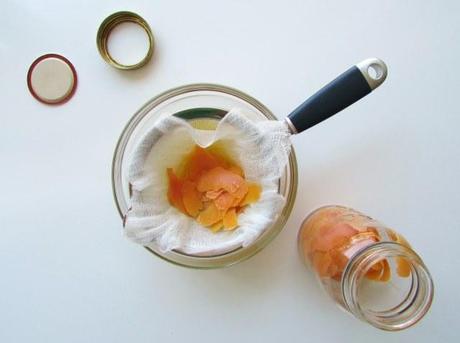 Step 4: After another 5 days, strain the grapefruit peel from the first jar. Discard of peel.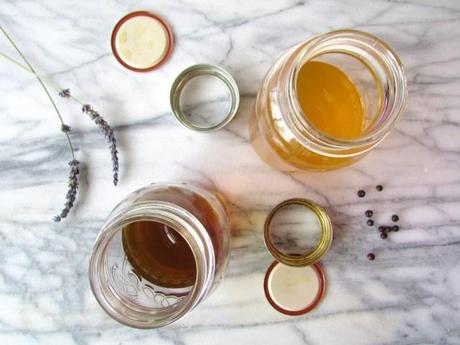 Step 5: Strain 2nd jar again to remove additional sediment.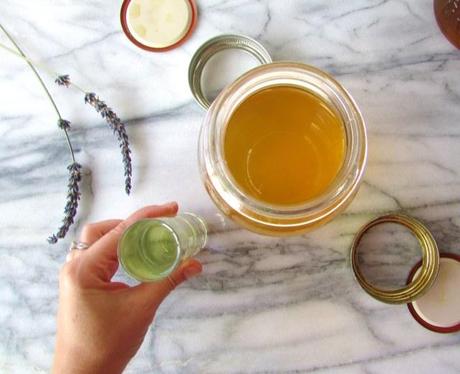 Step 6: Create simple syrup, by dissolving 1/2 c sugar in 1/2 water in a saucepan over medium-low heat. Stir constantly for roughly 5 minutes. Set aside and let cool.
Step 7: Add 2 oz (double shot glass) of simple syrup to grapefruit infusion.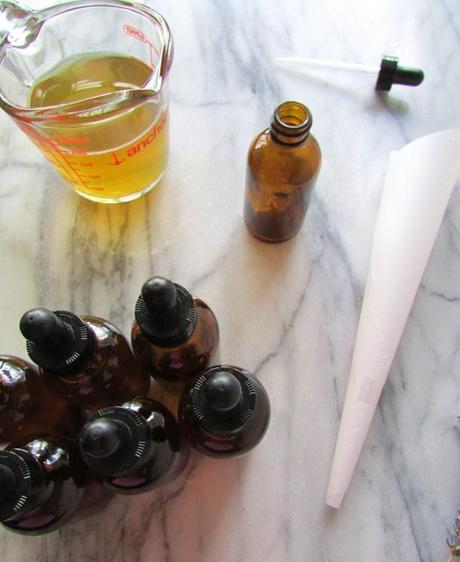 Step 8: Combine the two infusions in whatever proportions you prefer. I did a 2:1 ratio of grapefruit to lavender/juniper.
Step 9: Roll your parchment paper square into a funnel and secure with a piece of tape. Funnel bitters into dropper bottles.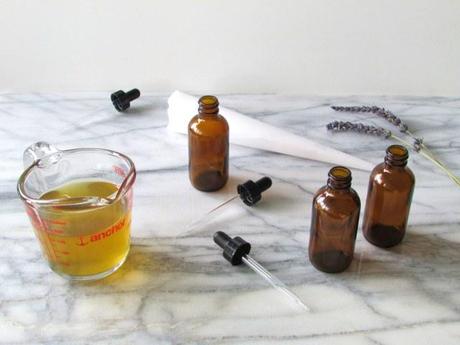 Sources: The Kitchn, How Sweet Eats, Not Without Salt , Serious Eats