Healthy and delicious chick pea patties and vegetable wraps - specialty of Middle East
Falafel is a traditional and very popular Middle Eastern street food.Though it is a snack but is as filling as a main dish.
These falafels can be made either with chick peas or with the combination of chick peas and feva beans.Chickpea cutlet are deep fried and then stuffed in pita bread with finely chopped salad and tahina sauce. The fried falafels can also be served as a snack with tahini sauce or mint chutney
It is rich in protein and use of loads of salad and tahini sauce make it healthy and filling meal.You need some pickled jalepeno and cucumber to serve with falafel sandwich.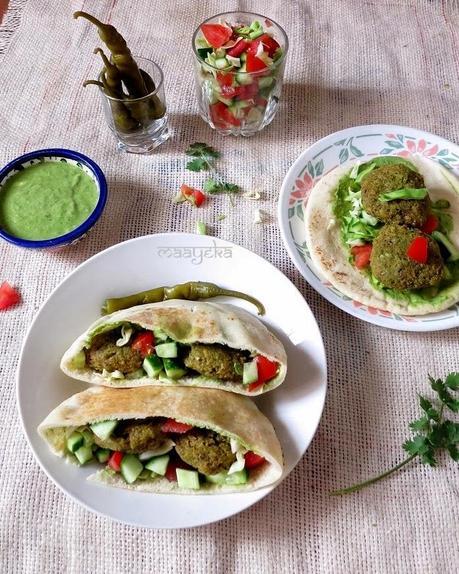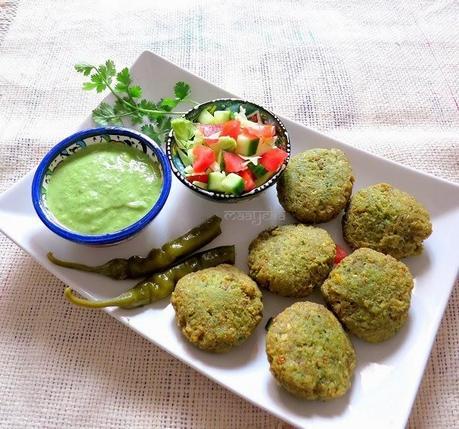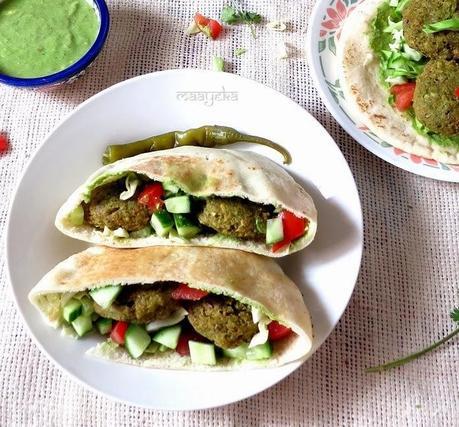 Prep time-15 min
Cooking time-15 min
Cuisine-middle eastern
Type-snack
INGREDIENTS-
For Falafel-
Chick peas /Kabuli chana, soaked - 1.5 cup

Parsley, chopped - 1/2 cup

Fresh coriander,chopped - 1 tbsp

Green chilies, chopped - 1tsp

Ginger, chopped- 1/2 tsp

Pepper powder /kali mirch- 1/4 tsp

Cumin seeds/Jeera - 3/4 tsp

Sesame seeds /till - 2 tsp

Refined flour/Maida- 1.5 tsp

Baking soda- a pinch of

Salt-to taste

Pita bread-6
Salad Mix-
Tomato,deseed and chopped- 1/2 cup

Cucumber,chopped- 3/4 cup

Lettuce, shredded-3/4 cup

Capsicum,chopped-1/4 cup
Tahini Sauce-
White sesame seeds /till- 3 tbsp

Green chilies,chopped- 1tsp

Coriander,chopped- 2 tbsp

Mint, chopped- 1 tbsp

Lemon juice- 2 tsp

Yogurt or water - 1/2 cup

Cumin seeds- 1/3 tsp

Salt-to taste
PROCEDURE-
Tahini Sauce-
Dry roast sesame seeds in a pan till they start crackling.

Grind sesame with all the ingredients in the mixer and make a smooth paste .

Now add yogurt or water and grind again..

Take out in a bowl  and keep aside.
Falafel-
Soak chickpeas overnight in enough water.

In the morning drain and rinse them well (no need to boil the chick peas )

Add all the ingredients to make falafal in the blender and grind to make a course mixture.

Take out the ground paste in a bowl and mix.

Now make flat patties or round balls from the mixture and deep fry in oil on medium heat.

Fry till golden in color and then drain on a paper napkin.
Assembling the sandwich( pita pockets)
Take a pita bread and cut it in half and make 2 pieces.

Slit open the pita slices to make pocket.

Apply some tahini sauce on the sides of pockets.

Now stuff the pockets with 2-3 fried falafels.

Now put mixed veggies salad over the falafels.

Drizzle tahini sauce over it and serve.
Method 2-wraps
Take a pita pocket and slit it from a side.

Apply tahini sauce inside it.

Put fried falafels in it and then put salad and some tahini sauce over it.

Roll it tightly to make a wrap.

Wrap the roll in paper napkin or foil and serve.
Serving suggestions-serve with  

pickled cucumber and jalepenos
NOTE-
No need to boil the chickpeas,use soaked chick peas or a mix of chick peas and feva beans.

If the ground paste become loose and having difficult in shaping the falafels then add some more refined flour,or keep it refrigerated for some time.

You can also add some grated vegetables in the falafel mix to make it more healthier.

For making tahini sauce you can add water instead of yogurt .

You can apply some olive oil on the pita bread and heat it on a griddle before assembling.

If pita bread is not available then you can use kulchas to make this.