Podcast: Play in new window | Download
This week's episode of Tennis Quick Tips is out!  In TQT Episode 16, we're talking about tennis lessons.  Specifically, you'll learn six simple steps you can take to make sure you're getting the most value possible out of your private lessons.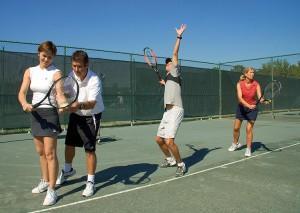 Below is an edited version of the transcript for this episode that you can read through for notes and to get more information.
Well, the weekend of my tennis fantasy camp is finally here. That's right. Tomorrow I leave for the first ever U.S. Tennis Congress. I've spent the last month getting ready for this and trying to make sure that I get every last bit of value I can out of my chance to learn from some of the biggest names in the world in tennis instruction. And don't worry – I'll be bringing all kinds of fun and useful info, tips and lessons back for my Tennis Quick Tips listeners. But this week, let's focus on your tennis lessons. I want to tell you just how you can be sure that every tennis lesson you have is an absolutely great tennis lesson.
If you're taking private lessons from a good tennis coach, then you already know – tennis lessons aren't cheap. You can spend a huge chunk of change and an inordinate amount of time on lessons.  So here are the exact steps you should take to make sure you're getting the most value possible out of each and every one of your lessons.
 
1. Have a goal for your lessons. Sounds obvious, right? But how many of us are taking lessons that are really nothing more than paying to mindlessly hit tennis balls with a pro? I've done this plenty of times and I bet you have too. So let's put an end to that. Whether you are new to tennis or have been playing for years, you should not be paying for lessons unless you know what it is you hope to achieve in those lessons. This means you have to honestly, perhaps painfully, evaluate your game and decide what you might actually achieve in lessons. Your goal may be very simple – learn to play tennis! It may be a little more complex – move up from a 3.0 to a 3.5 player. It can be a short-term goal that requires a few lessons – learn to hit a one-handed backhand slice on the run. Or it can be a long-term goal that requires regular lessons for the rest of your life (which seems to be the plan that I am on). The point is – think about why you're taking lessons and what you want to achieve. Write some notes, review them after a few days and come up with your goal.
2. Discuss and evaluate your goal with your tennis coach. If you took the time to create a goal, you're going to tell your coach what it is, aren't you? Well, even I ignore this important step. It's so much easier to just go out there, hit balls and assume that, whatever it is you're doing is going to improve your game. But, to get to your goal, you need to spend some time talking to your coach about what you hope to achieve so that he or she can come up with the appropriate lesson plan that will get you there.
Warning – If you are working with a coach who makes you feel uncomfortable about this, someone who thinks he knows what you need to work on and doesn't want to hear much of anything from you, that is a sign that you may not be working with the right coach.
3. Revisit your goal periodically. Over time, as you work with a coach, you may forget you had some purpose for your lessons. So, if you're on the short-term goal plan, figure out if you've achieved what you wanted at the end of your term. If you didn't, decide whether you try again with the same coach (maybe you didn't give yourself enough time), reset your goal (maybe you were trying for too much) or move on (maybe this wasn't the coach for you). If you're on the longer term plan, revisiting your goal periodically is very important. Again, it is easy to fall into the trap of mindlessly hitting balls with your coach just because its fun and easy. Review your goal and your progress towards getting there every 3 to 4 months and decide what needs to change, if anything, to get you achieving that goal.
4. Ask questions during your lessons. While you want most of your lesson to consist of you hitting balls, you need to spend some time talking to your coach and asking questions. Now, I ask a lot of questions during my lessons, probably way more than is necessary. But I know my coach has played since he was a kid, I know he plays singles and doubles, and I know he's pretty smart about tennis. So I want to know what he thinks about some of the situations I come up against in match play. I want to know when to hit my backhand with top spin and when to slice. I want to know how much to pronate on my serve and what does that mean anyway. Talking with your coach and asking lots of questions is a good way to get expert advice on the specific situations that you come up against again and again.
5. Learn something in each lesson AND write it down. I try to take away at least one thing from each of my lessons. It may be something major – apply spin when hitting an overhead (that was major for me anyway). It may be something very minor – wear a better hat on sunny days. I then jot down these lesson points on a notepad I keep in my tennis bag just for this purpose. I do this because, even though I think I'm really smart and will remember everything I learn in my tennis lesson, the truth is – I won't. But if you do this – learn something AND write it down – you will soon have a great list of tips specific to your game that you can pull out and review before your matches.
6. Apply what you learn outside your lessons. This is really the hardest part of taking tennis lessons. When you are learning something new, it very likely will mean changing your old way of doing things. I've actually witnessed someone else taking a lesson, arguing with their pro why their way of hitting a backhand was better than the way the pro was trying to teach them. Listeners – if this is you, quit taking lessons. You're just wasting your money. Because, face it – if you want to get a better backhand, for example, you might have to change your grip. And that new grip is going to feel awkward and uncomfortable for quite some time. But if you don't put it into play and you just keep using your same old backhand grip, well, your backhand is never going to improve. So accept the awkwardness. Ignore the fact that you are going to have some trouble with that backhand for a little while. Apply what you're learning in your tennis lesson to your tennis game and have faith that you will soon see the improvement.
So, just to review, here are those six steps:
1. Have a goal for your lessons.
2. Discuss and evaluate your goal with your tennis coach.
3. Revisit your goal periodically.
4. Ask questions during your lessons.
5. Learn something in each lesson AND write it down.
6. Apply what you learn outside your lessons.
By following these six simple steps, you can make sure that every tennis lesson you have is a value-packed, super helpful, and truly great tennis lesson!
How do you make sure you have great tennis lessons?  What kind of process do you and your coach follow?  Let me know in the comments below.  And I hope you'll subscribe to Tennis Quick Tips!
SUBSCRIBE IN iTUNES: Visit the TQT iTunes page and subscribe (click on the "Subscribe" button or the blue "View in iTunes" button) or search for "Tennis Quick Tips" in the iPhone Podcast app.
SUBSCRIBE ELSEWHERE: Search for "Tennis Quick Tips" in your favorite podcast app. Or visit the TQT Stitcher page and subscribe. Or visit the TQT podcast feed URL and listen in.
Thanks for listening and, as always, Happy Tennis!

© Kim Selzman 2013 All Rights Reserved