We know bran is full of fiber and blueberries are the brain food but you may be cutting out yummy foods previously deemed bad for you and missing out on the surprising health benefits they possess. Not this time because you don't have to deprive yourself to enjoy a healthy diet that is full of nutrients. Eggs have previously been labeled at various places as artery-cloggers, however, they are now a highly recommended as protein-rich food full of vitamins and minerals such as choline and lutein - vital for brain function, health of eye, pregnancy and fetal development. At only 70 calories per egg, each egg provides 13 essential nutrients, vitamins, and high-quality protein. Eggs do contain cholesterol but recent studies show they actually contain 14% less than previously studied at 185 mg cholesterol per egg.
CASSEROLE

Ingredients
Chicken boneless: 1.5 kg
Green Chilies: 4
Tomatoes: 4
Red Chilies: 1 teaspoon
Black Pepper: 1 teaspoon
Oil: half cup
Salt: 1 teaspoon
Garlic: 4 pieces
Water: 4 cups
Onion: 1
Method for Gravy
Cut the chicken into small pieces and onion in fine strips. Add all the ingredients in chicken and cook till tender. Leave little gravy and remove from fire.
Also Read:
Ingredients for Macaroni
1/3 pack macaroni boiled with salt and 1 teaspoon oil.
Tomatoes cut in round pieces
1 pack of cheese grated
Ingredients for White Sauce
Oil or Butter: 4 tablespoons
Flour: 2 tablespoons
Black Pepper: 1 tablespoon
Milk: 2 cups
Salt: 1 teaspoon
Chicken stock: 2 cups
Method for White Sauce
Heat oil. Add flour, salt, black pepper in it and fry for one minute. Gradually add milk and chicken stock. Stir till white sauce thickens.
Method for Casserole
Grease a baking dish, put the first layer of macaroni, then the second layer of chicken and in the end third layer of white sauce in the dish. Repeat the process again and sprinkle grated cheese on top. Pre-heat the oven and bake at medium heat for 15 minutes. Decorate with tomatoes and serve hot.
Note: chicken stock can also be added in place of milk.
FRUIT PUNCH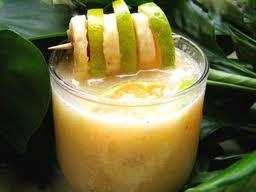 Ingredients
Bananas: 3
Orange Juice: 3 cups
Pineapple Juice: 3 cups
Sugar: 1 cup
Water: 5 cups
Carbonated Water (7 Up): 1 litre
Method
Mix all the ingredients except 7 Up and place them in the freezer. Take out the frozen material 20 minutes before serving. Place it in the fruit punch container, add 7 Up and serve.
CHICKEN NUGGETS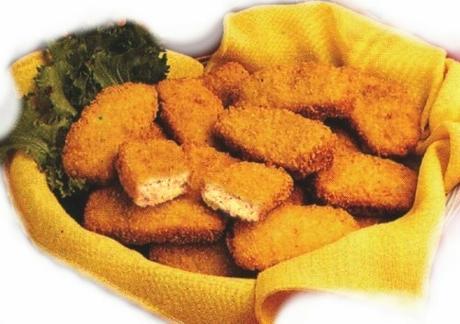 Ingredients
Chicken Boneless: 1Kg
Soya Sauce: 4 tablespoons
Chili Sauce: 4 tablespoons
Ajinomoto: 1 tablespoon
White Pepper Powder: 1 tablespoon
Black Pepper Powder: 1 tablespoon
Salt: to taste
Red Chili Powder: 1 teaspoon
Egg: 1
Bread Crumbs: 2 cups
White Vinegar or Lemon Juice: 2 cups
Method
Put chicken in a bowl. Add all the sauces and mix them well. Keep it aside and marinate for at least 1-2 hours so that all the flavors are well developed. Take out chicken pieces, first dip them in the beaten egg and then coat them with bread crumbs. Deep fry the chicken pieces till they become crispy and golden brown. Serve hot.