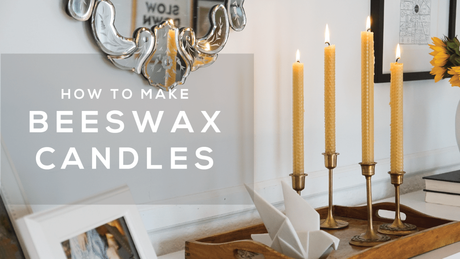 I feel like beeswax has become somewhat of a buzzword recently because of it's healing, clean burning, and even air purifying properties. Well I, too, am on the beeswax train, and can vouch for the hype! My father-in-law is a beekeeper and has us suit up to harvest the honey from the hives every year. Watch the honey harvest video HERE. Let's just say I've been up close and personal with my bee friends and somehow they've nestled into a soft spot in my little heart over the years.
There was a year I took home all the harvest beeswax and made tea light candles in my kitchen the traditonal way. The end result was awesome, but my kitchen was covered in inadvertent melted wax drips, and beeswax is the HARDEST to clean up. I'd find drips of beeswax in the oddest places months later.
This year, I decided to make beeswax candles again, but this time it would be the easy way. No melted wax and no scrubbing (and scrubbing and scrubbing) up the mess. These guys take like 2 minutes a piece, and come out to be about $1.65 a piece.
Materials:
8″ x 16″ wax sheets and medium braided wick - I'm using a kit from Amazon. I found this kit to be one of the best deals, but you can certainly buy the materials separately. It's just wax sheets and wick!
Scissors
Ruler
Cut the wax sheet in half forming two 8″x 8″ sheets.
Cut an 8.5″ long piece of wick, and place it along the very edge of the wax sheet, with the extra 1/2″ of wick sticking off of one end.
Use your fingers or palms (whatever you find works best) to tightly roll the wax around the wick. The tighter it's rolled, the longer the candle will burn.
Continue rolling up the wax sheet until it's completely rolled onto itself. The tackiness of the wax will keep it rolled up.
Place in your candle holder and light it up, my friends!
Watch the video for the moving picture run down!
If you liked this video, please subscribe to my Youtube Channel!