If you're new here, you may want to subscribe to my RSS feed. Thanks for visiting!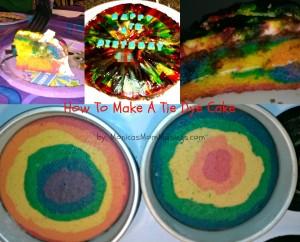 My son's 6th birthday party was at Chuck E. Cheese this year.  I wanted to make a unique cake for him since I didn't get to do the whole party planning.  So when my husband was telling me about this tie dye box cake mix he saw from Food Network's Duff I said, I can do that.  Not with a box though.  I prefer to make my own cake, but on top of that I have a friend whose child has a soy allergy and I was worried about getting the wrong cake mix.  Using my own ingredients I could control that and make the cake safe for everyone to have.
When everyone saw the cake they were asking me how I did that.  So I wanted to give a little how to.  I must admit, I wasn't smart enough to take pictures of the whole process so I do hope I can explain it well enough that you can see how it all came together.
What You Need
White cake batter (box or your own homemade batter, it doesn't matter)
2  8 or 9 inch round cake pans
6 small bowls
Food color (I used Wilton concentrated food gels because I like the vivid colors it gives)
White frosting (any kind you like, again I make my own butter cream frosting)
Food gels (in a tube to make the tie dye on the frosting)
A flat unused paint brush
How To Make A Tie Dye Cake
Once you have your cake batter all made separate it out into 6 separate bowls.  Try to do it equally.  I measured out about 1 cup per bowl.  Then take your food color and put one color in each bowl and mix it up.  I tried to stick with the basic colors of the rainbow.
Now comes the fun part, tie dying.  Start with your first color and pour it into your prepared pan just to cover the bottom of the pan.  Then pour your next color on top, but don't let it go all the way to the edge.  Keep doing this with each color a little less each time, then go to your 2nd cake pan.
Go in the opposite direction now.  So if you ended with blue in your first pan, then start with blue on the bottom in your 2nd pan and end with your first color from the first pan.  Same process.  Start out covering the bottom of the pan.  You should be able to use the remainder of the cake batter in each color to make the second cake.  Once you have all of your cake batter in the pans put it in the oven.  When it's done here's what the cakes will look like…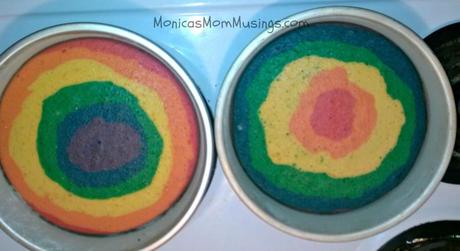 Isn't that awesome?  Now let them cool completely.  Now you're going to want to frost the cake.
Tie Dye Frosting
Now you could just go with a plain white frosting or make it whatever color you like and sprinkle it with sprinkles or something, but I thought, what's the fun in that?  I like the wow factor from start to finish on my cakes so I wanted my frosting to be tie dyed too.
I wasn't crazy about how mine turned out though, but my son loved it and it was definitely eye catching.  I used basic color gels for this, but I think if I were to do it again I would use the pastel colors.  I think it wouldn't have come out quite so dark if I had used pastels instead of basic.
So make your frosting like always (or if you use frosting in a container whip it up in your mixer to expand it so it goes further).  Frost your cake like you normally would.  Get it on the whole thing and between the two layer cakes and all around the sides. Smooth it out as best you can.
Not take those tubes of color gels and go around the top of the cake with each color.  Do a circle around the edge of the top of your cake, then move in some and circle around making each circle smaller until you get to the middle.  Now take your clean, flat paintbrush and gently place it in the center of your cake and draw a line straight out.  This is going to take each of those colors and meld them together.  Have a paper towel handy to clean your brush off with as you go.  Do this all the way around the cake until the top of the cake is no longer white and you've got a great design of colors on your cake.
I chose to add candy letters to the top to wish my son a happy birthday, but you could probably write on it.  I felt this popped better on the cake though.  But there you have it.  A tie dye cake through and through.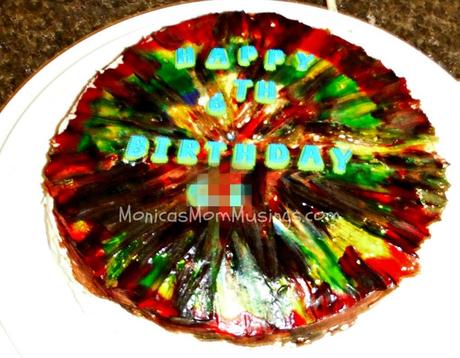 Here it is after it has been cut.  It definitely got the wow factor for sure and the kids loved it.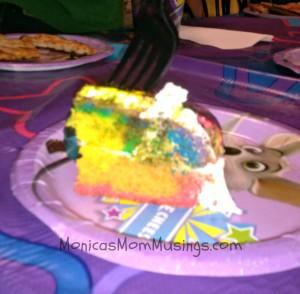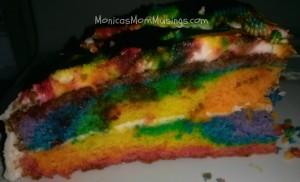 What kind of fun cakes have you made recently?