copyright 2021 Art of Living, PrimaMedia, Inc
This is a great dip for summertime since it uses fresh tomatoes, basil and corn together! All of these fresh ingredients give this a fresh summertime taste. It also contains only a few ingredients and is relatively quick to make. This recipe can also be adjusted to your taste buds (i.e. you can add more or less salt or pepper).Because this recipe only has a few ingredients nothing overpowers and each ingredient is discernible in the recipe.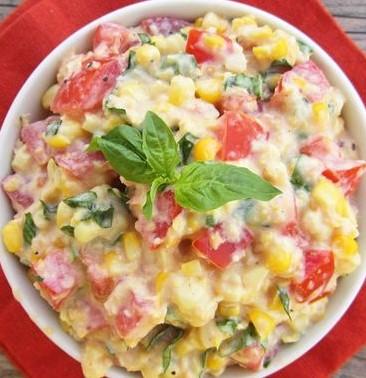 Tomato Basil Summer Corn Dip
Serves 4
Makes approximately 2 cups
Cooking time:10 minutes
Prep time-10 minutes
2 cups fresh corn kernels cut from 2 corn cobs
1/3 cup silken tofu (or substitute ¼ cup sour cream + ¼ cup farmers or cream
cheese)
1 tablespoon fresh lime juice
¼ tsp sea salt
Freshly ground black pepper to taste
8 cherry tomatoes cut in quarters or 2 medium size tomatoes chopped
1/3 cup fresh basil leaves chopped
Place milk in sauce pan and place in corn. Cook on medium heat just until corn is
tender (about 8-9 minutes). Remove from heat and let cool
When cool place 2/3 cup corn mixture in food processor with tofu, lime juice ,salt
and pepper to taste. Blend till creamy. Place into a serving bowl and add in
remaining corn mixture, tomatoes and chopped basil leaves.
Serve with
potato chips and/or corn chips