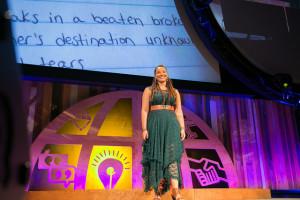 Jadah Sellner inspires the audience at World Domination Summit. Photo courtesy Chris Guillebeau, WDS2014
"Take imperfect action!" I wish I could take credit for that simple piece of advice. But those words aren't mine, despite my Imperfect Video of a few weeks ago which gave a similar message.
No,  these words became a theme phrase of this year's World Domination Summit. They were spoken early on in the action by a woman I'd never heard of – but who inspired me down to my tippy toes – Jadah Sellner.
But wait a minute here. Back up, you may be saying…. World Domination Summit?? What the heck is that?
No – I haven't gone all leather and whips on you. We're still holistic over here, but this following your dream thing has become a bigger and bigger theme for me.
And nowhere do I find more world-changing dream followers than at Chris Guillebeau's annual World Domination Summit, where 3,000 wildly unconventional writers, entrepreneurs, travelers, and overall rabble-rousers descend on the town of Portland for several days in July.
It's a gathering world changers and world changing wannabees like me. All of us having a heck of a good time.
Community. Service. Adventure.
These are the three values that serve as a foundation for the whole thing.
I first attended this event a couple of years ago in 2012 (wrote about it here), and it turned out to be a catalyst and jumping off point for me.
(As in: Jump and the net will appear!  Sometimes I still feel like I'm in free fall, but I haven't slammed into cement yet, so something's working!)
Jadah Sellner took a leap too – and climbed out of poverty to run her dream business, sharing her passion for green juicing. In fact, just about everybody who got up on that stage has taken a chance, taken a leap, walked into the fire of their own fear and self-doubt – and come out on the other end with a story to share!
We heard from A. J.Jacobs, who spent a year living out every rule in the Bible, and who set the running joke for the rest of the conference.
And I just found out we're cousins!
His latest project is about family – and proving that everyone on the planet is in fact related – even if they are 55th cousins. (That's how all of us at WDS discovered we're cousins, LOL)
The big takeaway (reminder) for me from A.J.:
There are hundreds of things that go right every day, why focus on the few that go wrong.
Jadah stepped up next, opening her talk with a poem that got me reaching for my tissues. And I held onto them as she shared her story. Along with the entreaty to take one imperfect step, I took to heart the refrain from her poem, another important theme of her talk:
I encounter every lesson in life on purpose.
WDS isn't just about the speakers of course. It's the connections. And the random conversations that lead to light bulb ideas and insights – or simply to a new and rewarding friendship.
Early in the morning, as I walked the line to greet the attendees who waited to get in (I volunteered this year), I encountered Rayna Caldwell, a fellow Martha Beck coach. We fell into an animated conversation about how to connect social activism with our work as coaches.
A marvelous moment of synchronicity as this subject has been springing to my mind often in recent months. We exchanged contact info, and I walked into Day One with that bubbly feeling you get when you sense something big shifting inside.
With all that synchronizing it wasn't so much of a surprise to hear that the scheduled final speaker of the morning had to cancel due to illness, and instead we were introduced to Shannon Galpin, an activist whose mission is centered around giving woman a voice. She spoke of her humanitarian work in Afghanistan in women's prisons, and more. Her TedX Talk is on The Power of Voice.
All the more synchronicity for me! And how she got started? She found herself overwhelmed and depressed at the horrifying statistics on violence against women. An her light bulb moment occurred:
I kept wondering, 'why isn't someone doing something about this? Then I realized, I'm someone!'
Each and every speaker offered a few golden nugget seemingly just for me, even though I had barely heard of any of them before that weekend.
And from each, the common thread – the one that weaves together all four WDS events:
You won't know what to do. You will feel scared and inadequate. Yet if you continue to take one tiny step after another you get there.
And where is there? It's that place that exists only in your dreams right now!
Following this advice – in my own super slow and imperfect way – allowed me to experience the Summit in a brand new way this year.
Unlike the previous two years when I found myself constantly comparing my own success with that of others (and coming up distinctly short!), I was able to recognize that I am just perfect exactly where I am right now. Let me tell you, this is a HUGE shift for me! And one that is spurring me on to those next imperfect steps!
This time, instead of suffering from a constant case of FOMA (Fear of Missing Out), I trusted that I would be guided to the right place in  each moment. As I listened to story after story of people feeling their fear and moving forward anyway, of not knowing what the fuck to do but taking one imperfect step, planting one seed after another until they found themselves up there on the stage – each one inspired me, but this time I did not feel that sickening sense of 'why haven't i gotten there yet?'
This time the inspiration was 100 percent clean, true and heart-opening.
Even those moments when I found myself wandering alone through the crowds became moments to breathe and experience gratitude for the spaciousness in my mind, rather than to panic that I must be boring and unapproachable because no one was talking to me.
My new state of intentional relaxation brought connections with exactly the people I needed to talk to and hear from.
This, this is what it means to feel good in your own skin, to finally get out of my own freakin' way.
And – one thing I know for sure:  that's the way I want to live.
This post would become book-length if I tried to share all that I watched and learned at WDS, but a trip around the web searching #WDS2014 will bring you many fabulous stories and videos.
Other highlights for me included a 4-hour seminar on 'travel hacking' with Stephanie Zito. This got my wanderlust stoked once again, especially since Stephanie has found a way to merge her passion for travel with her own humanitarian work around the world. With a website called Wandering For Good, how could I NOT be inspired?
And then there was The Great Namaste – where 800+ people performed yoga poses in a grand wave. This was my first (and possibly only) participation in a Guiness World Record breaking event. And so now I'm told I get to add "Guiness World Record Breaker"  to my LinkedIN profile. (I probably won't though, since technically just worked it rather than actually doing all the yoga poses.)
I gotta say, this Yoga Wave was a sight to see – you can get a glimpse here.
We wrapped up the weekend with a kick-ass dance party that included rides in a hot air balloon, the ubiquitous Portland food trucks, music by the Portland Cello Project, and – now a WDS tradition – Bollywood dancing!
We all got a little wild together before moving on to take our next imperfect step – or big leap!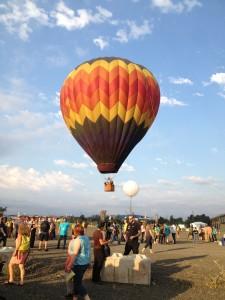 Taking action and changing the world – yes that's what WDS is all about, and that's what we were all there for. And another thing I know for sure? It all becomes much easier when we have some fun too!
Are you thinking about your next 'imperfect step'? Say it loud and say it proud in the comments!
<