If you're new here, you may want to subscribe to my RSS feed. Thanks for visiting!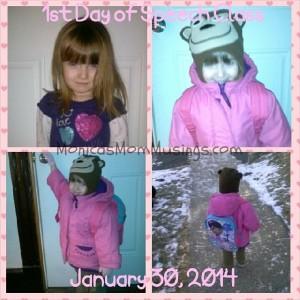 Well, my youngest has been giving me a real heart breaking run or my money when I drop her off for her speech class.  She only has been two days.  Today was canceled due to the weather, but day one she cried so loud I could hear her through two closed doors.  Day two went a little better.  She tried to leave with me and the teacher had to pick her up and carry her off crying again, but this time not as loud.  And she actually participated in the class for part of the time unlike the first day.  I had high hopes for today, but we might be back at square one when she goes back again on Tuesday thanks to this missed day.
This isn't the first time I have experienced the child who broke my heart at drop off though.  I've been through this a few times now and every time it broke my heart, but every time the crying did stop.  Sometimes it takes two weeks, sometimes less.  Some kids don't cry at all.  But there are certain ways to handle drop off of a child who doesn't wan you to leave.
5 Steps To A Successful School Drop Off
Before you go work up the excitement about school.  Go see the classroom, meet the teacher, talk about how much fun it's going to be, and read books for the first day of school.  Our favorite is The Kissing Hand.
A good nights sleep.  Going to bed the night before at a certain time and then having a school day schedule worked out that you are consistent with every day there's school will help your child know what's to come.
Don't hang around.  It's best to just go.  If you stick around you're just prolonging things.  Ultimately making it harder for your child to stay there.  Setting up expectations of you being at school with him.  So a quick hug and kiss and reassurance that you will be back to pick him up.
Distract yourself in some way.  Go out with some friends, do some shopping, or something you can't normally do easily with children.  You are going to need the distraction so you aren't tempted to call the teacher and check in or even go to the school and try to catch a glimpse of your child.
Arrive on time for pick up.  And give your child a great big hug and kiss and tell him what a big boy he is.  Lots of positive praise even if all he did was cry.
Doing all of these things isn't going to stop the melt downs completely, but it will make it go more smoothly as time goes on.  Eventually your child will stop crying entirely when you drop her off.  And someday you'll look back at this event in your child's life as just a minor bump in the road.  And before you know it she won't want you anywhere around when you drop her off at school.  Eventually we all become an embarrassment to our children.  It's the circle of life.
How did it go the first time you dropped your child off at school?