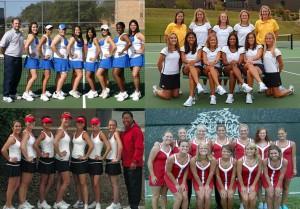 Maybe you're new to tennis and haven't yet joined a tennis team.  Maybe you've been playing for a while and are looking to move up to a more challenging team.  Or, maybe you're like me and aren't happy unless you're playing on at least three teams.  Whatever your situation, you're ready to join a tennis team.
Unfortunately, it can seem a little intimidating to get on a team.  It's almost like trying to get a seat at the popular table in the high school cafeteria.  Will the cool clique let you in or not?  Okay, maybe its not that hard to get on a tennis team.  But if you seem to be having problems finding the team that's just right for you, I have a few tennis team tips to help you find the perfect tennis team.  Follow the tips below and you'll soon be celebrating your incredible tennis victories with your fabulous tennis teammates.
1. Talk to your friends.  If you're interested in tennis, you must have friends who are playing tennis. And most likely, at least some of them are playing on teams. If you're already on teams, you know who is playing on the higher level teams. So find out if your friends are on teams looking for new players or if they know other captains who might need players. And, when you get those names, don't be afraid to "cold call" captains to find out if they have spots open – captains are always looking for players to join their teams.
2. Talk to your tennis coach or pro.  Any good tennis pro not only teaches, he is also talking to his students to find out how their games are going. Are they winning or losing? And just how are their teams doing? Your tennis pro should know the teams that his students play on and he probably knows if they have openings. The great thing about talking to your pro about joining a team is that he knows what level you play at and can help you find a team that is appropriate for you.
3. Talk to the Tennis Director at your club.  This is their job! If you're paying dues to belong to a club that has a Tennis Director, she better know what teams are playing out of her club, who is captaining each team, and hopefully, who is looking for new players. Have your Tennis Director give you names and phone numbers for these captains and, again, don't be afraid to cold call.
4. Play in mixers, tournaments, drills and clinics.  In other words, play a lot of tennis! These events are always fun and attract people who are "in to" tennis, like you and me. Chat them up and you are sure to come across a team captain or someone who knows of a team looking for a player just like you.
5. Become a tennis team sub.  This is absolutely the best way to get on a team. So offer to be a sub and don't consider it to be beneath you. Because today you're a sub, tomorrow you're the player filling in for the team member who got injured and the next day, you're the reliable player that the team needs. And if you're looking to move to a higher level team, becoming a sub ensures that you'll get the challenging match play you need to make that leap up.

© Kim Selzman 2013 All Rights Reserved