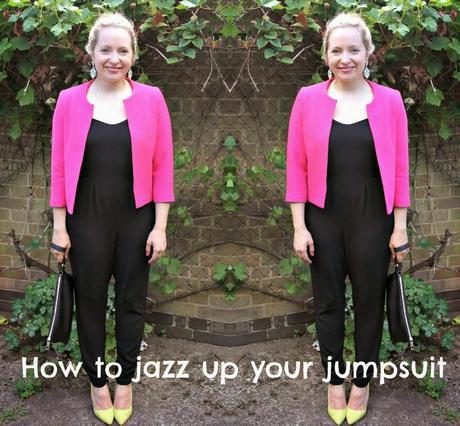 Usually I'm not a massive fan of jumpsuits as I tend to feel restricted in them, and being brutely honest I sometimes think they can be very unflattering on certain shapes.  My whole opinion of them went out the window when I saw this simple strappy black on in F&F and just had to have it... as it was an absolute bargain  I decided to be daring and use it for a hen do I was going on.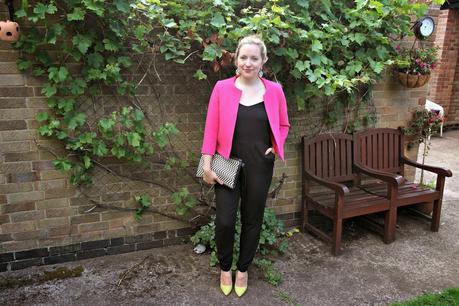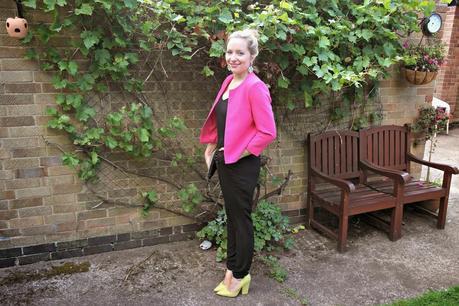 What I'm wearing
Jumpsuit - F&F Wrap Jumpsuit - £20.00
Jacket - F&F Pink Crepe Open Front Jacket - £25.00
Shoes - Faith Lime Suedette Block Heels - £40.00*
Bag - Primark Monochrome Clutch - £8.00
Purse - DKNY Black Leather Grained Leather Wallet - £59.00*
Earrings - Topshop Freedom Earrings - £5.50
 As there are so many light and bright colours out at the moment I've simply kept everything simply but added bold statement shades.  The cute cropped jacket is actually from F&F too, I wore this at LFW but really think the pink sets this look of perfectly.  
As I say everything else is simple because the colours do the talking.  When you go on something like a hen do you are often mixed with many people you don't know, and you don't know what you're going to be doing which is why this look was ideal.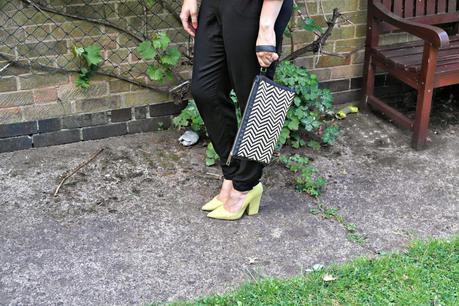 My snazzy Office chunky heels came out to play again, because not only are they cool but when you don't know how far you need to walk... it's good to go for comfort and style.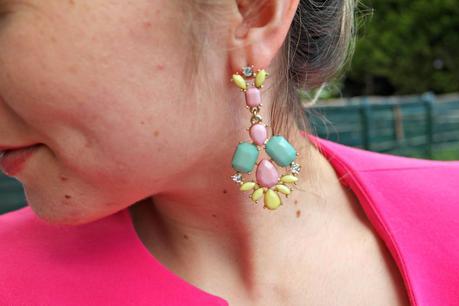 My earrings are my favorite purchase this week... a Topshop Freedom sale bargain.  I fell in love with the cute pastel colours and thought they'd look perfect with these items.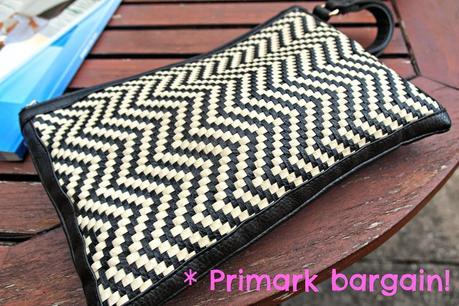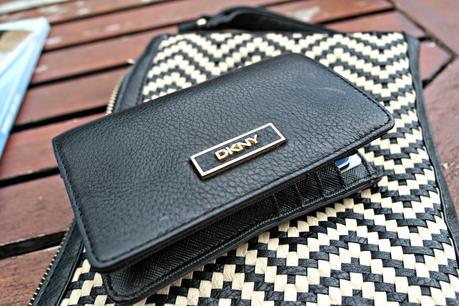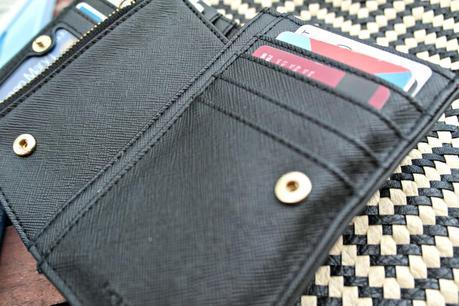 I adore this clutch I spotted in Primark last week.  I debated whether to get it but really liked the attention to detail and the fact it was monochrome.  Like many clutches you are always restricted with space so I've been using my brand new DKNY purse which is the perfect size.  I sometimes feel I tend to over load a purse or bag with junk if it's big enough to handle it, so when I got this new purse I decided I would have the needed cards and that's it - so far so good!  Anyways my fab new purse fits in perfectly with all my make up essentials for a night out. 
This jumpsuit could easily teamed with sandals for a more casual boho look for summer... may have to create that so watch this space!

xoxo