Compatible devices:
A4 based iPhone 4, iPhone 3GS and iPod touch 4th-gen only.
How-to jailbreak iOS 6
:
Step 1:
Download the latest version of Redsn0w for the relevant operating system from the iPhone Dev Team (Windows/Mac).
Step 2:
Extract the contents of the downloaded compressed file and save it to a familiar location on your PC or Mac.
Step 3:
Run the executable Redsn0w file, making sure to run in administrator mode if using a Windows based machine. If you are on OS X Mountain Lion, start Redsn0w by
Ctrl-Click
on the icon and then selecting
Open
from the new menu.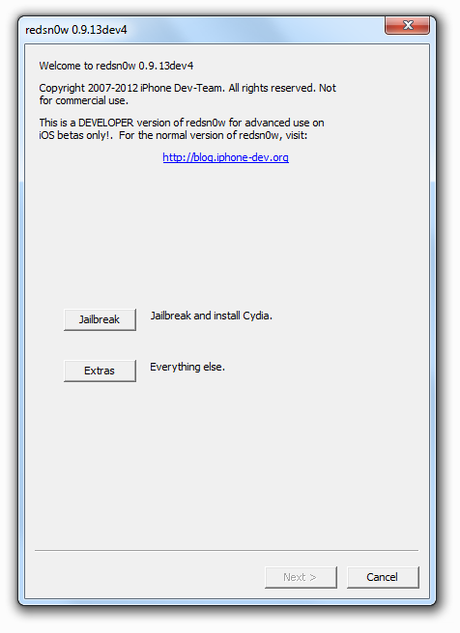 Step 4:
Select the
Extras
option from the main menu of the Redsn0w interface and point it to the desired IPSW file.
Step 5:
Redsn0w has advanced dramatically with the last few major revisions and now has the power to whip through the jailbreak without much interaction. Follow the onscreen instructions (Redsn0w might ask you to enter DFU mode) to complete the jailbreak process.
How-to boot tethered on iOS 6
:
As already mentioned above, this is a tethered jailbreak, therefore you will be required to boot into tethered-mode every time you reboot your device. This can be done by starting Redsn0w: click on the "Extras" button on screen and then simply click on "Just Boot" option and follow the on-screen instructions. Once done, you will be rebooted back into tethered-jailbreak mode.
How-to install Cydia on iOS 6
:
The current release of Redsn0w doesn't install Cydia by default. To install cydia, follow the steps below:
The following steps to install Cydia is done using Terminal on Mac. You can use the same commands on Windows using a SSH program like WinSCP.
Note down the IP address of your device.
Make sure your device is connected to your PC or Mac. Start Terminal on Mac and type:
ssh root@
It will now prompt you to enter the root password. Type: alpine
Once done, type:
wget -q -O /tmp/cyinstall.sh http://downloads.kr1sis.net/cyinstall.sh & chmod 755 /tmp/cyinstall.sh & /tmp/cyinstall.sh