Even though it's fall and we should be playing tennis in wonderful weather, it is still incredibly hot. I have heard of at least two matches being forfeited because one of the players was throwing up during the match! That is an early sign of heat-related illness and no one should be playing when they feel like that. In this episode, I'm going to tell you what the rules of tennis provide for us as far as breaks we can take during a match, little pauses that give us some recovery time. You need to know what these are and be sure you're taking full advantage of them. You can listen to this episode by clicking on the media player above or by listening in with your favorite podcast app. You can also subscribe in iTunes by clicking on this link: tennisfixation.com/itunes.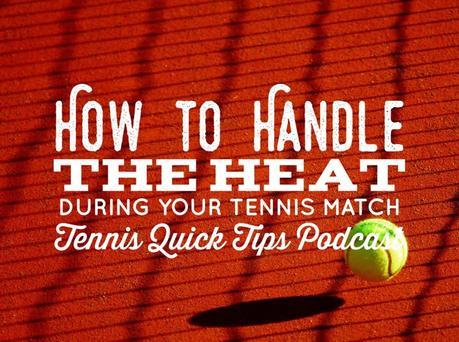 SHOW NOTES
Rule 29 on Continuous Play
When dealing with the heat during your tennis match, you need to remember ITF and USTA Rule 29, which is the rule on continuous play. And while it is very important, according to the rule, to keep play continuous, the rule does contemplate that you do have some time in there. And you need to make sure you know how much time you have and how you can take advantage of it.
The 20 Second Break Between Points
The first little break that is built into the rule is the time between points. The rule states that you have 20 seconds between points. And you need to be sure you are taking advantage of that time. So that 20 seconds starts from the time the last hit occurs on the previous point until the first serve of the next point. Twenty seconds between those two things.
That means if you are the server, do not be in a hurry. Do not rush your serve. It is not going to make your serve necessarily any better anyways. Take your time and take that full 20 seconds. It's longer than you think and you need that 20 seconds to recover, to take a little mental pause, and to get ready for your next serve. And it will help you in dealing with the heat, if you don't rush into the next point.
The 90 Second Break on Changeovers
The next little break is the time between games on the changeover. So you are changing sides of court after every odd game. And the rule gives you 90 seconds to do that, one and a half minutes. You are allowed to sit during changeovers if you need to. You can certainly and should be taking drinks of water or a sports drink if that's what you're drinking. Again, 90 seconds is longer than you think it is and you should not rush that. You should not be rushing to the back of the court to get ready for the next point. Take full advantage of that time when it is extremely hot to recover and prepare yourself mentally.
The 2 to 10 Minute Break Between Sets
The final little break that the rule gives you is between sets. And the rule states that you have two minutes between sets and,if you're playing in a tournament and rules of the tournament permit it, you can have up to 10 minutes between the second and the third set. So two minutes between the first and the second set. At least two minutes between the second and third set. And possibly up to 10 minutes if the rules permit in a tournament. You need to check the tournament rules and you may even need to check your league rules to see what kind of breaks they give you.
Once again, the rule contemplates that you will have this little break and you need to take full advantage of it.
Take Your Breaks - Don't Rush Things in the Heat
I'm pointing this out to you because a lot of people, myself included, like to rush things. Like to get things going and hurry it up. That really can work against you when it is so hot outside. It's not just a physical issue. It can also be a mental issue. When you're really hot, it can impact how well you are thinking on court.
So be sure and take advantage of the breaks you are given by the rules. While it may not sound like you get a lot of time, it can make a big difference in what is happening for you on court. And if you reach that point where someone on your court is throwing up, please don't let it go that far, but if that's happening, that person would be better off forfeiting for that day and staying healthy so they can live to play another day!
RESOURCES AND LINKS FROM THIS EPISODE
Check out these other Tennis Quick Tips podcasts mentioned in this episode:
SHARE, SUBSCRIBE AND REVIEW
If you want to make sure you never miss an episode, it's easy to subscribe! Just click on one of the buttons below: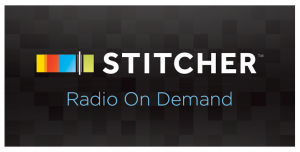 You can also get the direct RSS feed for your own favorite RSS Podcast Player by clicking here: Tennis Quick Tips Podcast RSS Feed.
And if you'd like to become a friend of the show, please leave an honest review on iTunes by clicking here: Tennis Quick Tips Podcast iTunes Page. It will help the show become more easily discovered by like-minded, awesome people just like you. I appreciate it!
Looking for a specific episode? All of the Tennis Quick Tips podcast episodes are listed on the Tennis Quick Tips Podcast page. Just click here to find what you're looking for: Tennis Quick Tips Podcast.
GET A BETTER SERVE FAST!
And if you're interested in getting a better serve - fast! - get my free ebook, 10 Quick Fixes to Improve Your Serve: No Lessons Required.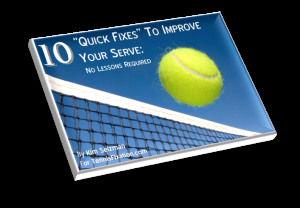 By applying the 10 simple tips to your serve that I give in this ebook, your serve can become a tool that you can use to gain control of points. It can become more powerful, more accurate, and something you're actually proud of. Just enter your email below and you'll get instant access to this free ebook as well as weekly updates with all of my best tennis tips!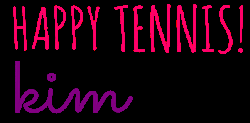 © Kim Selzman 2016 All Rights Reserved
Podcast: Play in new window | Download