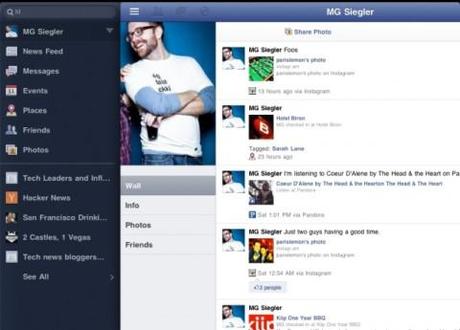 Facebook on the iPad. Photo credit: TechCrunch
An engineering student claims to have found Facebook's iPad app hidden within the current iPhone app code. That's exciting news for iPad-owning social media addicts given Facebook hasn't yet released its eagerly anticipated app for the iPad slate.
While Facebook may well not have planned for the app to leak, the firm will be heartened by tech bloggers very enthusiastic first response to the app.
Twitter user @aeroechelon, an engineering student, was first to spot the hiccup and, since then, it's caused something of a frenzy in the tech ecosystem. MG Siegler at TechCrunch was first to pick up the discovery and flag it up to a wide audience.
"Hidden in the code of Facebook's iPhone app is the code for something else. Something everyone has been waiting over a year for. The iPad app," Siegler excitedly revealed "Yes, it's real, and it's spectacular (well, very good, at the very least). And yes, it really is right there within the code. Even better, it's executable … based on everything I've seen, I'm going to assume it's at least very close to the version they're going to ship." Siegler posted photos of the app believed to be Facebook' highly-anticipated app here. 
Facebook has remained tight-lipped on the apparent discovery: "We're constantly working on new products and features but have nothing new to announce at this time."
Only available to 'jailbreakers.' "Only people who have jailbreaked their iPad will be able to see Facebook's supposed iPad app," reminded Emma Barnett, digital media editor, The Daily Telegraph. "This means the iPad owner needs to have run a programme in order to disable Apple's control of the device, so the user can circumvent the technology company's rules and see apps and content which have not been approved."
Redmond Pie has the full instructions of how to jailbreak your iPad slate and get the iPad app up-and-running.
Rather lovely browsing experience. "After spending a bit of time with the iPad app this morning, I'll say this: It's a rather lovely browsing experience," praised Chris Gayomali at Time's Techland blog, who added, "This isn't a simple rehashing of the iPhone's icon-driven interface. Far from it. The Facebook homescreen takes advantage of the iPad's screen real estate … Your screen is never overcrowded as you'll only have two columns accessible at any given time."
Takes advantage of the larger slate screen. Rich Trenholm at CNet.co.uk's Crave blog also gave the app the firm thumbs up: "The app takes advantage of the iPad's larger screen with assorted views that make better use of the space available. A sidebar on the left is hidden and revealed with the swipe of a fingertip, and, when you turn the tablet to landscape view, a list of all your friends appears to chat with."
More Apple news…

Even the Queen wants an iPad
iPhone tracks users' movements
BlackBerry challenging Apple's tablet domination