How to Get Sponsored on Twitter with Izea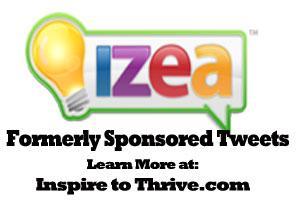 You may remember several posts I did on Sponsored Tweets a while back. Sponsored Tweets performed pretty well for me over the years as I grew my Twitter following. Some months there were no offers but other months several came in and I received more dollars for each one as my Twitter following grew. A nice way to make a little extra money for your blog or online ventures.
Before you learn how to get sponsored on Twitter you should have an engaging Twitter account with at least 1,000 followers. The more the better as you can get more money per tweet. I went from $2 to $8 per tweet over time.
Izea Sponosored Markplace is More Than Sponsored Tweets
You can still use tweets to get paid for promoting a company but you can also write a Tumblr post, a WordPress blog post or an Instagram post. This expands your opportunity to make more money than before. You also get paid for referrals just like the old platform. The more influencial a social networker the person is, the more you will be paid out. So there are many ways to make money with this new Izea Sponsored Markeplace.
Izea – How to Use the New Platform
Using the new platform didn't come quite that easily to me. I kept going into my login and see this screenshot below and not finding my offers. Their support team answered me within 24 hours on how to see my offers on their new dashboard.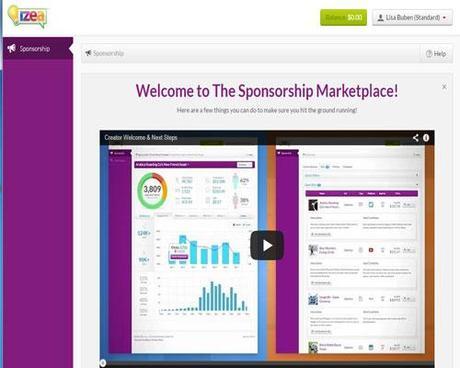 In order to find your offers you must click on the little "x" on the upper right hand side. There you will find all your offers from various advertisers.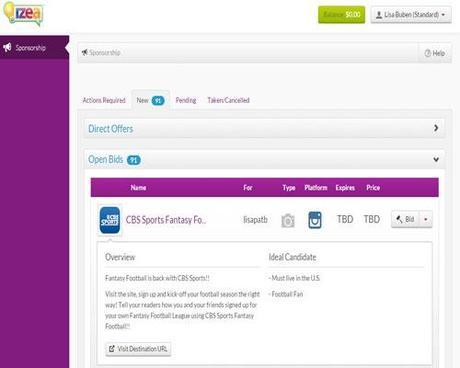 You then click on Bid if you want to bid on an offer. You see near my name above the only place to get sponsored for this one is Tumblr.  Some offer both Tumblr and Twitter and others offer other networks like Instagram or on your own blog with a blog post. Once your bid is accepted you will see it under actions required on your dashboard. I got my first one this morning as I opened my dashboard. I've also noticed getting many more new offers with this Izea update vs. the old Sponsored Tweets program. That really got me excited!
3 Izea Marketplace Programs on How to Get Sponsored on Twitter
FREE – The Free Plan.  You pay nothing and can bid on 3 items at a time during a one month period. There is a $100 cash out threshold.
$1 per month – The Standard Plan. This one lets you get unlimited bidding options. There is a $50 cash out threshold. (This is the plan I'm starting out with but may upgrade to the $5 shortly. ) You may remember it was $2 per month with the Pro Account for the old Sponsored Tweets program.
$5 per month – The Pro Plan. This plan also gives you unlimited bidding options. The cash out threshold is just $25 on this Pro plan.  You also will get priority support and a Pro Account banner.
You can join this Izea Sponsorship Marketplace to get sponsored on Twitter too. What have you got to lose?
Have you used Sponsored Tweets? Have you visited the new Izea Sponsorship Marketplace yet?
Are you ready to make some money via your blog or social networking accounts? 
I'd love to hear from you in the comments on this one!