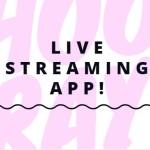 When live streaming was first introduced to the public, people did not know how to use it. They found it a bit confusing and overwhelming. As time passed on, people started to learn more about it. More user-friendly apps also became more available such as Swoo TV. Right now, live streaming has become more popular. Some people would not be able to live anymore unless they have the right application downloaded on their smartphone or their tablet. Some also have the live streaming app on their laptops and their smart TVs. Have you ever wondered how you can make money from live streaming? Get to know some possible ideas as you continue to read.
You can use the live stream for pay-per-view access. This will allow you to acquire money every time someone would like to live stream the show or the movie. You will be surprised with how many people who would actually contact you for this especially if you are showing something popular like sports. There are different apps for live streaming that you can use.
Have some advertisements available while you are doing live streaming. You may have sponsors who would like to promote their products. This is always possible. Just remember that this will not generate you as much money as the other things that you can use live streaming for to earn some money.
Allow subscriptions to your content become paid. Who says that people should access the content that you offer for free? You may have placed a lot of time, effort, and money in order to come up with one live stream episode. It is only fitting that you get paid for all of the things that you do.
You can charge a certain amount so that some people can live stream certain events. There may be some events that are limited to some people only. Others can watch through live streaming for a fee. Your channel may be one of those that will offer to stream the events well.
Take note that you can also provide live stream music if you want to share your talent to the rest of the world. There are endless possibilities. You just have to check out the opportunities.